WASHINGTON,  (Reuters) – With the notable absence of President Donald Trump, the Kennedy Center yesterday celebrated singers Lionel Richie and Gloria Estefan, rapper LL Cool J, television producer Norman Lear and dancer Carmen de Lavallade with honours for the arts.
The awards, known as the Kennedy Center Honors, are considered the top recognition in the country for artists across a variety of fields, and the annual event's importance is usually highlighted by a White House reception with the president and the first lady.
Not this year.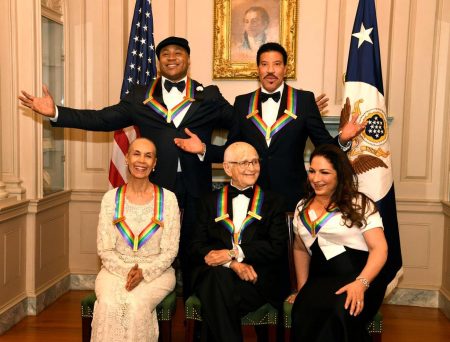 The White House said in August that Trump and his wife, Melania, would not attend the performance so that honorees could enjoy it "without any political distraction." The White House reception was also canceled after some of the honorees said they would boycott it.
A subtle undercurrent of displeasure with Trump, a Republican who entered office in January, and his policies underlined a reception at the State Department on Saturday night ahead of the awards show.
"Art transcends borders, cultures, politics," actress Julie Andrews said. "This event gives us an opportunity to step away from divisive discourse and appreciate excellence in art that has been created for everyone."
All of the recipients expressed joy over receiving the awards.
"I've never been more inspired," Hip Hop artist and actor LL Cool J, 49, who stars in the television show "NCIS Los Angeles" told Reuters. "It's a reminder that art matters." He said Trump's presence would have been a distraction.
Singer and songwriter Richie, known for hits such as "Three Times a Lady," "Say You, Say Me," and "All Night Long," said he was proud. "Never thought in my life I'd lose my voice talking too much about how excited I am about being here," Richie said.
Singer and songwriter Estefan, 60, who was born in Havana, Cuba, said she was thankful Trump chose not to attend. "Whenever something becomes more about the controversy than the actual achievements of the people that are receiving the award, it kinda dampens it for everybody."
De Lavallade, 86, an actress and dancer, said: "I'm just most proud that I've reached this far."
Television producer and writer Lear, 95, who is famous for producing the hit comedy "All in the Family" as well as "Maude," "Good Times," and "The Jeffersons," said it felt great to become a Kennedy Center honoree.
"It probably feels the same as it might have felt at 80. Everything else does," he quipped. Lear said he was not upset that Trump chose not to attend. "It wasn't a hand I needed to shake."
The show will be broadcast on CBS on Dec. 26.
Comments

LOS ANGELES,  (Reuters) – Romantic fantasy "The Shape of Water" won the best picture Oscar on Sunday, the film industry's most prestigious honour, on a night where themes of female empowerment and activism almost overshadowed the awards.

LOS ANGELES (Reuters) – Animated "The Emoji Movie" stunk up the annual Razzie awards on Saturday, tanking below all contenders for worst achievements in film, while Tom Cruise and Mel Gibson were also roasted for 2017's most ignoble performances.
CAIRO (Reuters) – Egypt's top court on Saturday dismissed all outstanding legal challenges to a deal transferring two Red Sea islands to Saudi Arabia, a day before a visit by its crown prince.

(Reuters) – Thousands of fans lined the streets of Mumbai yesterday, some weeping quietly, others running behind the hearse, as they joined Bollywood stars in paying tributes to actress Sridevi who died at the weekend in Dubai.
LOS ANGELES,  (Reuters) – The Academy Awards, the glitziest night in show business, takes place on Sunday, but the biggest drama may be not on the Dolby Theatre stage but behind-the-scenes moves to tackle the sexual misconduct scandal that has rocked the industry.