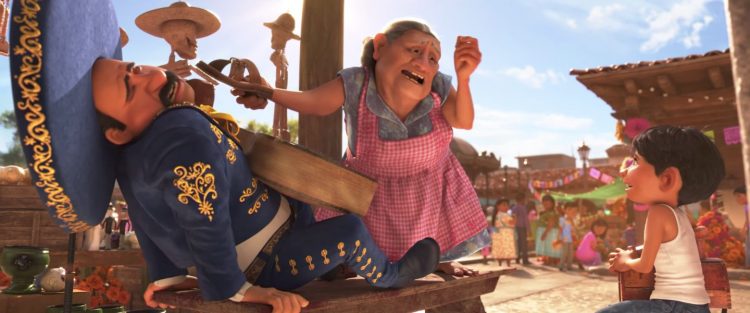 LOS ANGELES,  (Variety.com) – With anticipation building for "Star Wars: The Last Jedi," Disney-Pixar's animated comedy "Coco" handily won its third straight crown at a moderate North American box office with $18.3 million at 3,748 sites.
"Coco" joined "The Hitman's Bodyguard," "Fate of the Furious" and "Split" as 2017 titles to top the domestic box office for three weekends in a row. The major studios have held off on any new openings since the Thanksgiving holiday but that changes on the evening of Dec. 14 when previews start for Disney-Lucasfilm's "The Last Jedi" amid expectations of an opening weekend in the $200 million range.
"Coco," a colourful celebration of Mexico's Day of the Dead, showed impressive holding power with a 33% decline from its second weekend to lift its 19-day domestic total to $135.5 million. It's performed similarly to Disney's animated "Moana," which opened at the same time last year and had totaled $144.7 million after three weekends.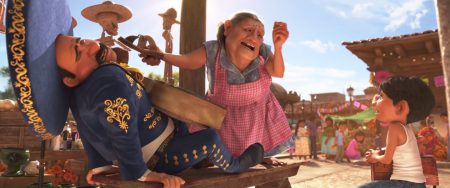 There was a single wide opening this weekend with Broad Green Pictures' final movie, "Just Getting Started," showing little traction with moviegoers with $3.2 million at 2,146 locations. "Just Getting Started," a poorly re-viewed action comedy starring Morgan Freeman and Tommy Lee Jones, wound up in 10th place behind A24's sixth weekend of awards contender "Lady Bird" with $3.5 million at 1,557 venues.
The fourth weekend of Warner Bros.-DC Entertainment's superhero team-up "Justice League" finished with just over half of "Coco" with $9.6 million at 3,508 locations with a 42% decline. "Justice League" has taken in $212.1 million in 24 days and is the 10th biggest movie of 2017 — but it's also the lowest performer among the five DC Extended Universe movies. "Wonder Woman" had hit $318 million domestically at the 24-day point in June.
"Justice League" has gone past $600 million worldwide with an international total of $401 million. Its performance pushed Warner Bros. past the $5 billion mark worldwide for 2017. The studio announced Sunday that it's become the first studio to cross the $2 billion mark for the year, led by "Wonder Woman" with $412 million and "It" with $327 million.
Lionsgate's third weekend of inspirational drama "Wonder" finished in third place with $8.5 million at 3,519 North American sites with a 35% decline. "Wonder" became the 27th movie of the year to cross the $100 million mark — and one of the least costly among that group, given its $20 million budget. Production companies on the Jacob Tremblay vehicle are Mandeville Films, Participant Media, Walden Media and TIK Films.
A24's expansion of James Franco's comedy-drama "The Disaster Artist" came in fourth with a solid $6.4 million at 840 venues, up from 19 last weekend. That edged the sixth weekend of Disney-Marvel's "Thor: Ragnarok" with $6.3 million at 3,047 sites, which put its domestic total above $300 million. The third Thor movie was a key factor in November's box office staying ahead of the same month last year.
Paramount's fifth weekend of "Daddy's Home 2" finished sixth with $6 million at 3,263 locations, down only 21%, to lift its 31-day total to $91.2 million. The original "Daddy's Home" wound up its domestic run two years ago with $150.4 million. Fox's fifth frame of "Murder on the Orient Express" followed with $5.1 million at 3,201 sites for a total of $92. 7 million. The Kenneth Branagh vehicle, which has a $55 million budget, has been a solid performer internationally with $182 million in grosses outside the U.S.
Sony's fourth weekend of faith-based animated drama "The Star" came in eighth with $3.7 million at 2,976 venues, off only 10%. The film, co-financed by Walden Media and released through the Affirm label, has totaled $32.3 million in 24 days.
Comments

LOS ANGELES,  (Reuters) – Romantic fantasy "The Shape of Water" won the best picture Oscar on Sunday, the film industry's most prestigious honour, on a night where themes of female empowerment and activism almost overshadowed the awards.

LOS ANGELES (Reuters) – Animated "The Emoji Movie" stunk up the annual Razzie awards on Saturday, tanking below all contenders for worst achievements in film, while Tom Cruise and Mel Gibson were also roasted for 2017's most ignoble performances.
CAIRO (Reuters) – Egypt's top court on Saturday dismissed all outstanding legal challenges to a deal transferring two Red Sea islands to Saudi Arabia, a day before a visit by its crown prince.

(Reuters) – Thousands of fans lined the streets of Mumbai yesterday, some weeping quietly, others running behind the hearse, as they joined Bollywood stars in paying tributes to actress Sridevi who died at the weekend in Dubai.
LOS ANGELES,  (Reuters) – The Academy Awards, the glitziest night in show business, takes place on Sunday, but the biggest drama may be not on the Dolby Theatre stage but behind-the-scenes moves to tackle the sexual misconduct scandal that has rocked the industry.