PARIS, (Reuters) – Hundreds of thousands of people paid homage to late French rock and roll giant Johnny Hallyday at a Paris memorial service attended by French stars and politicians.
A hearse carrying Hallyday's white coffin, accompanied by 700 Harley Davidson motorcycles, drove the length of the Champs Elysees boulevard in a rare honour usually reserved for foreign statesmen on July 14 National Day.
As his band played instrumental versions of his biggest hits, the crowds belted out the words, many in leather biker jackets and carrying pictures of Harley Davidson enthusiast Hallyday, who died of lung cancer on Wednesday at the age of 74.
Largely unknown abroad, Hallyday was a household name in France, where he had tens of millions of fans and sold more records than any other singer in a career spanning five decades.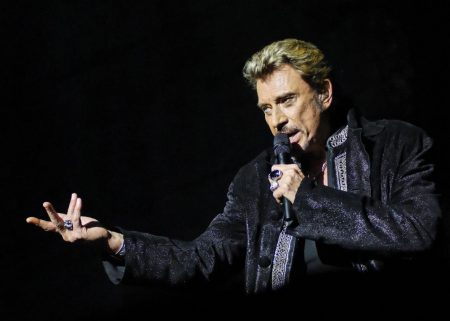 His death nine months after announcing his illness sparked days of national mourning, with broadcasters providing wall-to-wall coverage of the rocker's life, tracing the history of a man regarded by many, non-fans included, as part of French national heritage.
In a eulogy on the stairs of the La Madeleine church, French President Emmanuel Macron said Hallyday was "more than a singer …he was part of ourselves, part of France".
"It is a sad day today but you had to be there because Johnny was there for you from the beginning. In each of your lives, there was this moment where one of his songs translated what you had in your heart," said Macron.
"The French Elvis," as he was known, Hallyday made his name with French versions of American rock and pop songs, including "House of the Rising Sun", which many French people only know as "Le Penitencier", one of his biggest hits.
Born Jean-Philippe Leo Smet in Paris to Huguette Clerc and Belgian-born Leon Smet in 1943, Johnny spent his early years on the road in an acrobatic dance troupe, taking to the stage at 12 and singing country songs dressed as Davy Crockett, the American folk hero.
He changed style after seeing Elvis Presley in "Loving You" and had a first hit single at age 16 with a French translation of an American country song.
"That this young Belgian, who took an Anglo-Saxon stage name, would bring the blues of the black American soul, the rock and roll of Nashville, to the four corners of this country, was highly unlikely, and yet that was a French destiny," Macron said.
Hallyday did not write his own songs, but songwriters including Charles Aznavour, wrote lyrics and music for hits like "Que je t'aime" and "Moi ma geule".
Musicians played Hallyday hits on acoustic guitars during the catholic ceremony in La Madeleine, with mourners clapping along, many with tears in their eyes, as French movie and pop stars including actress Marion Cotillard read eulogies.
Thousands of people followed the ceremony on screens outside on a cold, sunny day in one of the biggest memorials in Paris since the death of singer Edith Piaf in 1963.
Hallyday will be buried on the French Caribbean island of Saint Barthelemy, where he owned a villa.
Comments

LOS ANGELES,  (Reuters) – Oprah Winfrey became the first black woman to be awarded a Golden Globe for lifetime achievement on Sunday, delivering an impassioned speech in support of those who have exposed sexual misconduct in Hollywood and beyond.

LOS ANGELES,  (Reuters) – Dark drama "Three Billboards Outside Ebbing, Missouri" was the big winner with four Golden Globes awards on Sunday on a night marked by scathing jokes about sexual harassment and passionate odes to those breaking their silence.

LONDON,  (Thomson Reuters Foundation) – Hollywood stars including Reese Witherspoon, Jessica Chastain and Natalie Portman have backed a campaign against sexual harassment called Time's Up as donations flood in for a multi-million dollar legal fund to fight abuse cases in the workplace.

NEW YORK, (Reuters) – Television host Hoda Kotb was named the new co-anchor of the NBC News "Today" show on Tuesday, replacing former co-host Matt Lauer several weeks after the longtime anchor was fired for inappropriate sexual behaviour, according to a network statement.
LOS ANGELES,  (Variety.com) – In a battle of box office heavyweights, Luke Skywalker just managed to hold off Dwayne "The Rock" Johnson as the world rang in another year.