PARIS, (Reuters) – Hundreds of thousands of people paid homage to late French rock and roll giant Johnny Hallyday at a Paris memorial service attended by French stars and politicians.
A hearse carrying Hallyday's white coffin, accompanied by 700 Harley Davidson motorcycles, drove the length of the Champs Elysees boulevard in a rare honour usually reserved for foreign statesmen on July 14 National Day.
As his band played instrumental versions of his biggest hits, the crowds belted out the words, many in leather biker jackets and carrying pictures of Harley Davidson enthusiast Hallyday, who died of lung cancer on Wednesday at the age of 74.
Largely unknown abroad, Hallyday was a household name in France, where he had tens of millions of fans and sold more records than any other singer in a career spanning five decades.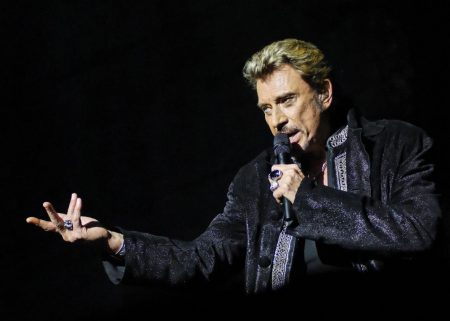 His death nine months after announcing his illness sparked days of national mourning, with broadcasters providing wall-to-wall coverage of the rocker's life, tracing the history of a man regarded by many, non-fans included, as part of French national heritage.
In a eulogy on the stairs of the La Madeleine church, French President Emmanuel Macron said Hallyday was "more than a singer …he was part of ourselves, part of France".
"It is a sad day today but you had to be there because Johnny was there for you from the beginning. In each of your lives, there was this moment where one of his songs translated what you had in your heart," said Macron.
"The French Elvis," as he was known, Hallyday made his name with French versions of American rock and pop songs, including "House of the Rising Sun", which many French people only know as "Le Penitencier", one of his biggest hits.
Born Jean-Philippe Leo Smet in Paris to Huguette Clerc and Belgian-born Leon Smet in 1943, Johnny spent his early years on the road in an acrobatic dance troupe, taking to the stage at 12 and singing country songs dressed as Davy Crockett, the American folk hero.
He changed style after seeing Elvis Presley in "Loving You" and had a first hit single at age 16 with a French translation of an American country song.
"That this young Belgian, who took an Anglo-Saxon stage name, would bring the blues of the black American soul, the rock and roll of Nashville, to the four corners of this country, was highly unlikely, and yet that was a French destiny," Macron said.
Hallyday did not write his own songs, but songwriters including Charles Aznavour, wrote lyrics and music for hits like "Que je t'aime" and "Moi ma geule".
Musicians played Hallyday hits on acoustic guitars during the catholic ceremony in La Madeleine, with mourners clapping along, many with tears in their eyes, as French movie and pop stars including actress Marion Cotillard read eulogies.
Thousands of people followed the ceremony on screens outside on a cold, sunny day in one of the biggest memorials in Paris since the death of singer Edith Piaf in 1963.
Hallyday will be buried on the French Caribbean island of Saint Barthelemy, where he owned a villa.
Comments

LOS ANGELES,  (Reuters) – Romantic fantasy "The Shape of Water" won the best picture Oscar on Sunday, the film industry's most prestigious honour, on a night where themes of female empowerment and activism almost overshadowed the awards.

LOS ANGELES (Reuters) – Animated "The Emoji Movie" stunk up the annual Razzie awards on Saturday, tanking below all contenders for worst achievements in film, while Tom Cruise and Mel Gibson were also roasted for 2017's most ignoble performances.
CAIRO (Reuters) – Egypt's top court on Saturday dismissed all outstanding legal challenges to a deal transferring two Red Sea islands to Saudi Arabia, a day before a visit by its crown prince.

(Reuters) – Thousands of fans lined the streets of Mumbai yesterday, some weeping quietly, others running behind the hearse, as they joined Bollywood stars in paying tributes to actress Sridevi who died at the weekend in Dubai.
LOS ANGELES,  (Reuters) – The Academy Awards, the glitziest night in show business, takes place on Sunday, but the biggest drama may be not on the Dolby Theatre stage but behind-the-scenes moves to tackle the sexual misconduct scandal that has rocked the industry.