Agony for Stranded Passengers
Jobs in danger
By SHARIEF KHAN
BAIJNAUTH, of Flushing, Queens in New York, his wife and three children should have been back in New York since January 4.
They came to join relatives here for the Christmas holidays but the carrier which brought them, SunCoast, has been reportedly grounded — and so are the Baijnauths and hundreds of others.
"We are stranded," Baijnauth said. "I can't get back to work, nor can my wife. I should have been on the job today (Monday). I have worked there 14 years and most likely I won't get back the position I had when I left."
Baijnauth says he had risen to the post as Manager of a New York cafeteria and because he had had to extend his leave due to the SunCoast grounding, he would probably have to start all over again.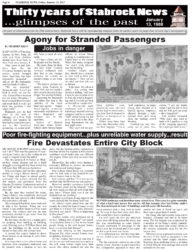 It's been a bitter pill for Baijnauth and his family.
The same thing hit them last July when Tropical Airways collapsed and they had to pay foreign currency for tickets on another airline to get back home.
"We tried to reclaim our money from Tropical in New York, but we couldn't find (owner-direct­or) Larry Singh," he recalled bitterly.
Agonising for Baijnauth and others like him is the inability of the local SunCoast agents — Sunjet Travel Agency – to provide reasonable explanations of what happened and avenues out of the quandary.
Scores of harried SunCoast return ticket- holders daily throng Sunjet offices on Croal Street seeking re-confirmation of flights back to the United States but many complain "we aren't even allowed into the building."
Another couple said they should have returned to New York to their jobs on January 7. They too are stranded and their jobs are in danger.
"I am upset. My job is at stake," one young man declared adding, "and now I have to join a queue to try to find out what is happening and if I could go back on the airline I came with.'
A 50-year-old male employee with a ladies handbags-manufacturing company said he is worried "stiff" about losing the job as he has held in the shipping department for the past eight years.
"They can't tell me anything definite," com­plained the man, who said he has had to travel everyday from Tain Settlement in Berbice to Georgetown to try to get out.
Others have been here since late December without their luggage. "This is 'nuff stupidness, an angry young man shouted as a harried agency employee slipped through a half-opened door and away from the milling crowd Monday.
Cracked one wit, obviously out of sheer frus­tration, "I got me family home; I got me job to lose and me wife gon run away – she's impat­ient!"
And another ventured: "Why don't they send us back with Laparkan or one of the shipping agencies? We might get back faster."
Poor fire-fighting equipment…plus unreliable water supply…result
Fire Devastates Entire City Block
MY HOUSE IS BURNT down now, what will I do?" This was the question 75-year-old Irene Coates, one of the victims in last week's Leopold Street fire asked.
The fire destroyed 14 homes in Werk-en-Rust whilst firemen put up a futile struggle to extinguish the blaze which has left more than 100 persons homeless.
One eyewitness said the fire apparently started in Fung's Bakery around 7 p.m. last Fri­day and began to spread quickly westward. The witness claimed that the fire engine and per­sonnel from the Guyana Electricity Corporation arrived at least half an hour after they received the first call.
By the time they reached the scene, Fung's Bakery was com­pletely destroyed and the fire had spread to other buildings, the eyewitness claimed.
She continued that there was a mad rush to find a fire hydrant. When one was found, it was useless because of low water pressure. The witness said that the men eventually decided to get water from the Princes Street canal.
By this time, the fire was a raging inferno jumping from building to building, even blowing across D'Urban Street and onto the buildings on the south which started to burn also, the witness said.
A second fire engine started to douse those houses in an attempt to save them, she added.
One anguished victim whose home and business were com­pletely destroyed, said he pleaded with a fireman to save his place, but the fireman gently explained to him that all the fire engines in this country com­bined would make only one efficient fire engine. There was only so much they can do.
Meanwhile, the police were finding it extremely difficult to, control the crowds and widespread looting began.
One woman whose house was scorched said she lost more of her household articles to looters than to the fire.
One witness said that: "If it was not for civilian help the Fire Service was useless."
However, another eyewitness feels that the firemen could not be blamed: "After all, how much can they do with what little they have? Whose fault was it the fire hydrant was not working?
Another eyewitness living opposite the scene claimed the fire burnt itself out.
An elderly victim asked how can this country be called the land of many waters and there is is always low water pressure? Dejected, she asked: "What is happening in this place?"
Another victim, who professed not to be in a "talking state of mind" just asked: "Is everytime there is a fire in one house peo­ple living in the next twenty homes have to evacuate their houses?"
She was refering to the Dec­ember Kingston fire when several houses were completely destroyed.
All the victims interviewed said that if the fire service had re­sponded promptly to the call, some homes might have been saved. But others pointed out that the water pressure took a long time to build up. So even if they had come early there still would have been a problem.
Up until noon the next day electrical wires were still lying across the street, and fire was smouldering in some places. Crowds continued to scavenge in the debris over the weekend and it was reputed that a gold chain was found.
It is understood too, that the Fung family was unable to save any of their belongings.
The fire reportedly started in one of the bakery ovens. Attempts to put it out with a fire extinguisher appeared to have succeeded but then it flared up again and there was a great deal of smoke.
Mr. Fung, who had recently come out of hospital, collapsed and had to be taken away. The fire brigade was summoned by a member of the Fung's family immediately after the alarm was raised. Others in the vicinity re­portedly rang for the fire engine also.
Observers have expressed con­cern as to the state of fire fight­ing equipment in the country and the water supply situation. Together, these problems create a situation in which fires do more damage than would normally be the case.
Around the Web