By Dhanaiswary Jaganauth
University of Guyana
(Dhanaiswary Jaganauth is a member of the Informal working group for language policy and language rights)
In 1999, UNESCO proclaimed February 21 as International Mother Language Day. Every year since then, countries around the world use this day to focus on aspects of linguistic diversity and multiculturalism. This year the theme is Towards Sustainable Futures through Multilingual Education.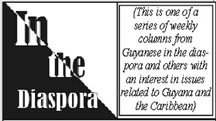 In their explanation of this theme, UNESCO states, "To foster sustainable development, learners must have access to education in their mother tongue and in other languages. It is through the mastery of the first language or mother tongue that the basic skills of reading, writing and numeracy are acquired. Local languages, especially minority and indigenous, transmit cultures, values and traditional knowledge, thus playing an important role in promoting sustainable futures."
In Guyana, the languages of our indigenous people are in danger of disappearing. Members of these communities have been calling for mother tongue education for some time now. Guyanese Creole hangs on because of the number of its speakers, but it could be losing ground. There are still those who refuse to acknowledge the need for our children to learn to read and write in Guyanese Creole. The wisdom of our ancestors will disappear with these languages if we continue to ignore them.
Somewhere I read that if you are enslaved, hold on to your language and you hold the key to your prison. But how long do you hold on for? Many of us give up and begin to identify with the kidnapper or enslaver. We give up the key.
In Guyana (as in many parts of Africa and elsewhere), we continue the colonial language education policies we inherited. We insist that everyone must be educated in the European language we inherited. We ignore the native languages of our people. When the majority of the better paying jobs require a language other than your own and when the school is telling you directly and indirectly, that your language is backward and won't get you anywhere, you are likely to begin to distance yourself from your language and those who speak it.
One consequence of policies such as those in Guyana is that many of the local languages are disappearing. And when a language dies, the culture of its speakers dies with it. When you learn a new language, you learn a new culture. When you give up your language in favour of another, you give up your culture in favour of another. So when we lament the way our communities are changing, think about how we, through our language policies, are responsible.
In Guyana, the words aunt and uncle meant more than just the brothers and sisters of our parents. And the meaning of the word family also extended to anyone related to us by blood or marriage and anyone else we chose to call family. Similarly, the words maamii and chaachii; maamuu and chacha served to distinguish the uncles and aunts in the Indian extended family.
Then we go to school, learn English, and discover that our parents were wrong. Those words mean something else. So we learn the 'correct' meaning of aunt, uncle, and family and wake up one day to find that we no longer have that sense of community. That we have become too individualistic.
Many countries around the world, including the UK, are beginning to change their old language policies. In the UK, Welsh is now an official language and several other of their local languages now have official recognition.  The British Council now announces on its website that it supports multilingualism.
Our language policies do serious damage in the name of education. By insisting on a policy of 'English only', we have over the years shut the door on many of our students and their potential. In the words of one researcher, when you reject a child's language, you reject the child.
In recent years, some aspects of this policy have changed. But we still hear of schools in Guyana which have well-laminated signage that read 'In this school we speak English only'. In other cases, teachers are instructed to use the child's home language but only if the child does not understand the instruction in English.
While that may seem like 'better than nothing', it is still destructive of the child's self esteem and confidence. Our hidden curriculum is saying, 'You don't measure up, so I have to 'break it down for you'.
Mother tongue education
In the 'more developed' countries, mother tongue education has long been the right of children of the dominant group. English-speaking children go to school in the UK or the USA and enjoy mother tongue education. At school, they learn to read and write in English and they learn their school subjects in that same language. The French-speaking child goes to school in France and has the benefit of education in his native French language, as well. Most of these children never learn another language.
In some places, children who would have been shut out from mother tongue education in the past are now benefitting from Mother-tongue-based Multilingual Education. Reports are that these children are happier, more confident, and eager to participate in learning activities than those who follow the old way of learning. They become more patriotic too. The rate of success at exams is higher, the school drop-out rate is lower, absentee rate is lower, and the number of repeaters is lower. Moreover, the performance of these students' in the
official language surpasses that of the ones who didn't have mother tongue education.
Access to education in our mother tongue and in other languages
What does it mean? It means that we educate our children in their home language for (at least) the first eight years of their schooling. From nursery to the end of primary school (Grade 6), and even later, children will learn to read and write in their native language. In addition, they will learn their math, science, social studies and the rest of their subjects in this same native language.
During the first two years, classroom activities will take place in the child's home language only. From year three, he or she will begin to learn to read and write in the other languages. In Guyana, this other language would be English (and any other languages). Gradually, the teacher will introduce some of the other subject content in this 'new' language.
The teacher will use the child's knowledge of the home language to teach this second language. Children will not be punished or shamed for using their first language. Little Osafa or Omawattie can say "Miss mi waan susu" without having to wet himself or herself because the teacher said, "When you can tell me what you want in proper English, then you can go."
Don't start making plans to move your child out of Guyana just yet. If such a policy were to come into effect, one would expect it to be optional. Allowing access to Mother-Tongue-Based Multilingual Education does not mean we exchange one dictatorship for another. However, in places where such an option was offered, those who chose to stay with the status quo soon changed their minds and opted to be included once they saw the results.
The case for Mother-tongue-based Multilingual Education
Learning doesn't start at school. At home, children learn by doing, by questioning, by talking to themselves and to others (including talking to toys and any other objects.) They learn by observing, exploring, drawing conclusions about how things work and testing their conclusions. They adjust their conclusions when they are ready to do so. This is child-centred learning.
The one-year old who rips up the pages of your newspaper before you got a chance to read it is not doing so because he/she is bad. He/she is discovering properties of different materials and objects. The child who drops all your precious objects on the floor is discovering properties of gravity among other things.
Mother tongue learning works the same way. Here too the child is observing, exploring, creating theories, testing them and changing them as necessary. In spite of what we think, adults don't teach the child his/her first language.
So, learning begins before the child comes to school. This learning has been taking place in the child's home language and it takes place while the child interacts with the persons at home.
If the school allows mother tongue education, the child will continue to participate in learning activities, interacting with the teacher and students as done at home. By the time (s)he is introduced to literacy in the second language, the child already understands the principles of reading and writing; he just needs to learn the new system. When (s)he has to learn to do math, science, and the other subjects in the new language, this too is easier and quicker. The child already knows the concepts. All (s)he has to do is learn the relevant vocabulary and grammar for expressing the content. (S)he doesn't have to face the double challenge of learning the concepts as well as the new terminology all at the same time
Mother-tongue-based Multilingual Education is meant to include the excluded. Right now Creole-speaking Guyanese and speakers of indigenous languages are excluded from the education we have to offer. We are offering it in a language that handicaps them. If learners don't understand, how can they learn? Let's level the playing field.
The significance of Feb 21
UNESCO celebrates International Mother Language Day (or International Mother Tongue Day). This year the focus is on the importance of the native languages of all human beings for two main reasons. First, there is the need to recognise that education in one's home language is best. Secondly, there is the need to recognise the value of every culture and the language that transmits that culture. They are part of the legacy of humanity.
On Feb 21, 1952, students from the University of Dhaka were demonstrating for the recognition of Bengali as one of the two national languages of East Pakistan. They were shot and killed by the police. In 1998, a Bengali living in Canada petitioned the Director General of the UN asking him to take steps to save the world's languages from extinction. He proposed that Feb 21 be declared International Mother Language Day. This came into effect in 1999.
The right to read and write in one's mother tongue is now recognised to be part of our linguistic human rights.
Comments
Since the festival of Christmas commands a pre-eminent position – of observance and celebration – on Guyana's Annual Calendar of National Events, I thought I'd pen a few lines to provoke thought and meditation relevant to the "Real Reason for the Season".

To mark the anniversary of Martin Carter's passing on December 13, 1997, Gemma Robinson looks at Carter's Poems of Succession, published 40 years ago this year.
By Naicelis Rozema-Elkins It is about time, past due in fact, that the problem of sexual assault by teachers in our school system is addressed.

Focus on Guyana's National Budget 2018 represents the twenty-eighth edition of this Ram & McRae annual publication which highlights, reviews and comments on the major issues surrounding and raised in the National Budget.

By Mark Leonard LONDON – Over the last few weeks, media around the world have been saturated with stories about how technology is destroying politics.