(Continued from last week)
Check your plants carefully to see if they have outgrown their pots. If this is the case, you would need to repot your plants.
Choose a pot at least two sizes larger when repotting. Carefully trim off the excess roots. Place some pebbles at the bottom of the pot, add some soil then set plant into the new pot and fill up with more potting soil.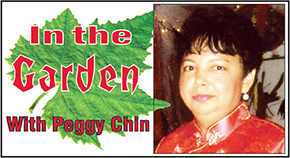 Give the plant a good drink of water and settle it in a cool place for a couple of days.
Check for signs that plants may need feeding. Pale leaves and slow growth are some examples.
Check for insects, pests and fungus. Some examples are wilting of leaves, leaves being eaten and tiny sucking insects under the leaves. Seek help immediately as you may need to spray your plants.

Know your nutrients:
N – Nitrogen is essential for healthy growth and good leaf colour.
P – Phosphorous is important for healthy root growth and helps plant metabolism.
K – Potassium aids development of flowers and fruits.
Intermediate plant mutrients:
Ca – Calcium is a general purpose nutrient needed for strong growth and development.
Mn – Magnesium helps with chlorophyll production. Chlorophyll is a vital ingredient as it helps the plant absorb sunlight as energy.

S – Sulphur helps convert carbon dioxide into sugars used by the plant (this process of conversion is known as photosynthesis).
Remember that you need to refresh your house plants by putting them outside in the evening for fresh air at least once per week.
Until next week, Happy Gardening.
Comments
Since the festival of Christmas commands a pre-eminent position – of observance and celebration – on Guyana's Annual Calendar of National Events, I thought I'd pen a few lines to provoke thought and meditation relevant to the "Real Reason for the Season".

To mark the anniversary of Martin Carter's passing on December 13, 1997, Gemma Robinson looks at Carter's Poems of Succession, published 40 years ago this year.
By Naicelis Rozema-Elkins It is about time, past due in fact, that the problem of sexual assault by teachers in our school system is addressed.

Focus on Guyana's National Budget 2018 represents the twenty-eighth edition of this Ram & McRae annual publication which highlights, reviews and comments on the major issues surrounding and raised in the National Budget.

By Mark Leonard LONDON – Over the last few weeks, media around the world have been saturated with stories about how technology is destroying politics.