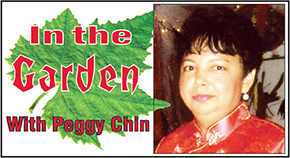 Etlingera Elatior commonly called Torch Ginger originated in Malaysia.
Torch Ginger is an attractive member of the Ginger family. The flowers are long lasting and showy. The inflorescences (the complete flower head of the plant including stems, stalks, bracts, and flowers) do not appear at the end of the leafy stems as in regular Alpine Ginger but emerge as erect stalks at the base of the parent plants.
Torch Ginger flower comes in red, pink and white with glossy green leaf foliage.
The White Torch Gingers are the rarest. Does anyone in Guyana have the White Torch Ginger?  Please let me know.
Plant Torch Ginger in full sunlight in well-drained organic soil. Feed regularly with Blue Corn Fertilizer every two weeks. Water every day as plants like to be moist.
Torch Ginger is widely used in Malaysian cooking and to garnish dishes. It is used by many florist in displays of fresh tropical arrangements that can be seen on display in hotels, banks and offices.
Until next week, Happy Gardening.