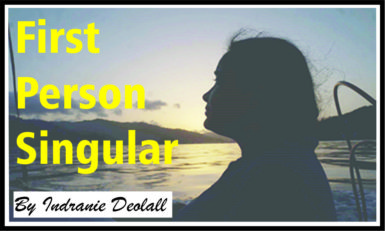 Packets of vivid powders would lie on the kitchen table like scattered pieces pulled from a pretty patchwork quilt. Bags of iridescent prismatic crystals glittering in the morning sunlight and jars of scented white talcum would emerge from my mother's sturdy vine-woven market basket, in time for the annual vernal festival of Phagwah or Holi.
A riot of colours that signifies the start of spring, the exuberant celebration of Phagwah during the Hindu month Phalgun came with the immigrants many of whom left Bhojpur, India for the tropical West Indies, in the 19th and early 20th centuries. Hence Phaguwa in the distinct Bhojpuri dialect still survives as the original name of the joyous national holiday in Guyana, while Holi is derived from the Hindi.
My mother, born nearly a century ago, was continuing an ancient custom, brought by her parents to their uncertain new world. These enduring traditions had their deep roots in an agrarian society where the end of winter signalled the start of new life and renewed fertility, and reinforced the belief in a natural order and constant cycle that were reassuring and reaffirming in their predictability, while comforting for the classic message of justice and good overcoming evil.  
Excited I would peer into her brown carrier to admire all the ingredients for the sweets and savouries that would be created for the two day observance, which blazed on the night of the full moon, Phalgun Purnima, when huge bonfires would illuminate the villages including the area in South Georgetown where we lived.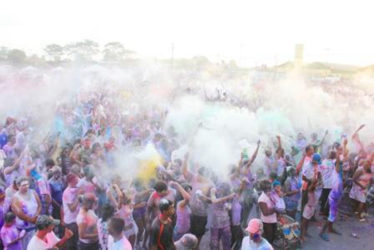 We grew up hearing, then reading, about the legend of the young Prince Prahalad who defied his megalomaniac father to worship Lord Vishnu.  Thousands of years old, the much-loved story and cautionary tale tells of the despotic King Hiranyakashipu who is granted a special boon by the Creator Brahma. Conferring five special powers, the gift stipulates that the ruler cannot be killed by a human being or an animal; by astra (projectile weapons) or by any shastra (handheld weapons); on land, in water or air; indoors or outdoors; during the day or at night.
Feeling understandably invincible as some leaders invariably tend to, Hiranyakashyapu hurtles into hubris and decrees that only he could be worshipped as God, so when his son defies him, the enraged king orders his sister Holika who wears a fire resistant cloak to trick the prince to stay with her in a raging conflagration. But the garment flies off Holika and covers Prahalad who escapes while she dies.
Numerous pieces of dried wood, twigs, branches and the symbolic lone castor oil tree planted on Basant Panchami 40 days before, testimony to the purgative powers of the fruit, would be consumed in the Holika Dahan or the great cleansing fire, hissing and crackling under the silver moon, the fine embers and smoke curling far into the sky.
According to the Puranas or the old, sacred Sanskrit writings, the outraged Lord Vishnu, ingeniously gets around Hiranyakashyapu's apparent immortality by appearing in the form of Narasimha, or a being that is half human and half lion. He strikes suddenly at dusk, on a doorstep, seizing the tyrant in his lap and killing the king with his claws. We would stare in grim fascination at the lurid pictures, gripped by the account.
At night we would continue to enjoy the rousing Phagwah seasonal songs or chowtals adored by families, perhaps arrange our own prayers and little fire or travel into Georgetown or further afield for the ceremonial puja and huge blaze organized by the various Hindu Sabhas.
American ethnomusicologist, Professor Peter Manuel who has studied the boisterous folk genre that grew out of a now declining Bhojpuri tradition, recounted in one article how he listened to similar versions of the same chowtal compositions by villagers in Benares, North India; then Guyanese in Queens, New York, and thirdly, Fijians in Sacramento, California.
"Despite the nearly identical styles of the three song sessions, they were separated not only by thousands of miles, but more significantly, by the more than 90 years that have elapsed since indentured emigration from the Bhojpuri region ceased (in 1917). Subsequently, cultural contacts between that region and its diasporic communities in the Caribbean and Fiji became minimal, and those between the latter two sites have been practically nil. Given such geographic and temporal remoteness, the similarities between the three chowtal renderings I witnessed are in themselves noteworthy, as are, in a different sense, the disparities."
Stratum
Professor Manuel found a "traditional stratum" of melodies and music that have endured yet changed, in the areas where the immigrants settled and their descendants now live.  "It was as if they had gotten some fragments, had put them together in their own way, and at a certain point it became an established style," he related in an interview with writer Siddhartha Mitter.
Chowtals are antiphonal renditions in which two groups facing each other, chant back and forth. Melodies undergo various modulations of dynamic rhythm and tempo, alternating between softer, subdued passages and quickening, exciting climaxes. During Holi season in 2007, Dr. Manuel went to India tramping around the Bhojpuri region, looking for chowtals, "expecting to find it all over the place" but "surprisingly, I had a hard time…"
"We were about two hours outside of Benares – sort of in the Mirzapur district – sitting and having tea. And at this point I just was becoming a ridiculous pest. Practically everyone I struck up a conversation with, I'd say, 'So, have you ever heard of chowtal?' And they'd say, 'What?' And I'd say, 'Oh, never mind.' At any rate, there I was sitting next to an old man and we were chatting in Hindi. He asked me what I was doing and I said, 'I'm studying folk music and I'm interested in chowtal, have you ever heard that?' And he said, 'Oh sure.' And he starts singing some chowtal…"
He added: Later, "We are walking around this Indian town, and it was sort of a surreal experience for me. There were some women singing in a house, I could hear them (and) I could see them huddled around a lamp. They were singing this song that, if any Guyanese or Trinidadian heard it, they'd say, 'Oh that's a chutney.' I don't know exactly what the song was or what the occasion was, but it really felt like I was back in Trinidad. Meanwhile, a noisy wedding procession passes by. The groom is seated on a horse, surrounded by a bunch of merry-makers, and preceded by drummers playing tassa drums, which is an ensemble that is everywhere in Trinidad. You cannot have a Hindu wedding without a tassa drum ensemble. Anyhow, this was all very familiar to me."
Listening to the forms of thumri, ghazel and chowtals he realized that these pieces were similar to the styles in Guyana, Trinidad and Suriname, while being "very idiosyncratic."
So too, to the frenzy of chowtals on the radio, my mother and the matriarchs of the neighbourhood where I grew up, would innovate and "do their own thing." This included preparing huge pots of boiling water to dissolve and dilute the fine gleaming green crystals of potassium permanganate to cheaply create the hallmark magenta hues or "abeer" favoured by revellers, so that it would cool by morning to pour from buckets and spray from our recycled plastic bottles. A strong oxidizing agent, the salt of manganese and potassium, chemical formula KMnO4 is a cheap antiseptic used for cleaning wounds and dermatitis.
When the "abeer" ran out we resorted to soaking each other with pails of plain water, wisely wearing old clothes or the preferred white cotton when we could afford it, proudly showing off our stained hands and faces to see whose was the darkest. One holiday my sister had the bright idea of soaking a pair of her faded corduroy jeans in the container of the remaining mix, poured piles of salt in to prevent running and hung them out to dry. She wore those intense fuchsia trousers, her favourite, until the cloth tore!
The afternoon was reserved for the "dry" half of Holi, white talcum from a "My Fair Lady" tin or a Johnson's container sprinkled liberally on the hair and faces. The brilliant range of powders called "abrack" or "gulaal" my mother had purchased to reflect the beautiful hues of the season would follow. These were synthetic, or coloured with food dye, dried and packaged into their little ribbons of plastic for we lacked the plant-based ingredients except turmeric, used for tints ranging from the red of the palash or flame of the forest trees, to fragrant sandalwood, madder, radish, pomegranate, henna, indigo and beetroot.
Anyone was game, and in my multiracial, multicultural community, all took part. Some resorted to the dreaded ashes and slick mud dissolved in water, others drove with their car windows wound tightly up, and quite a few poor souls on their way to church on the Sunday that Phagwah occasionally came, fell angry, wet victims and had to turn back home.
Remaining a fiesta for the senses, Phagwah is of course also an occasion for feasting but in our homes, the practice remains strictly vegetarian and non-alcoholic, paying tribute to the earth's bounty of fruits, greens and crops harvested locally. Deaths of close members of the family mean no celebrations for a ritual year of mourning.
Mothers grew famous for their creamy kheer or rice pudding, "gojhas" – fragrant, filling pastries stuffed with sweetened grated coconut, and "gulgulahs" – deep fried spongy fruit balls made from soft, kneaded dough packed with crushed sweet fig or what Trinis call "sucrier" or "chiquito" bananas. Today we also shape smooth milk-based "perahs or pedahs", dripping "gulaab jamuns, barfi, rasgullah and rasmillai," besides the usual "mohanbog, sawine and methai," plus the all-time popular savouries of "pholourie, baiganee"or crispy sliced eggplant in a seasoned split pea batter, the chick pea ball "kachowrie", crispy "sal sev" humourously dubbed 'chicken foot', "bara" etc.
For some, Holi marks the beginning of a fresh crop and a new year, and an auspicious opportunity to forgive, to heal and to start again in the perpetual struggle to triumph, whether over one's baser self or the ongoing challenges in a turbulent time.   It is therefore fitting that the chowtals continue, the rites remain, and Phagwah prevails.
ID is red from hearing of unholy music events – such as the Festival of Colours Tour and Holi One which feature timed throws of powder – plus marathon franchises like Holi Run and Color Me Rad in which runners are doused at regular checkpoints.
Comments
Since the festival of Christmas commands a pre-eminent position – of observance and celebration – on Guyana's Annual Calendar of National Events, I thought I'd pen a few lines to provoke thought and meditation relevant to the "Real Reason for the Season".

To mark the anniversary of Martin Carter's passing on December 13, 1997, Gemma Robinson looks at Carter's Poems of Succession, published 40 years ago this year.
By Naicelis Rozema-Elkins It is about time, past due in fact, that the problem of sexual assault by teachers in our school system is addressed.

Focus on Guyana's National Budget 2018 represents the twenty-eighth edition of this Ram & McRae annual publication which highlights, reviews and comments on the major issues surrounding and raised in the National Budget.

By Mark Leonard LONDON – Over the last few weeks, media around the world have been saturated with stories about how technology is destroying politics.