Our destiny offers, not the cup of despair, but the chalice of opportunity. – President Richard Nixon, first inaugural address January 20, 1969.


Attorney-at-law and popular city street chess player James Bond is aspiring to lead the royal game into the future at the apex of the Guyana Chess Federation (GCF). Bond is teaming with social entrepreneur and Chief Executive Officer of Silicon Green Frankie Farley, also an accomplished tournament chess player with overseas experience. GCF elections will be held on Sunday, March 26.
Local chess has been depressed by its failure to attract sizeable numbers to the ancient pastime. Chess has its origins in India, and its history can be traced through writings to the year 6AD. Locally, the National Schools Chess Championships have been erased, competitions are held irregularly, there is an absence of an annual schedule of events for tournament participants to plan their next moves and overseas representations are hidden until the last moments of a competition. In addition to repetitive recitals of these and other complaints, chess in Guyana remains bleak in spirit.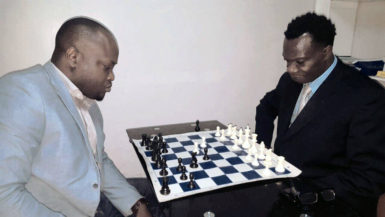 Bond wants to dissolve that perception. He hopes he can resolve the inner conflicts chess players have been experiencing by introducing transparent methods of doing things. Bond subscribes to the truth, he says, echoing Leo Tolstoy, and, afterward, Nobel laureate Ernest Hemingway's famous words, "My hero is the truth." Many writers have made such a claim, openly or implicitly: Tell it as it is. The words are used as the sacred talisman and duty of one who aspires to higher office.
The column is unaware of whether the incumbent president of the GCF, Irshad Mohammed, would be seeking re-election. The Annual General Meeting of the GCF, at which executive officers are either retained, or new ones are elected, has not been held since February 2014, the year of the changing of the guard from Shiv Nandalall to the incumbent Mohammed.
Recently, there were difficulties in administering traditional chess programmes. Seasoned tournament competitors dwindled, and the administration could not fulfil a promise of hosting the celebrated National Senior Chess Championship. Chiefly, emphasis is placed on the magnificent Chess Olympiad in juxtaposition to the recruitment of new faces for the GCF. In the column's view, both aspects of the equation are important. We can only obtain international recognition by attending tournaments overseas, and we will sustain sponsorship only by increasing our numbers in chess.
With kindness, Bond granted the column a concise interview last week. This is what he had to say based on the column's questions:
Q: Chess has been having its vicissitudes for a while. Transparency is a debilitating factor. Chess is enfeebled. How do you intend to address this difficulty?
 A: I intend to be true in all that I undertake. Indeed, we have difficulties to be ironed out. We will have an open forum and nothing would be hidden. I will insist on transparency. It would be the only way for this great game to be a success story for Guyana. Openness and fairness would be the order of the day. In terms of accountability, I would desist from handling monies. That would be the treasurer's undertaking. However, I would request regular updates from the treasurer and this information would be shared with the executive officers openly.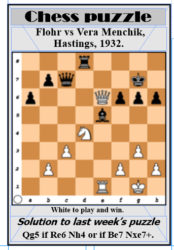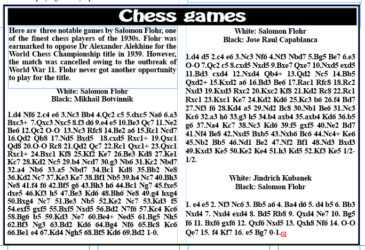 Q: For the last three years, the concentration on chess has been playing the Olympiads. Comment?
A: Participation at the Chess Olympiads would continue. It is imperative that they do, because they present an opportunity for Guyana to seek chess titles, and, in the long run, become internationally recognized. Added to that, we would encourage stronger ties with our Caricom neighbours including the region's most powerful chess nation, Cuba.
Q: Ninety-five per cent, or thereabouts, of our people are without knowledge of chess. Do you intend to grow the game? And if so, how?
A: Through the schools. You do understand this would have be a long-term plan. First, we have to appreciate how school chess operates. We can approach the Indian High Commission, for example, for information pertaining to the Chess-in-Schools programme. We are aware India is a powerhouse in schools chess, and we can learn from them. Also, Guyana has a High Commission in India and therefore, we can seek its assistanc. Another aspect of growing the game would be to bring in all those disillusioned players who have not been participating in competitions. The Federation would assist those who are left behind with the introduction of serious training programmes organized by the GCF. I believe in institutional memory. Our task therefore, would be to build on what was done previously. The wheel has already been designed.  We cannot re-design the wheel.
Q: If a third world nation cultivates a chess grandmaster, the recognition from at least one billion people would be realistically intoxicating. Such a feat can improve Guyana's tourism potential. Would this be one of your strategies? Elaborate.
A: A word of caution here. Obtaining a grandmaster would be a lofty ideal. I prefer to cultivate titled players first, and we can achieve this through participation at the biennial Chess Olympiads. However, seeking a grandmaster would certainly represent one of my strategies for my personal chess involvement. The tourism potential would lie in the fact that Guyana would be instantly recognized as a cool chess destination, as how Cuba has gained stardom with chess.
Q: A handful of youths from the seasoned city schools have been adopting the game. Would you re-introduce the defunct National Schools Chess Championships?
A: Yes. Chess is for the masses. And as I said previously, schools chess is vital to our development. I would love to re-introduce the National Schools Chess Championships. We have immeasurable benefits to achieve from such a programme.
Q: It is widely believed chess is one of your passions. You are willing to engage all comers, and there is always a chess set at your hand reach. When did this love affair with the game begin?
A: Approximately two years ago. My fascination with the game was nourished when I realized the number of possibilities contained in one game. It is mind-boggling. Previously, I was an athlete, and changed from being a sprinter to the high jump. I also played football in Trinidad and Tobago. With chess, my only regret is that I learnt the game of kings late.
Finally I would say to chess players, we are standing on the threshold of a new era in chess. Together, we can make chess work.
Around the Web