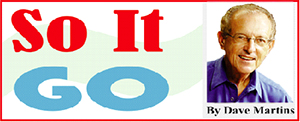 In my time as a musician travelling about, one of the spin-offs was the development of friendships, in diverse places, that would not otherwise have come my way.  One that stands out is my relationship with Barbadian radio broadcaster Vic Fernandes – we have become like brothers over the years – and in a recent email exchange Vic, who has an enquiring mind, reacted to my saying that writing songs was an almost automatic development in my life, not something that I had set my mind to. Vic's position was that instinct was something he saw operating in a pervasive manner in Caribbean societies, and he pushed me to write a column on the matter, to elaborate more.
As he put it, "I once heard Gary Sobers say that our players train too much and should rely on natural talent and wondered about the comment. But then he is Sir Gary, and we do see that instinct he refers to in so many aspects of our way of life: the mechanic who can fix anything that has an engine, the many self-taught musicians, our home-grown chefs, and yes even my industry of broadcasting where so many of us made an impact largely by using our God-given gifts and talents. I guess I am also an example, in that almost everything I know about the industry is self taught."
Vic went on, "At the same time, I am surprised to hear you say that all those years you were doing what you did on instinct. For me, I always saw it as your ability to reflect; to me it was your ability to capture the essence of our Caribbean experiences, whether in Barbados, Trinidad, St.Lucia or wherever, and to transpose that into memorable songs. 'Right on Baje" I remember as resonating with Bajans, and the reason first and foremost was the reflection of aspects of Bajan society. Same thing with 'You Can't Get'. These and other songs, including your ballads, captured the essence of who we are. How many of us have had love affairs with foreign women, or men, in the case of the ladies, so that a song like 'Come Back Again', pulls at the heart strings, captures the emotion of the separation and possible breakup? I always assumed it was deliberate, that you saw yourself as one who would capture in lyrics and songs the stories of our societies. It's intriguing that you consider it more instinctive perhaps is in itself a reflection of how we at times are a people just naturally gifted and how we work on instinct."
This conversation with Brother Fernandes took place some time ago, and I've looked at it in my archives from time to time and never fully addressed it with him, probably because I haven't come to a conclusion on the subject. My general position for now, however, is that there are two aspects to this topic of creativity; in every such endeavour, in whatever field, the first piece is the matter of the observer quality in the artiste which steers him/her to spot an aspect of something that is not generally obvious, so that, for instance, the 'Brother Jonesie' song only emerged after I realised that the essential part of the story was the ability of certain individuals to persuade masses of people to obey orders blindly – Hitler, Juan Peron, Jim Jones, etc.
The other piece is then the application of a particular craft – music, painting, sculpture – to the idea resulting in what we know as the finished work that Vic is curious about, but the first piece, the original observation or approach, is also hugely in play.
Vic cites the example of the legendary Sir Garfield Sobers as a cricketer who appeared inherently able to go out there, on any given day, and display his unique gifts without much in the way of training and or regimentation.  I'm sure Vic would say that that same ingredient featured prominently in the batting of Brian Lara who, among other things, was a master at finding gaps in a field of players, and also in the onslaughts from Viv Richards who would just walk out there and take over a game. Here's a more frontal example of it: I recall being in Port-of-Spain one year with Tradewinds when a Test match was on.
After a fete one night, a friend took me to a popular drinking spot on the edge of the Savannah, and I was stunned to see Rohan Kanhai, a member of the West Indies team, in the bar, around 2 am, in a condition we would describe in Guyana as "fully blocked", but a few hours later, there was Rohan delivering a blistering 70-something at Queen's Park that had people jumping up and hugging one another.  That episode would vindicate Vic Fernandes' "ability by instinct" hypothesis.
Another example is from my time in Grand Cayman, when my house was being built and I took on the job, all alone, of putting in the greenheart tongue-and-groove flooring not ever having done that particular work before.
The fact that it was the first such floor in Cayman, and that I had no help with it, didn't deter me for a moment; I had done some handyman projects and I was confident I could handle this one – Vic would say that the process there is an instinct, not just a mental decision, and that it can be widely seen in Caribbean culture.  I recognise what he's referring to – you can find copious examples in our Amerindian culture, or in the Rasta followers in Jamaica, or in the expert seamen Cayman was known for in the early days; indeed, also, in the wood carvers such as Gary Thomas in Guyana.
It's a fascinating subject, and while I would argue that my propulsion towards song-writing emanated from a growing awareness of the Caribbean, from living outside it, Vic's point is that he always thought of it as a conscious decision rather than something that just overtook me, as I seemed to be saying. He could be right, I can't say unequivocally which it is; we're going back here over 50 years.   It could very well be both.
Comments
CARACAS/HOUSTON (Reuters) – Venezuela's unraveling socialist government is increasingly turning to ally Russia for the cash and credit it needs to survive – and offering prized state-owned oil assets in return, sources familiar with the negotiations told Reuters.
By Carl Bildt CHICAGO – We are now in the final days of the industrial age.

During Men's Health Week, the man/woman in the street were asked to speak on their lifestyles and what they do to maintain their health or to encourage their significant others to lead healthy lifestyles.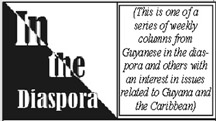 By The Caribbean Voice There are no reliable statistics on the amount of persons engaging in the use of illegal drugs or those described as addicts.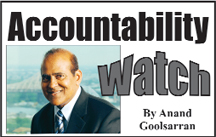 In last week's article, we referred to the two recognized methods of accounting for costs relating to the exploration, development and production of crude oil and natural gas: the "successful efforts" (SE) method and the "full cost" (FC) method.