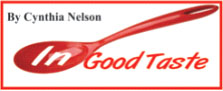 Like bread? Like corned beef? Don't sandwich the two; roll them together.
These rolls are perfect for breakfast, brunch, tea, afterschool snack, or for an evening nibble with a hot or cold beverage. I won't spend too much time talking about them because I want you to make some this weekend and there are a few tips that I want to include in the recipe.
TIPS
Select your favourite brand of corned beef, preferably one that is not overly salty.
Spread the filling about half an inch shy of reaching all of the ends except the end from which you will first roll that will eventfully form the centre of the roll. You want to ensure that when the rolls are baked that each layer, especially the centre has ample filling.
When rolling the dough and filling, do not press down on the roll; roll lightly and gently.
Add a little water along the edge of the roll before pinching it to seal; the water ensures that the dough seals tightly and does not loose when it is set to rise. Once rolled, let the log rest seam-side down for 1 full minute to seal completely before cutting.
When cutting the roll, cut guillotine style (straight down) with a sharp knife, dough scraper or similar cutting device; do not saw.
Wet a piece of paper kitchen towel to wipe the knife/dough scraper in between each cut as some tiny bits of the filling might come off at each cut
Place the rolls 3 inches apart so they bake up individually or put them next to each other to have softer edges when baked.
Yield: 16
INGREDIENTS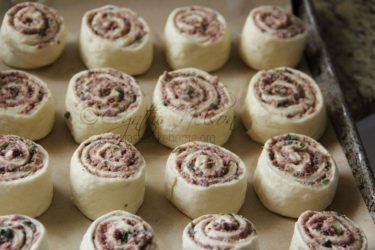 For dough:
3 cups all-purpose flour
2 level tablespoons sugar
1¼ teaspoons instant yeast
A pinch of salt
1 tablespoon oil, plus extra
1¾ cups warm whole milk (110 – 115 degrees F)
For filling:
2 tablespoons oil
1 cup finely chopped onions
1 clove garlic, finely minced
3 sprigs celery, finely minced
2 long sprigs thyme, leaves finely minced
Minced hot pepper to taste
2 – 3 whole scallions/green onions, thinly sliced (white/purple parts included)
1 (1-lb.) can of corned beef
DIRECTIONS
For dough:
Mix together the flour, sugar, yeast and salt in a bowl.
Add oil and milk to make a soft dough; when the dough comes together, knead for 3 minutes then rub dough with oil as well as the bowl. Cover and put somewhere warm and draft free to proof for 50 minutes or until doubled in size.
While dough is proofing, make the filling.
For filling:
Add oil to a fry pan to heat over medium heat.
Add all the ingredients except the scallions; toss well to mix, reduce heat to low and cool until the mixture is soft and fragrant. This could take 12 – 15 minutes
Open the can of corned beef and transfer it to a bowl, add the sautéed herbs and aromatics and mix together, mashing the corned beef. Fold in the scallions. Do not add the corned beef to the hot pan as this will start to cook the corned beef.
To assemble:
Line a 13 x 18-inch sheet pan with parchment paper and set aside.
Punch down the dough to release the gas and divide the dough equally in half. Take each piece of dough, knead it lightly and roll it into a ball. Cover and let rest for 10 minutes.
Working with one piece of dough at a time. Shape and roll it into an 11-inch square. Spread half of the corned beef mixture on the dough (see tip # 2). Roll the dough from one end to the other and seal (see tips # 2 and 3).
Cut the log of rolled dough with filling into 8 equal pieces (see tips # 5 and 6).
Assemble the rolls on the lined baking sheet (see tip # 7).
Repeat steps 3 to 5 with the other piece of dough.
Cover the rolls and place somewhere warm to rise for 30 minutes.
20 minutes before the 30-minute rising time is complete, preheat the oven to 350 degrees F.
Bake for 30 minutes or until the rolls are brown. Transfer to wire racks to cool; serve warm or at room temperature.
COOK'S NOTE
Water can be used in place of whole milk to make the dough. Regardless of what type of liquid you use, you may need more or less depending on the flour.
Around the Web