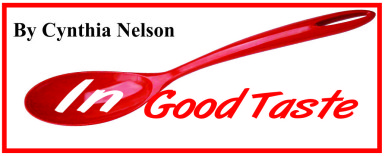 We all know what Chotah is right? Guyanese-style pancakes that draw influence from Indian cuisine. We also call it sweet roti, well, because it is flour, water and sugar mixed together of dropping consistency, ladled on to a lightly oiled tawah, spread in a circle and cooked evenly on both sides; just like a North American-style pancake. Today's recipe, while a Chotah, is not sweet but savoury.
These split peas Chotah came about because I had some rehydrated split peas left over from another dish I was making. To be quite honest, my original intention was to make phulourie but as I added the flour, baking powder etc. to the pureed split peas, I changed my mind – I decided to add a little more water to the batter to make chotah instead of phulourie. It was time to experiment.
They turned out really well. The split peas Chotah is not as soft and light as an all-flour chotah, it is meaty and goes perfectly well with sour, just like phulourie. And it should right? After all, it is really phulourie batter. The next time I make this type of chotah, I will cut them into shapes such as circles, squares or triangles, and serve them as appetizers or canapés. Toppings will include, sour, salsa, curried shrimp (white belly), scrambled eggs topped with ahchar… so many possibilities.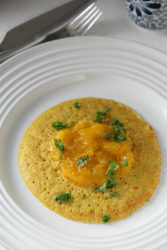 INGREDIENTS
split peas
1 teaspoon minced garlic
Minced hot pepper to taste
Water
Salt to taste
1 cup all-purpose flour
2 teaspoons baking powder
½ teaspoon ground cumin
(jeera)
¼ teaspoon ground turmeric
Oil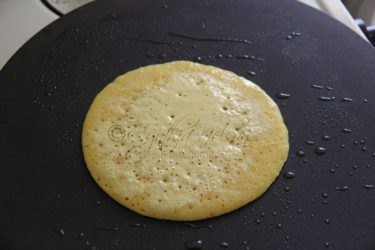 DIRECTIONS
Add the split peas, garlic, and enough water to puree to a smooth paste. The mixture will have a tiny grainy texture; season with salt and pulse to mix.
Mix together the flour, baking powder, geera powder and turmeric.
Add the pureed split pea mixture to the flour mixture and mix well adding enough water to form a batter of dropping consistency. Taste and add salt to taste. Cover and let rest for 30 minutes at room temperature.
Heat tawah or non-stick pan over medium-low heat. The pan is ready when you sprinkle a few drops of water and it dries out in about 3 – 5 seconds. Rub the pan with oil and ladle half cup of the batter into the centre of the pan, using the ladle, make 2 swirls to spread the batter. Let cook until bubbles and holes start form at the top and the edges start to cook. Flip the chotah and cook for 1 – 2 minutes. Transfer to a wire rack and repeat the process until all the batter is used up.
Serve warm or at room temperature with sour, pepper sauce or as canapés, or as is.
NOTE
Stir the batter well after the resting period, before it is cooked. The batter can rest for as long as 1 hour to 90 minutes.
Around the Web