… we are conscious of the disproportionate and unruly growth of many cities, which have become unhealthy to live in, not only because of pollution caused by toxic emissions but also as a result of urban chaos, poor transportation, and visual pollution and noise. Many cities are huge, inefficient structures, excessively wasteful of energy and water. Neighbour hoods, even those recently built, are congested, chaotic and lacking in sufficient green space. We were not meant to be inundated with cement, asphalt, glass and metal, and deprived of physical contact with nature.
Pope Francis
On 22 April, major cities in the world observed Earth Day with marches, rallies and speeches. It was on this day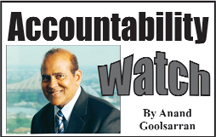 some 47 years ago that the United States Government established the Environmental Protection Agency (EPA) following marches by 20 million people across the country, led by Senator Gaylord Nelson, to demand that the US Congress enact laws to protect the environment mainly because of the oil spill in 1969 in Santa Barbara. However, it was not until 1990 that Earth Day began to be recognized internationally, with Guyana establishing its own EPA in 1996.  In 2009, the United Nations renamed Earth day as "International Mother Earth Day". It is, however, unfortunate that there were no reported activities in Guyana to observe this important day, especially considering that the United Nations Framework for Combatting Climate Change (UNFCCC) had conferred on our former President and now Leader of the Opposition the title of "Champion of the Earth".
Today, carbon dioxide (CO2) levels are at its highest in recorded history at more than 400 parts per million. The average motor car emits about six tons of CO2 every year which works out to 20 pounds for every one gallon of gas used. There are too many cars on our roadways, some of which are "mobile gas stations", meaning that they are huge luxury vehicles that burn a disproportional amount of fuel. Ice is melting at an ever increasing rate at the earth's poles, especially in Antarctica where a 400-foot waterfall has been found. And in just a matter of time, an iceberg of the size of Delaware will break off from Antarctica's continental shelf. Last month was assessed the second hottest month in recorded history. If we continue to ignore the effects of global warming and climate change and remain in a state of denial, we will continue to contribute to the destruction of the environment, and future generations will never forgive us.
Guyana is the second largest country in the world in terms of forest cover which stands at 85%. We need to keep our forests intact and avoid indulging in activities that will contribute to their depletion and degradation. We need to restrict mining activities that are a key factor for such depletion and degradation, including polluting our rivers on which residents of the hinterland communities depend for various purposes, including drinking. I had the opportunity of visiting Mahdia recently, and looking down from the aircraft, I was alarmed at the level of destruction of the environment, especially our waterways, due to mining activities.
We are the "lungs of the earth". Other countries (including ours) pollute the environment through industrial and other activities by dumping CO2 and other harmful gases into the environment. Our forests clean up the mess left by absorbing CO2 and replacing it with oxygen. According to the latest issue of World Watch magazine, "toilet paper wipes out 27,000 trees a day. Worldwide, the equivalent of almost 270,000 trees is either flushed or dumped in landfills every day and roughly 10 percent of that total is attributable to toilet paper". Instead of cutting down a tree, let us plant a new one every day. Several of the developed countries have introduced bicycle and carpool lanes, as a means of minimizing the use of motor cars. Shouldn't we be doing the same, considering the extent of congestion in our capital city?
On the local front, the former contractor for the Haags Bosch Landfill project is demanding a $14 million increase in the out-of-court settlement because of the depreciation of the Guyana dollar. This column had supported the settlement (not necessarily the quantum) in view of: (a) the urgent need to resume the operations of the landfill site which had come to a halt, resulting in unbearable stench and smoke from fires being experienced in the neighbouring communities; (b) the length of time it would take for the Court to adjudicate on the matter and uncertainty about the outcome of the appeal; and (c) the threat of a cut off of funding from the Inter-American Development Bank and if the contractor was not removed from the site.
Now, if the settlement has been agreed upon in Guyana dollars, the contractor has no claim. The
question of exchange rate movements is not applicable. On the other hand, if the settlement is denominated in US dollar, it is the Government that has to bear the additional cost in Guyana dollars to discharge the debt. In this case, the contractor has no cause for worry since he will be receiving US dollars.
Today, we continue our discussion of the State Assets Recovery Agency Act 2017.
Part III – The Recovery of State Assets Fund
The Act establishes the Recovery of State Assets Fund into which is deposited: (a) 25 per cent of all proceeds from civil recovery orders, the balance to be paid into the Consolidated Fund; (b) proceeds from the sale of property; and (c) any income derived from the investment of any amount standing to the credit of the Fund.
The Director may authorise payments from the Fund:
(a)          to discharge of SARA's functions, including commencement of actions for enforcing the Act;
(b)          to compensate victims who suffered losses as a result of unlawful conduct;
(c)           to transfer recovered property to a foreign state or territory or share it in accordance with any treaty, agreement or arrangement;
(d)          to fund training or capacity building as may be required; and
(e)          to pay fees to counsel, forensic experts, investigators, receivers and other professionals providing expertise and assistance.
A key requirement that may have been overlooked in the Act is that there is no provision
for the audited financial statements of SARA to be presented in the National Assembly
accompanying the annual report of the Director.
Part IV – Civil recovery and preservation of State property obtained through unlawful conduct
All proceedings shall be civil proceedings, as opposed to criminal, and the related rules of evidence shall apply. The standard proof required shall be based on the balance of probabilities. Unlawful conduct is conduct that constitutes an offence under any of the criminal, administrative, revenue or any other law of Guyana, and includes that which occurs: (a) in a foreign state or territory and constituting an offence under the law of the foreign state or territory; and (b) in Guyana and constituting an offence under the criminal, administrative, revenue or any other law of Guyana.
If the Director believes that a property has been acquired through the unlawful conduct involving a public official or any other person, is State property, he/she shall take all necessary steps for the civil recovery of the property. A civil recovery investigation is an investigation into:
(a)          whether any property, or any specified property, is State property obtained or derived, directly or indirectly, from unlawful conduct involving a public official or any other person;
(b)          whether a benefit has been derived, directly or indirectly, in whole or in part, with or in connection with a public official's or any other person's unlawful conduct in respect of State property;
(d)          who holds the property; or
(e)          the extent or whereabouts of the property.
An investigation is not a civil recovery investigation if the property in question is detained under the Anti-Money Laundering and Countering the Financing of Terrorism Act.
In deciding whether a State property has been acquired through unlawful conduct:
it is immaterial whether or not any money, goods or services were provided in order to put the person in question in a position to carry out the unlawful act; and
it is not necessary to show that the conduct was of a particular kind if the property was obtained through one of a number of kinds, each of which would have been unlawful conduct; or it is shown that the circumstances in which the property was obtained were such as to give rise to an irresistible interference that it could have been derived from unlawful conduct.
If a person obtains a pecuniary advantage as a result of, or in connection with, unlawful conduct of a public official or any other person in relation to State property, he/she is taken to obtain as a result of, or in connection with the conduct, a sum of money equal to the value of the pecuniary advantage. In this regard, property is obtained by a person if he/she obtains an interest in it. The failure to make a full and frank disclosure, or the provision of false or misleading information, by a person under legal obligation to provide financial disclosures to the Integrity Commission, the Revenue Authority or any other public authority, is a breach of the relevant law and constitutes unlawful conduct.
I conclude with the words of Pope Francis on the work and life of Saint Francis of Assisi:
He was particularly concerned for God's creation and for the poor and outcast. He loved, and was deeply loved for his joy, his generous self-giving, his openheartedness. He was a mystic and a pilgrim who lived in simplicity and in wonderful harmony with God, with others, with nature and with himself. He shows us how inseparable the bond is between concern for nature, justice for the poor, commitment to society, and interior peace.