An Unusual Steel Band of Handicapped Children
And the Dedicated lady who taught them
TOTALLY oblivious of his surroundings, mentally retarded Ter­rence Gittens the star of the David Rose School for the Handi­capped, beats his pans playing from his soul.
The steel band is com­prised of one hearing impaired and four men­tally retarded children. The headmistress of the school approached Cheryl Eversely, a teacher of the school, and asked her to teach the children who show­ed an interest. Cheryl plays the piano and recorder. She had to be taught by Roy Geddes, the pioneer of steel band music in Guyana. Another teacher of the school, Mr. Spence was taught also to assist Eversely.
Cheryl had to first familiarise the children with the notes by tak­ing their hands and placing them upon the notes over and over.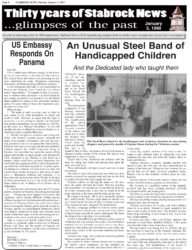 Then, individually, she had to teach each one to play the melody.
She went to each child at the pan and while the child looked on played the required note and then let the child try until eventually the child caught the tune.
Terrence started out playing the drum set. He now plays the guitar and bass steel pans. Terrence can play any instrument. His musical ear is such that all he has to do is hear someone play a tune and he would sit at the piano and pick at the notes until he picks up the tune.
He cannot read music. 'He is just a musically talented boy,' said Eversely. Terrence plays music to suit the season. From October he starts to play Christmas music and from January he plays calypsoes for Mashramani.
He has a language pro­blem in that he cannot speak very clearly, but Eversely says as long as the time is taken to listen to him carefully he can be under­stood. The band has helped him to develop a lot emotionally.
At first it was diffi­cult to get Terrence to play a tune or instrument that you wanted him to play. He would throw tan­trums and cry. Everse­ly says he is now a very disciplined boy and realises that the band is a joint effort, and easily obeys orders in the classroom situation and home environment.
Terrence also sings. The words are somewhat garbled but one cannot miss the tune.
He is partial to oldies. Terrence knows how to operate his father's stereo equip­ment. He has arranged his favourite records in an order and plays them when he is in the mood.
Floyd Day, another member of the band is deaf. He learns to play different tunes by tak­ing his cues from watching the bass play and when the teacher plays he looks and fol­lows.
Addison Thomas a mentally retarded mem­ber first started to play the first pans but later demonstrated an interest in the drum set. "Wherever their interests lie you get the best out of them,' Eversely remarked. Ayana Roberts who is also mentally retarded plays the tambourines.
The last member of the band Andrew Cippio who has Down's Syndrome plays a per­cussion instrument.
Ms. Eversely is a quali­fied teacher of the men­tally retarded and has been teaching prac­tical self-help develop­ment skills and social graces.
She plans to widen the band and is presently scouting among stu­dents of the school for prospective members.
She says the children enjoy playing because when it is rehearsal time they all turn up.
'Terrence never goes out to play with other children when he is at school. Instead he heads straight to the music room to play at break time.' The child­ren can play thirty songs including "I Just Called to Say I Love You' and 'Guantanamera."
Eversely says that it takes a lot of time, patience and tolerance to teach these disabled children, 'I feel great and rewarded when I hear them play a song.'
She says that it's her strong love for children that got her involved in teaching of the men­tally retarded. She does not have any children of her own but plans to have a family.
Eversely acknowledged the valuable input of the Bel Air Lions Club who donated the steel pans to the school two years ago. The head­mistress, of the school is extremely supportive and tolerant of the music noise.
US Embassy Responds On Panama
Dear Sir,
THE United States believes strongly in the principle of non-intervention in the affairs of other nations. The Uni­ted States also believes in protecting its citizens, upholding its treaty obligations, promoting democracy, and bringing drug traffickers to justice.
In the immediate aftermath of our intervention in Panama, the "Stabroek News" found the U.S. military action "unjustifiable." To respond to this, it is necessary to address three questions — is intervention by one country in another ever justified; was the United States justified in acting in this particular situation; and is ITS action likely to leave the Panamanian people better or worse off?
Taken in turn:
1. The right of each sovereign state to chart its own course is the solid foundation on which our world is built. However, to argue that this right is sacrosanct is to be willing to tolerate and ultimately bear moral responsibility for the horrors of a Pol Pot, an Idi Amin, or a Michael Micombero. To act with insufficient cause is abhorrent, to not act despite over­whelming cause is equally abhorrent.
2. Manuel Noriega is a murderer and a drug trafficker who brutally usurped power, trampled the rights of his people, overturned a free and fair election, de­clared a state of war against the United States, killed an American serviceman and threatened further vio­lence against the 35,000 Americans living in Panama. For more than four years the nations of the region individually, in small groups, and through the OAS, attempted to get Noriega to step down, in a manner which would have restored democracy but would also have guaranteed him a safe retirement during which he could have enjoyed his ill-gotten gains. He refused all overtures. For more than two years, the United States further attempted a full series of measures — diplomatic, political, and economic — to force him out, but these also failed. Finally, in the face of direct provocation and as a last resort, the United States chose to act, in defence of its citizens and its obligations.
3. Ten days have not passed since the U.S. action, and the situation in Panama is becoming increasingly clear — Noriega has been stripped of all power and legitimacy and is having difficulty finding anyone willing to accept him; the democratically-elected government of President Endara has taken firm con­trol and is restoring the liberties stolen from the peo­ple by Noreiga; and the so-called Dignity Battalions, which were largely composed of thugs and criminals have mostly ended their reign of terror and looting and surrendered to the newly established police force.
Only as a last resort did the United States finally exer­cise its legitimate rights to intervene in Panama. History will show that the people of Panama, the nations of this hemisphere, and the cause of democracy are the better for this action.
Sincerely
DENNIS K. HAYS
Charge d'Affaires
Embassy of the United States of America.
Around the Web