Chandisingh, Burnham, Harewood-Benn demoted in New Year Shake-up
ACCORDING to opposition elements, President Desmond Hoyte's New Year re­shuffle of his Ministers and other govern­ment officials is of minor significance and without any immediate impact on the na­tional situation.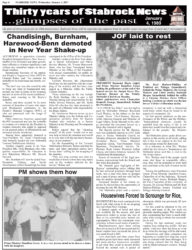 International Secretary of the opposition People's Progressive Party (PPP) Mr. Cle­ment Rohee said, "we consider the reshuf­fle to be traditional and merely cosmetic."
"We don't see how this would be able to bring any kind of fundamental turnaround, not only in terms of the economy but also in terms of the social conditions," Rohee said, reacting to Mr. Hoyte's reshuffle.
Rohee said there seemed "to be some element of demotion of some who represent Bumhamite sentiments in the People's National Congress (PNC), or who are associated with the image of Burnham."
Other observers, however, questioned the PPP assessment and saw the reshuffle as evidence of a desire by the President to weaken elements who might be opposed to his general policy of liberal­isation and increased private investment.
Among those apparently demoted is Vice-Pre­sident Mr. Ranji Chandisingh who formerly head­ed the now disbanded National Mobilisation Min­istry.
Another casualty seems to be Vice-President Mrs. Viola Burnham who relinquishes responsibil­ity for Education to new Education Minister Mr. Deryck Bernard.
Mrs. Burnham will now be styled Vice-Presi­dent, Culture, and Social Development while Chandisingh has been reassigned to the Office of the President.
Another victim in the New Year shake-up is former Information and Public Service Minister, Ms. Yvonne Harewood-Benn, who has been "re­assigned Senior Minister in the Office of the Pre­sident" with special responsibility for public in­terest and other matters, the Information Min­istry said.
Forestry Minister, Mr. Dharamdeo Sawh has lost his portfolio with the scrapping of the ministry and has been reassigned as a Minister within the Public Utilities Ministry.
Those continuing on the rise include Dr. Faith Harding, who is now a full Minister taking over responsibility for the Public Service Ministry, and Ms. Stella Odie-Ali who has also been promoted to the rank of a Minister with responsibility for Home Affairs.
Mr. Gowkarran Sharma moves up as a Minister taking over the Labour and Co-operatives port­folio from Mr Seeram Prashad who switches as a Senior Minister in the Planning and Development Ministry.
Rohee argued that the "shunting around" of the posts "would not in any way help to better the situation and would in no way deal with the top-heavy bureaucracy in government."
On the dismantling of the National Mobilisa­tion Ministry, Rohee said that his party, and other opposition parties have always been "calling for the scrapping of the ministry.
"This was long overdue and what we would like to know is how have they taken care of the work­ers affected by the moves," Rohee said.
JOF laid to rest
"A FLOWER has fallen" was the tagline used by Methodist Minister, Reverend Cecil Weekes, in his tribute to the late Joseph Oscar Fitz-Clarence Haynes, while Attorney-General and Minister of Legal Affairs, Keith Massiah in his eulogy described the Guyanese lawyer as a latter-day Gamaliel and a legend.
The funeral service for Mr. Haynes, who was familiarly known as J.O.F. took place at Trinity Methodist Church on Monday afternoon, attended by President Desmond Hoyte, Prime Minister Hamilton Green, Vice-President Viola Burnham, Presidential Adviser Dr. Ptolemy Reid, former President Arthur Chung, and former Attorney General, Dr. Mohammed Shahabuddeen.
Scores of members of the legal pro­fession, representing both the Bench and Bar were also pre­sent.
Mr. Massiah gave highlights of Mr. Haynes' outstanding career adding that he had achieved great­ness through hard work, was a man who bore no grudges and a man of peace and one who had no time for shallow friendships.
Reverend Weekes in his tribute re­gretted he did not have the opportu­nity of meeting the late Mr. Haynes.
The Methodist priest said a nation's prosperity is tied up with a disciplined work-force which must be found in all aspects of commu­nity life.
He laid special em­phasis on the per­formance of the Police and the Mili­tary. "Indisciplined elements should be expelled from the ranks, if this is not done they would lose the respect and confidence of the people," the Mini­ster added.
The Methodist priest spoke about corruption in the society at all levels, adding that if this is not nipped in the bud, the entire nation would be des­troyed.
In a reference to what Rev. Weekes called the late lawyer's 'humane­ness, the Methodist priest said this is vital to the life of any nation.
Rev. Weekes said if the people could sense that those in responsible office, care, they will be prepared to work hard and contribute to the task of nation building.
Among the pallbearers were President Hoyte, Prime Minister Hamilton Green, Chancellor of of the Judiciary,  Kenneth George, Chief Justice Rudolph Harper, the Vice Chancellor of the University  of Guyana, Dr. George Walcott and Mr. Karl Hudson-Phillips, former Trinidad and Tobago Attorney General.
Housewives Forced to Scrounge for Rice, flour
HOUSEWIVES this week continued to be faced with what seems to be an on-going rice and wheat flour short­age.
A limited supply of bread and cakes was available for the season, and most housewives failed to secure any rice or flour at the con­trolled price around city supermarkets. Most city restaurants were yesterday without usual stocks of pastries.
Blackmarketeers have been selling flour for as much as $15 per pound and the bread vendors have increased the price of two small bread to $30.
Even chowmein and other wheat flour pro­ducts prices have been vastly increased and panic-stricken house­wives scramble to get what they could at several dollars beyond the normal cost. A packet of chowmein which was previously $5 now costs $10.
No rice could be obtained in the city markets and many of the rice stalls are pre­sently standing empty. The vendors are also complaining that there is much difficulty when trying to obtain the commodities to sell.
During the last week­end, some rice vendors were selling rice at $20 – $25 per gallon. Until now there has been no word as to when the shortage will be alleviated.
Housewives and other consumers are begin­ning to wonder how long they would have to contend with these shortages. It is also being claimed that the flour being sold by blackmarketeers con­tains "foreign matter."
Around the Web