ALTHOUGH the long-awaited coding system for mini-buses has been in effect nearly a week now, scores of commuters are still at a loss to determine which buses ply which routes.
Several bus operators were off-duty for hours Monday and Tues­day as they scrambled to have the colour and numbering codes paint­ed on their vehicles.
But Traffic Chief Cyril Fred­ericks assured operators Monday that the Police have no plans to begin enforcing the system imme­diately because they are well aware of the difficulties in obtaining paint at the moment. He expects, however, that operators and own­ers will comply with the Works and Communications Ministry-imple­mented regulation.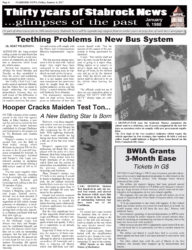 The big question among oper­ators is how to deal with "special drops" they might have been con­tracted to do outside their specified operating areas as stipulated on road service licences.
The ministry has made it clear that it is not against such business transactions but permission must be sought from the prescribed author­ity, in this case the Police," a senior ministry official told Stabroek News Monday.
The explanatory memorandum on road service licences gives an indi­cation of how this system should work '"but the success of this aspect of the new system is being ques­tioned by operators.
It says: "The vehicle shall not leave its route except for the purpose of going to a repair shop, fill­ing station or to owner's or driver's home and in doing so shall go off route, by the shortest way and go on by the shortest way. Only the drivers and conductor shall be al­lowed to be on the vehicle when leaving the route."
The officials could not say if there are any immediate plans to enforce "ON DUTY AND OFF DUTY" display signs on vehicles.
Hooper Cracks Maiden Test Ton…
A New Batting Star Is Born
ON THE evidence of the century scored in the third Test against India, at Eden Gardens, a new star has ar­rived to extend the line of great West Indian batsmen established by George Challenor and maintained in the present era by Vic Richards and Gordon Greenidge.
Hopper's century, in only his second Test, was the third in West Indies' innings, which Richards declared at 530 for five as soon as the 21-year-old Guy­anese completed his triumph. In between Greenidge's hundred and Hooper's, Gus Logie contributed another in sparkling manner, he and Hooper sharing a fifth-wicket stand of 169 in 41 overs.
The two came together when West Indies' fortunes, standing so high overnight, had suddenly ebbed, with Richards and Greenidge both falling in the first 25 minutes of play.
The situation in which Hooper, a fledgling, came in to join Logie, himself newly-arrived, was at least dramatic if not desperately critical and, regardless of skill which Hoop­er possesses in abundance, it need­ed steadiness of nerve to put the innings back on the rails, special­ly as Sharma and Kapil both had their tails right up.
Hooper and Logie were equal to the challenge. Logie was always very busy and Hooper, once he established himself, put on show the features which mark him out as such an outstanding prospect. Not the least of them was his footwork. He danced out to hoist Ayub for two sixes in the manner Greenidge did against the same bowler on the previous Saturday.
However, even these magnificent strokes were not to compare with a third six that Hooper hit after com­pleting his 50, off 89 balls. With lightning footwork, he made room outside the leg stump and drove Maninder, with a full arc of the bat over extra-cover.
Hooper's square-cuts and deflec­tions off Kapil Dev were played with the poise of a class batsman, their base being perfect balance. These strokes were the bright in­terludes of an innings which fitted into the pattern of remorseless ac­cumulation set on the previous afternoon by Greenidge and Rich­ards.
Thus, Hooper's century was 171 balls in the making. It would be harsh to highlight the time he took, for the Indians tactically bowl­ed their overs at a very slow rate, delivering no more than 14 an hour, although 48 were sent down by the spinners.
Hooper had certainly acquired enough authority, as borne out by his three sixes, to assault the Indian bowling more vehemently if great­er aggression was necessary to strategy.
Not the least significant facet of this enjoyable stand between Logie and Hooper was their running be­tween the wickets, so quick-witted and speedy. It did a lot of under­mine to an already frustrated at­tack.
Logie had 15 fours in his cen­tury, the majority of them coming from waspish square-cuts, although he played a memorable cover-drive off Amarnath and a blow to long-leg off Shastri which was half-hook and half-sweep.
No sooner had Logie reached his hundred than he drove at Maninder without getting to the pitch of the ball and returned a catch as simple as the one which the same bowler missed when offered by Richardson.
Once Logie was gone, Dujon bat­ted with the steadfastness needed to give Hooper the confidence to pace himself over the remaining 32 runs to his century.
(With thanks to the Daily Nation of Barbados)
.BWIA Grants 3-Month Ease
Tickets In G$
TRINIDAD and Tobago's BWIA says Guyanese can take advantage of its recently implemented programme to offer tickets to the Caribbean in Guyana dollars, Area Manager Dawn Murray announced last week.
The airline, the region's largest, had been granted special permis­sion to sell its tickets in US dollars only because it was piling up a huge amount of local currency which could not be repatriated to its head­quarters in the twin-island republic.
The manager also said the airline would sell tickets on all its routes in Guyana dollars if the Bank of Guyana allows it to repatriate profits.
"It is an experiment to see what will happen. If the Central Bank can release money on a week by week basis or in total, we would re­sume sales in G$ from the next day," Murray told Stabroek News.
Government's granting of special dispensation to BWIA early last year resulted in similar requests from several airlines interested in re­suming or commencing services to Guyana, but so far none has been dealt with similarly.
Other sources say that BWIA apparently needs some G$ to service the local end of its operations and this is another reason for the move.
The airline had hinted it would have had to severely scale down op­erations here had it not been allowed to earn some hard currency.
The offer, which lasts until the end of March in the first instance, has already been snapped up by busi­nessmen and traders.
Around the Web