Workers, Commuters Severely Affected By BERT WILKINSON
AREAS in Georgetown and other districts fed by the Kingston Power Station re­mained in darkness last night following this week's shutdown of the station caused by what a corporation statement said was a ruptured tube in one of its condensers.
Witnesses reported, however, they heard a loud explosion from the station on Tuesday.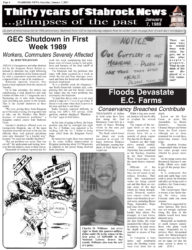 Up to late yesterday, the station was experiencing a total shutdown and only Garden of Eden with 2.7 megawatts and a fluctuating six to nine from Guymine, were providing any power in the sys­tem. This is the second shutdown in three weeks.
"We were getting three from Kingston up to Thursday evening, but engineers had to take out the Number One Boiler because of mechanical problems," a Kingston station source told Stabroek
News.
Tuesday's shutdown affected even the Georgetown Hospital, one of the most important essential services in the city, but officials there said gen­eral operations were only disrupted "in a limited way" because "we used our standby facilities."
"But our problem was water. That was cut off," the spokesman said noting, however that the military came to their rescue.
Thousands of workers reported late for work this week complaining that mini-buses were off routes owing to fuel problems and be­cause of the total cut­off of water in vari­ous areas.
The blackouts and the problems that came with them occurred in a week in which the rice and flour shortages worsened and lines for bread and wheat-based products lengthened.
"It is a horrible week for Guyanese," one South Ruimveldt resi­dent said, complaining that she and her family cannot any longer take the water problems that accompany the black­outs.
"A mini-bus driver took us to an open yard at Lodge at 3.15 a.m. to get water. It doesn't even come when there is power in the area and that is rare there."
Radio listeners report­ed difficulty in tuning into GBC's AM service, while gasolene stations displayed "Blackout – No Gas" signs in bold letters.
At the time of going to Press, the latest posi­tion was that by mid­night last night the No. 2 Turbine was expect­ed to be working with the No. l Boiler to bring some relief from the Kingston Power Plant.
By tomorrow night, there was expected to be some further im­provement at Kingston producing about 8.5 Megawatts in addition to the power being re­ceived from Guymine.
Floods Devastate E.C. Farms
Conservancy Breaches Contribute
THOUSANDS of dollars in food crops have been lost along the East Demerara Coast belt as a result of heavy flooding which hit the area just before Christmas.
The flood, which lasted for about one week, occurred in several villages between Mahaica and Industry, causing hundreds of food farms to be wiped out.
While it has now receded, farmers will not be able to re-plant for several weeks.
The impact of the ravaged farms on the consumer population has already been felt as a scarcity of green vegetables has hit the Region.
Farmers say that while above normal rain­fall, which started early December, has con­tributed to the flooding, breaches in the East Demerara Water Conservancy were the main factors responsible.
Officials of the Conservancy Board say they are not aware of any serious breaches. They said that maintenance works are being carried out and that there are certain areas of the dam which are being strengthened. However, eyewitness reports claim that there were breaches in several areas, in­cluding Better Hope, Annandale, Hope and Cane Grove.
Some areas were hit harder than others. For example, at Cane Grove, residents claimed that after the dam broke, the water inun­dated the village within minutes. In some areas, the depth of the water reached in ex­cess of four feet.
At Enterprise in both farms and residential areas, the flooding waters were over three feet in depth.
Lower on the East Coast, in areas like Annandale, La Bonne Intention, Success, Chateau Margot and Better Hope, the flood waters, although not so deep, remained for several days, destroying mature food crops.
The situation became compounded when at least two water pumps were affected by power shortages.
As the rising waters also threatened Guysuco's canfields, efforts were made to get all the pumps functioning.
It is understood that sand and earth bags were used to patch the breaches and piles are being used to reinforce the Conservancy in a few areas.
The Conservancy Dam is always a key factor during the heavy rains. Constant rains can cause erosion.
It has been suggested by some farmers that there was not enough vigilance along the dam or the defects would have been detect­ed early.
Meanwhile as hundreds of small farmers mainly those who plant "cash crops," des­perately try to retrieve their devastated lands the Meteorological Department says that there are no signs yet that the rainy season is about to end.       (S.N.)
Around the Web