THE noise nuis­ance in and around the city, described by Deputy Mayor, Herbert Harper, as an annoyance, is to get the 'Number Two Citizen's' spec­ial attention.
In his first broadcast report on municipality affairs, sitting in for Mayor Compton Young, Councillor Harper said the list of complaints about the noise nuisance indi­cates very painfully 'the degree to which selfishness and uncon­cern with the well-be­ing of others could dominate the attitudes of a people."
According to the Deputy Mayor, "while we worry about littering, pavement vending, overcharging and other ills, we come face to face with a clear fact that we are in great danger in our city, per­haps our nation, of losing our sense of moral responsibility."
He mentioned the annoyance created by the noises from motor- workshops set up next to dwelling houses, of stand-by generators which are installed with little attempt to control the noises and of resi­dents in apartment houses who play their radio and other elec­tronic equipment at noise levels which make life a misery to their neighbours.
'I have come face to face with dozens of complaints on these subjects," said the Deputy Mayor.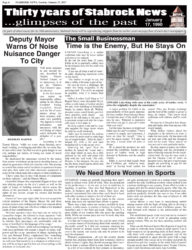 Councillor Harper also expressed disgust at boys and men playing games on the city's streets as well as the sight of heaps of building material strewn across the streets or the pave­ment, in complete dis­regard for the rights of any person, except the owners and build­ers themselves.
Owners of 'new type night clubs' have not escaped the critical at­tention of the Deputy Mayor. He said these owners seem to care nothing and show less concern about peace of mind of any one who lives within a few hun­dred yards of their es­tablishments.
Mini-bus operators have also been put on notice by Councillor Harper. He referred to these operators "who play anything they feel like, with no idea or less interest in whether their passengers are comfortable with the noise or horrified by the language of the songs."
The Deputy Mayor, while acknowledging that dealing with these problems will require a degree of effort, will­power and the co-op- operation of others, in­cluding the City and National Police, em­phasised that "some­thing must be done about all types of nuisance. If we do not, we will soon find our­selves in a situation in which everyone will be trying to get the best out of every­thing, to the detriment of everyone else."
Time is the Enemy, But He Stays On
The Small Businessman
EDWARD Luke-King is a leather craftsman who says he loves leather and tries to be original.
In the job for more than 15 years, Eddie as he is popularly call­ed, says he developed a love for the craft over some time.
'It has not all been a bed of roses,' he adds, displaying numer­ous corns on his hands.
'The leather is tough to cut, but after a while, it became a part of me.'
He says he loves a challenge, the major one being originality in the growing craft. 'I try to be as original as possible, even if it means hard work.'
Eddie's Leather Craft Shop at 117 Re­gent Street, near Alex­ander Street, offers a wide range of leather articles for sale. From handbags to friendship bands, he makes them all. Wal­lets, passport cases, watch bands, gun hol­sters, pouches, neck chains — you name it, he will make it. He says, 'if a customer comes and asks for a specific item, I will make it.'
He does custom work and is a regular sup­plier for large stores where he sells his stuff wholesale.
Eddie says he learned the tedious job when his uncle used to make bags out of tough leather. 'After he died, I helped his wife a bit and later branched off to work on my own.'
Inheriting the 'spot' from his mother, he turned the 'room' into a cosy shop where he says, he is ably assist­ed by his wife and sister who help with the 'soft work.' His wife, Doreen, is the design­er. He says she has the fancy touch and he allows her to 'make up designs.'
A major problem for Eddie is the unavail­ability of first grade material. He buys leather from Guyana Stores Limited but most of the stuff is inferior, he says. 'Mat­erial is expensive and when you get it, you can't make what you want.'
For the time, busi­ness is bright and Eddie says he can't complain. 'I have a market to supply and sometimes, I have no time for myself.' Time is now his major enemy. 'If I only had the time, I would make all sorts of things.'
He is proud his pro­ducts are sold around the Caribbean. Traders order pieces of leather work in high demand in Barbados and the smaller islands.
Eddie is peeved that people from the Carib­bean get 'selective treat­ment' in buying local leather for export. They pay foreign ex­change and the best of the leather is given to them, he claims. 'This leaves local crafts­men with inferior stuff to work on.'
He says he is forced to buy sheepskin and snake skin from any­one who would supply.
What strikes visitors about his originality is the initiative he took to make his own tools. He has taken old car nuts and bolts and has designed tools for his work. These 'pieces' of iron are cut to suit par­ticular styles.
He also engraves names on wallets and handbags and has de­veloped a style of dye­ing material for the multi-colour look. He says he once used to put the Guyana Coat of Arms on passport cases, but gave it up because people are unwilling to pay for the tedious work and time.
We Need More Women in Sports
GUYANESE women are proudly becoming their men's equal in almost every field of work. They are prominent in the professions — in the arts, in law, in medicine, in teaching, in politics. They also find themselves in the skills, in business and in the trades. They have also entered international fora where they work hand in hand with other women to improve the lot of their sex.
For all the progress they have made in the various fields, they have not matched their efforts in sports.
There was a time when our women excelled in lawn tennis, in table tennis, in cricket, in hockey, in cycling, in basketball and in the field and track. Today, there is a mere trickle of our women folk who grace the sporting fields. While our women pace our men in work, they take a back seat in sports.
Is it that our women have lost the zeal for sport which is a certain means of developing them both mentally and physically sound? Is it that our economic situation has forced women to remain merely bread winners? What ever is the reason, our society can only be poorer in its total development.
Women's organisations – all over the country should redress this situation Apart from their strenuous effort to obtain women's rights, they should encourage their members to make a serious effort in some form of sport.
In a few of our schools be they primary or secondary, are girls introduced to sport on a serious basis? Guyana could be the only Caribbean territory where netball is not a serious challenge to any country. Some effort is made to prepare girls for the annual schools sports. After that, the number which goes on to clubs and later to national competitions gradually dwindle into one or two. Even table tennis does not produce the fine crop of players it- did some years ago.
Janice Moore is very keen in resuscitating netball among women with the hope of being able to develop a national team which could enter Caribbean games. We look forward with interest to the achievement of this objective.
The established sports clubs once had active women's sections which did a lot of work in spreading sports among women. Why are not these sporting sections still active?
What can the National Sports Development Council do in order to motivate more women to enter sports? Can it help women to set up sporting clubs of their choice, provide them with coaches, some equipment and all the motivation required to again provide sport with a large enough number who can go on to win fame and pride for themselves and their country in the noble field of sports? Guyana needs more Mittleholzers more Yvonne Carters, more Carol Davidsons and more June Griffiths.
Around the Web