REACTING to last week's 'Stabroek News' exclusive interview with Gregory Smith, the WPA, in a statement declared he would be finally exposed by his claim that the party got him out of Guyana.
'One day at an enquiry, or in the Courts, he will be invited to ex­plain, step by step, day after day, how this happened," the WPA said. 'It is really the most thought­less mistake in all his reporting. He will have to reconstruct that whole escape…but can never suc­ceed before a tribunal in such a tale. For this reason, we are thank­ful for this lie – one that is a key to others," it added.
WPA said: "We hope readers will ask themselves why the WPA would, as Smith claims, rush him off to a place of safety in Cayenne and keep Donald Rodney here to face possible violence and a criminal trial for all sorts of offences. Not only that, but he was named by Donald Rodney while he Smith was in the country, so that WPA was putting him and itself in danger."
It is not true that Donald named Gregory Smith only when he gave the statement to the Police. In his earlier interview to the Press, be­fore he was strong enough for Police interrogation, he did name Smith. It was CANA that exercised its discretion to omit the name in its reporting.
Why then would WPA name Smith on June 14 or 16 (1980) when it is hiding him and the public does not know him, yet run the risk of hiding him after naming him and labelling him a wanted man responsible for Walter Rodney's murder?"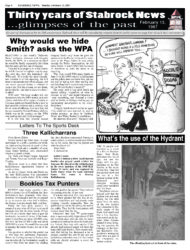 The party said it was glad Smith has started talking 'regardless of what he chooses to say," and urged Guyanese to "read everything…and demand a Court trial for Smith, or failing a trial by jury, an indepen­dent investigation to lay every­thing bare."
Gregory Smith would not be an agent if he could not have worm­ed his way by similar pretense  as those in 'Stabroek News' into Walter Rodney's confidence.
He must be a fine actor,'' the party said.
Letters To The Sports Desk
Three Kallicharrans
Dear Sports Editor,
Kindly permit my letter space in your newspaper to clarify a position on brothers representing Guyana at youth cricket. There have been quite a number of occa­sions where brothers have represented Guy­ana at youth cricket,
Eg. Mark and Roger Harper, Reginald and Tyrone Etwaroo, Garfield and Roger Charles.
However, there is a claim that three Kallicharrans represented Guyana at youth cricket.
As far as I know Alvin and Derek are the only Kallicharrans who represented this country at youth cricket. If the claim that three brothers represented Guyana at youth cricket, is correct would you inform me on his name, the year he played and what he played as?
Yours truly,
S. Ramsarran
Editor's note:
There is indeed a third  Kallicharran brother who played youth cricket for Guy­ana. He played as the wicketkeeper in the away matches of the 1968 BAT Under 21 series and was replaced by Keith Aaron when the team returned home. His name is Stan­ley Kallicharran.
Bookies Tax Punters
DESPITE what many consider a prohibitive licence fee of $l million, the three bookmakers have reopened. They have, however, introduced a new tax on punters to try to recover the extra half a million, the licence was previously half a million
Under the new plan, punters are required to pay a tax of 10 per cent on all amounts they bet. In other words, if they bet $10 on a horse, they have to pay the bookmaker an extra $1 in tax. If the bookmaker's total bets are about $30 000 a day this will net him $3 000 a day and about $900 000 in a year. He would thus succeed in passing the entire licence fee on to the punter.
The question is whether the punter can or will bear this addi­tional imposition. When the first big increase of licence fees was in­troduced, the book­maker sought to re­cover this from the punter by shading the odds paid to the punter. They reduced the starting price by 10 per cent.
If a horse started at 10-1, they paid 9-1 on it. Many punters felt this was an ex­cessive imposition and had already made win­ning virtually impos­sible. Now the addi­tional tax on the bet drives the nail in the coffin. They feel the bookmakers will re­cover more than the tax.
Observers feel that the government duty is unconscionably high (about $3 000 per working day) and can only be interpreted as an attempt to close the bookmakers. In­deed, they may only survive if the al­ready hard-pressed punter will bear this huge additional burden. First reports indicate that betting has decreased a lot as punt­ers consider the new 10 per cent tax prohibi­tive and unfair and, that the shaded odds are already adequate to cover the book­maker.
What's the use of the Hydrant
THE 36 people now homeless as a result of a fire in Meadow Bank, East Bank, Demerara two weeks ago, are not too happy with the performance of the Fire Service at the scene of that fire. They felt that quicker work and the use of a fire hydrant in front of the destroyed two-storeyed building could have "saved the day" for them.
Neighbors and on­lookers said that the hydrant was not used, during the fire after water from the tanks of the two tenders was exhausted in the, early stages of the blaze. One report said that a live electrical wire rested on the hy­drant when firemen needed it most, bring­ing into question the response of the Guy­ana Electricity Cor­poration's emergency crew who are part of the emergency re­sponse system.
Around the Web