Haynes Calls For West Indian Court Of Appeal
FORMER Chancellor of the Judiciary J.O.F. Jaynes, who is now Professor of Law at the University of Guyana and also president of the Grenada Court of Appeal, has joined other leading persons in the region in arguing a case for a West Indian Court of Appeal.
Delivering a lecture sponsored by the In­stitute of Adult and Continuing Education, on Sunday, February 8, on 'Constitutional Pro­blems in Grenada as they exist,' Professor Haynes, while express­ing his highest regard and respect for British judges, who sit on the Privy Council, said an appeal to such a body is not consistent with the sovereignty of a country.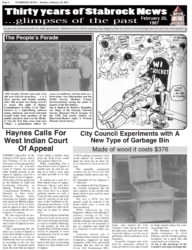 He, also expressed his dislike for a two-tiered system, where there is a Court of Trial and a Court of Appeal in close proximity.
After emphasising that the object of a Court of Appeal is not to find whether a person is guilty or not, but to rule on whether the trial was conducted according to the Law and was fair, the Guyanese jurist made the point that an Appeal Court which is further away from the Trial Court would have greater objectivity.
While contending that a West Indian Court of Appeal is needed now, he said the setting up of such a court, does not seem possible in his lifetime.
In making out a case for a West Indian Court of Appeal, Professor Haynes said there are judges in the Caribbean who could serve in a distinguished manner on such a Court. He also spoke about the need for opening up the judiciary in the Caribbean to distinguished practitioners at the Bar, provided the right conditions are in place to attract them.
Professor Haynes noted that before the Court can be set up, there must be proper planning, as well as available financing. In this process, he was not hopeful that Caribbean leaders would be prepared to move expeditiously if at all, to make the court a reality.
Observers have noted with interest that there is increasing interest in a West Indian Court of Appeal.
City Council Experiments with A New Type of Garbage Bin
Made of wood it costs $376
A NEW garbage receptacle which could replace the present steel drum has been put on show for City Coun­cilors to look at and criticise.
The specially constructed wooden, two by two by two feet receptacle which carries four handles is
the brainchild of City Engineer L .H. Marshall.
According to the City Engineer, the wooden receptacle has the same capacity as the normal steel drum which is now used by some householders.
The cost is $376, but this amount could be reduced if the boxes which carry a cover are mass-produced.
While welcoming the City Engineer's effort at last Monday's sta­tutory meeting of the City Council, Councillor Hans Barrow told his colleagues that in his opinion the work on the receptacle is not yet complete and urged the City Engin­eer to come better next time.
Councillor Barrow who is Chairman of the Council's Finance Com­mittee, suggested an inner receptacle made from galvanised sheet­ing. But this did not find favour with busi­nessman M.H. Hack, who backed the City Engineer's idea, saying he was on the right track, and took issue with Councillor Barrow over the use of galvanise, which could prove to be expensive.
Councillor Drepaul who withheld his criticisms, offered to come up with his own idea of what he thinks should replace the existing garbage bins.
The chairman of the Public Health Committee, Dr. Ovid Johnson, said the wooden garbage receptacle was a good start and experiments are continuing.
At top is the pro­totype of the Coun­cil's new type of refuge bin.
Around the Web