THE opposition People's Progressive Party (PPP) Monday afternoon dramatised the food shortage situation by donning protest placards in the National Assembly and then walking out of Parliament.
Party front-bencher, Mrs. Janet Jagan, also sent parliamentary staff and others near to her ducking for cover when she scattered fistfuls of flour after Speaker Mr. Sase Narain disallowed debate on the flour situation as a matter of na­tional urgency.
Parliament had just convened for a brief ses­sion for government to lay the Police Complaints Authority Bill 1989 when Mrs. Jagan and six other PPP members quietly slipped the placards around their necks at opening prayers.
The placards proclaimed: "All Guyana suffering. PNC get out!"
DISRUPTION
When Jagan rose to ask for a debate, Narain said he would not listen as she was not properly attired, whereupon the PPP member put aside her placard.
She then read out a letter to Narain which argued that government's announced impending disruption of flour supplies warranted suspension of the Standing Orders to permit debate as a matter of urgent public importance. She said she also had proposals to ease the suffering.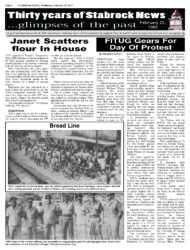 Narain said he did not know when the announcement was made and when Jagan offered to let him know, the Speaker maintained he would not entertain her request.
And in protest, Jagan scattered her flour before the seven PPP members present walked out of the proceedings. Other opposition parliamentarians did not join the walk out.
Government then used the rest of the session to suspend the Standing Orders to allow a sitting on Saturday, March 4 and an address to the Assembly by President Jose Sarney of Brazil who is scheduled to be here on a State Visit that day.
FITUG Gears For  Day Of Protest
By SHARIEF KHAN
TWENTY-SIX sugar workers were this week detained by Police and put on station bail as food shortages protests mount in the sugar belt and dissident trade unions prepare to shut down the country Friday.
General Secretary of the Guyana Agricultural and General Work­ers' Union (GAWU), Mr. Komal Chand said the 26 union members were arrested Monday when about 200 Rose Hall sugar workers marched 14 miles to New Amsterdam to protest the continuing food and other shortages.
The 26 were placed on $100 station bail each and ordered to report at The Reliance Police Station in the region on Monday, Chand said. Official sources pointed out the march was under­taken without Police permission.
More demonstrations took place yesterday with workers again marching from Rose Hall to New Amster­dam to picket government offices.
Chand reported strike action yesterday spread to Albion and Port Mourant estates in solidarity with the Rose Hall actions. Guyana Sugar Corporation (Guysuco) officials confirmed the strikes are affecting the three estates but were yesterday unable to say how badly operations had been stymied.
As government corporations and others prepared for traditional Mashramani street jump ups tomorrow after tonight's flag-raising and Presi­dential address, the Roman Catholic and Anglican Bishops , and lawyers give tacit backing for the Friday general strike summoned by the Federation of Independent Trade Unions of Guyana (FITUG).
The major opposition parties have urged support from their members for the stay-at- home FITUG call to protest deteriorating economic and social conditions which they have blamed on gov­ernment.
FITUG members have backed two public meetings in the City last week with visits to workplaces and meetings with workers to garner support for its stand. Yesterday, alliance leaders distributed handbills seeking support of taxi drivers, vendors in the municipal markets and others.
Secretary of the Guyana Bar Association (GBA), Mr. Ralph Ramkarran, yesterday disclosed the Association's Bar Council had agreed to a FITUG request for support and GBA members have been asked to back the move.
The Association has asked the Chancellor, Chief Justice and the Chief Magistrate to "facilitate" lawyers who would consequentially need adjournments of cases fixed for Friday.
Except for divorce cases, for which one lawyer might appear for all the others, most attorneys are not ex­pected to be in court Friday, Ramkarran said.
If the legal heads do not agree to adjournments, the cases could be struck out, he dis­closed.
In a joint letter read in churches Sunday, Bishops Randolph George and Benedict Singh said the food and fuel shortages, electricity outages and the transportation nightmare had made this Lent "a reason of ex­treme pain and sacrifices."
The Bishops said the FITUG call was ac­tion "from a group of responsible Guyanese" and forced "us to note that our problems are not fundamentally economic but have to do with relationships."
They urged prayers "to direct us towards finding just solutions to our problems" and hoped that this Lent may "lead us all to the creation of a wholesome and better life for all Guyanese."
A statement from FITUG Chairman, Mr. George Daniels said, "it is imperative therefore for Guyanese to understand that the struggle which is being waged by FITUG, is to ensure a better standard of life for all."
"Your protest could bring about a change for the better in our beloved country," Daniels appealed.
FITUG represents more than two-thirds of organised labour and its members are the Guyana Public Service Union, the Clerical and Commercial Workers' Union, the Guyana Agricultural and General Workers' Union, the National Association of Agricultural, Commercial and Industrial Employees, the University of Guyana Workers' Union, the Guyana Bauxite Supervisors' Union and the Guyana Mine Workers' Union.
Around the Web