By C.D. KIRTON
MY FRIEND and colleague Carl Blackman died last week at his home just past high noon at three score years and seven after his birth. He was not a young man but he was not old. He lived long enough, however, to see developments in the country which for years he had advocated in his contro­versial articles.
Milton writing of Lycidas said:
"Yet once more,
ye laurels, and once more,
Ye myrtles brown with ivy never sure,
come to pluck berries harsh and crude and with fingers rude,
Shatter your leaves before like mellowing year.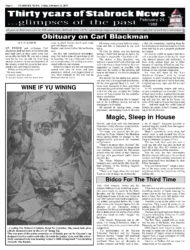 An able and experienced newspaperman, Carl had a mine of knowledge of all its branches. He was a balanced individual of sound sense. His writing was punctuated with wit and wisdom.
While it is true to say that not everyone agreed with what he wrote and were sometimes critical, even hypercritical of him, what mattered to him was that he believed what he wrote.
Of course every person believes something and this is important to our well being.
To Carl the choice was not between having a belief and having no belief, for the latter is impossible if we think at all.
The choice to him, therefore, was between a good belief and a bad one and to him he always chose the belief that corresponded as closely as possible with what was the reality of the situation and how he felt about it. For this he should be given credit.
His earthly life has ended and journalism has lost a distinguished practitioner. Of the distin­guished dead it is said: "all these were honoured in their generation and were the glory of their times." So it is with Carl who was awarded the Golden Arrow of Achievement for his contribution to journalism.
He made a contribution also to journalism in the Caribbean having worked in newspapers in Trinidad.
He assisted in training many young journalists, encouraging them to develop a flair for journalism, inspiring them by his dedication to work hard and his efforts were untiring to see a properly produced newspaper.
He tried to instill in juniors that there will always be places at the top for those who showed interest and dedication to their work, urging them not to falter because of seeming difficulties and frustrations, since to the newspaperman, frustrations are his constant companion.
No more will there be the "Carl Blackman Column," with its mixed reception. In sum I would say his wit was of the lambent and not of the forked kind; it lighted up every topic and did not hurt anybody.
To his sorrowing widow and family, sincere con­dolences are extended. I know of their grief as they watched him breathing through the day and night, his breathing soft and low and in his breast the wane of life kept as it were heaving to and fro and now dead. No joyful tread of friends, no careful father's counsel, nothing is but all oblivion.
Magic, Sleep in House
MAGIC and sleep stole into Parliament Chambers Fri­day afternoon amid the lack lustre debate on a number of bills.
The magic was weaved into the proceedings by Prime Minister Mr. Hamilton Green during debate on changes to "the dis­qualification provi­sions for members of Parliament.
"There's no magic about election!" Mr. Green declared, responding to suggestions that members nominat­ed for Parliament should make the extent of their financial dealings with government public before election day.
The Prime Minister's declaration brought a wry retort shortly after from Mr. Eusi Kwyana, of the Work­ing People's Alliance (WPA).
"There is no magic about election day? There is a lot of magic on election day a lot of magic!" Kwayana declared to amused laughter, mainly from the opposition side of the House.
Magic's comrade-in- arms, sleep, had earlier crept in and claimed two of the newcomers to the back bench of the ruling People's National Congress (PNC).
The two took their seats just over a week ago but after less than an hour on their third day, they fell victims to the soporific ambience of the chambers.
Side by side, the two Honourable Members dozed, oblivious to the words of wisdom and high-sounding statements of good-intentioned laws broadcast by their fellow law­makers.
"Can you blame them?" asked a member of the press corps as parliamentary neighbours of the two looked on, smiling indulgently.
Bidco For The Third Time
THE 1985 winners, Police and the Guyana Defence Force Borderline ensembles were simply no match for the Bidco Invaders and the Charlotte Street-based band romped home with an easy victory in the 1988 national steel band competition.
As widely anticipated before the Friday night event at the National Sports Hall, the absence of the Chronicle Atlantic Symphony for the second straight year left few in doubt about the ability of any of the other four bands to really "fatigue" the Invaders.
Like Atlantic Symphony and its offshoot, The Young Entertainers, Bidco is now a third consecutive year winner of the competition.
The performance of the Guyana Telecoms' Panvibes and the Guy­ana National Service "Troupe" left steelband pundits wondering about the future of steelband. These two are obviously in another cate­gory and badly need to practise more.
Observers are also concerned about the dwindling number of bands entering the competition in the last four years. It has been a basic five over that period compared to up to ten in the late 70s.
Panvibes occupied the cellar in all the categories. They scored 46 points in the tuning to the GNS's 47, Police 55, GDF 56 and Bidco 58.
The best arranged band was Bidco with 72 points followed by Police on 71. GDF 63, GNS 60 and Pan vibes 56.
The Test Piece, played with no variation by any of the bands, was Slavonic Rhapsody, an East Euro­pean classic.
GNS players were forced to return to the stage to replay part of the test piece at the request of judges owing to deafening support from a large contingent of GNS personnel and supporters
Hasslers of Berbice did not enter the competition as was expected.
Around the Web