GOVERNMENT and the Health Ministry virtually placed the country on Red Alert last week as the growing thallium sulphate poisoning assumed new and alarming dimensions.

While an increasing number of worried citi­zens queued up at the special thallium examina­tion unit at the Georgetown Hospital and samples of various food items including flour were sent to the United States for examination, the revela­tions of a prominent City doctor — himself a vic­tim of thallium sulphate poisoning, have resulted in some amount of alarm in the medical and professional community.
Dr. Hughley Hanoman a St. Joseph's Mercy Hospital Consul­tant told Stabroek News in an interview that the Hospital had warned the Guyana Sugar Corporation (Guysuco) about the use of the pesticide after the hospital be­gan treating a number of thallium sulphate poison victims about three years ago.
Figures for thallium victims since then showed that in 1984, the hospital had five patients of whom all survived, by 1985 it was eight cases of which four survived, and last year, thirteen cases of which eleven survived.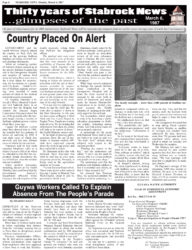 Hanoman said he had made repeated tele­phone calls to a senior Guysuco official in which he indicated to him that the corporation should discontinue the use of thallium, since the antidote was not available.
Other medical personnel, including, doctors at the Health Ministry, have confirmed that the Government Analyst's Department officially wrote Guysuco, the sole importer of the deadly pesticide, telling them that thallium has dangerous effects.
The medical men were even more alarmed in view of the fact that they were unaware of the availability of Prussian Blue in Guyana, which together with potassium chloride are the only known treatments for the killer pesticide.
The Health Ministry, which is hoping to isolate the sources of poisoning with the aid of information provided by suspect patients interviewed at the special thallium treatment clinic was in even greater panic since literature on the treatment was limited, and knowledge of the workings of the stuff virtually
"It is not like the typhoid outbreak we had the other day. We were able to narrow it down to the West Demerara. In this case we have cases in Region 4 (East Bank and East Coast) Re­gion 6, Region Three. People are coming from all over. We are hop­ing that information from data we collect will help us to narrow it down," the Health Ministry source said.
In the light of grow­ing public questions about the use of pes­ticides in Guyana medi­cal officials have ex­pressed concern about the toxic-drugs policy and have called for a review.
Dr. Hanoman in his chat with Stabroek News disclosed that what he said was an even more dangerous pesticide, Paraquat, is being used in the agriculture industry in Guyana.
"No one has ever lived with it. I have come across a few cases in Guyana. I spoke to Minister Van West-Charles about it and he promised to check it out."
Hanoman, clearly up­set by the thallium outbreak, wants govern­ment to launch an immediate review of all toxic substances used in Guyana. He also wants corporations and agencies, both private and public, to ensure that workers use safety gear when dealing with such substances. "They should also pass a law whereby the antidotes must be in the coun­try before we use these substances."
While large crowds continued to besiege the special thallium clinic established at the Georgetown Hospital and at times the clinic seemed to be unequal to the crisis both in terms of manpower and equipment, the Guyana Pharmacists' Associa­tion in an invited com­ment accused the Health Ministry of "groping in the dark" with regard to the out­break.
The association, which plans to chip in by launching a public edu­cation programme on thallium sulphate poi­soning among others, said that poison cases are not accurately re­ported.
A spokesman for the group told Stabroek News that he does not believe in what he said was "the hush- hush" attitude being adopted with regard to the national pro­blem.
"Finding the source is the key," said the spokesman and added: "I don't see the need for secrecy, this is a serious problem and people are at panic stage."
The spokesman said that the problem with thallium sulphate is that it is excreted very slowly, so that it "stays around a lot."
He stressed that Prus­sian Blue, the acclaim­ed antidote for thal­lium sulphate poison­ing, is a potassium compound which ex­changes its potassium ions with the thallium ion in the body, and the thallium ion is excreted.
He emphasised, how­ever, that it was a very slow process.
"The possibilities (for thallium sulphate) are enormous," said the spokesman, "informa­tion is the key."
So far most of the blood samples examined have proved posi­tive and this has contributed to growing panic.
"Everyone wants to know what he or she ate. Is it milk, flour, cabbage or calaloo?" asked an elderly woman who had just collect­ed her results (10,0) from the Analyst De­partment.
St. Joseph's doctors, among the most experienced in dealing with thallium cases, want members of the public who have taken Prussian Blue, to know that the antidote is ineffective if there are no bowel movements at least two times per day. They said that the antidote pulls the thallium from gastric juices in the intestines and helps to expel it from the body via ex­cretion.
The Georgetown Hos­pital had to stop taking blood samples after lunch Monday as supplies of syringes and needles were exhaust­ed. By then, however, more than 250 per­sons had been examin­ed while others were asked to return on Tuesday and Wednes­day for samples.
The Ministry has said it has been assured by pest control agencies that they have not been using thallium mix as rodenticides. "We had meetings with them but we might have to make spot checks."
On Guysuco's storage of the remaining 3,000 plus pounds of thal­lium, the plan is to visit the Material Con­trol Division at Ogle, (ECD) to examine stor­age conditions and se­curity.
Guywa Workers Called To Explain Absence From The People's Parade
By SHARIEF KHAN
EMPLOYEES of the State-run Guyana Water Authority (Guywa) who did not turn up for the People's Parade on February 14 were required to submit written explanations to their functional superiors.
More than 12 work­ers had to send in letters explaining their absence from the 'vol­untary' exercise but up to Press time no dis­ciplinary action had been implemented.
Guywa's Administra­tive Officer, Mr. St. Hill tried to explain that the written ex­planations were re­quired from employees who were supposed to have been at work that Saturday. Some Guywa employees work the five-day week and others have to work on Saturdays and those who should have been at work that Saturday but were neither at work nor at the Peo­ple's Parade, had to explain their absence from the job, Mr. St. Hill said.
A circular (see box) from General Manager Ronald Rajnarine di­rected section heads to obtain the written ex­planations and St. Hill suggested the circular should "be understood in the context in which it was sent."
Participation in the People's Parade "is voluntary," he said and pointed out workers who were not supposed to work Saturday marched in the last parade.
Some Guywa five-day employees however disclosed they were "told" they had to turn up that Saturday to march in the People's Parade.
Personnel Manager Mr. Tucker-Chalmers asked what action had been taken against the 'offenders' referred Stabroek News to the General Manager.
Mr. Rajnarine was not in, when his office was contacted, and Stabroek News was referred to Mr. St Hill who said non-participants had provided explanations.
He was not in a position to say what disciplinary action, if any would have been taken.
Around the Web