MICHAEL SOLO­MON is one of three businessmen who pooled their re­sources and ex­perience to form Home Services En­terprise two months ago.
Michael's experience comes from working for nine years at the Guyana Electricity Cor­poration. When he re­signed his job four months ago he was a member of the board of Directors. He had also completed a one-year scholarship in the Soviet Union.
The other members of the group are Victor DeWeever and Neville Sergeant. "DeWeever specialises in carpentry and woodwork, while Sergeant is a jack-of-all trades and assists in whatever way he can," Solomon said.
The services offered by these men are varied "I am the electrician in the group," said Solo­mon. "I do repairs to all domestic appliances and these include washing machines, fans, irons, and stoves. I also repair electronic appli­ances such as television sets and VCR's.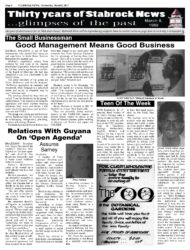 The group also repairs gas and kerosene stoves: build antennae for tele­vision sets, do land­scaping, refrigeration, plumbing, masonry and sewage disposal.
Solomon does not however believe they have their fingers in too many pies," He con­tends that Home Ser­vices Enterprise has the advantage of having three joint owners. "Each of us is there to assist the other, and we believe that the secret of a good business is good management."
In addition, Home Services Enterprise sub­contract any jobs they are unable to do themselves. "We accept a job and if we are un­able to do it for what­ever reason, we hire experts, provide materials and tools and pay them." Solo­mon said.
Business seems to be blooming. "At present my hands are crossed. Solomon joked. "The response is heartening We have a lot of con­tracts. No job is too large or small for us. We are prepared to do our best. So far no one has expressed dis­satisfaction at the ser­vice we have provided for them.'
Home Services is located at 200 'R' Bend-Kirton Court, West Ruimveldt.
They are presently doing multiple repairs to the CARICOM annexe on Hincks Street, repairs to stoves at the Bank of Guyana canteen, gutter smithing at Wieting and Richter and repairs for COLFIRE.
Relations With Guyana On 'Open Agenda'
Assures Sarney
BRAZILIAN President Jose Sarney has placed his country's relations with Guyana on "an open agenda" and declared that Brazil has repeatedly said it wants closer relations with this country.
Sarney's declarations came as he wound up a brief official visit here last Saturday.
He told journalists, "we are extremely receptive to the needs of Guyana" and added that Guyana had to de­cide on the key areas in which it needed as­sistance.
"We just offer options and it is up to Guyana to say where it wants help," Samey said.
He reiterated Brazil's willingness to reschedule the $15m (US) Guyana owes it. "We are ready and willing to reschedule under condi­tions that are possible for Guyana," Sarney disclosed and said it was "something we want to solve right now so that new credit lines could flow."
The Brazilian President, the first Head-of-State of that country to pay an officia1 visit here also announc­ed agreement had been reached on an alumina scheme.
A number of "very important" Brazilian companies and state-owned concerns are coming together in a consortium to enter into a joint venture with Bidco, Sarney said.
Under the project, alu­mina will be bought and re-exported to Brazil and the German Democratic Republic (GDR), Sarney said.
Brazil is also offering to help modernise the Guyana sugar industry and provide assistance in the rice sector.
According to Sarney Brazil is also trying to formalise its trading ar­rangement with Guy­ana and apart from the short-term plans to aid the Guyana Electricity Corporation (GEC) rehabilitation, it is offering to send experts to assess the full energy needs of the country.
Brazil has offered to help in the telecommunications field and is to identify a consulting company to develop projects to improve telex line communications and internal telecommunications. The projects will also cover improved international telephone connections using Brazil as a relay nodule.
Other areas identified for co-operation include agriculture, health, energy, forestry, mining, industrial development and vocations training.
An annual working programme between the two countries is to be prepared by mid-next month.
Mr. Hoyte has accepted an invitation to visit Brazil at a mutually convenient date.
Teen Of The Week
IVOR Rasheuvel, the 17-year-old Head Prefect of St. John's College leads a balanced and exciting life.
He plans to write six subjects at the CXC examinations in Chemistry, Biology, Mathe­matics, English, History and Physics. He has a special love for Physics, and is in the Fifth Form science class.
As part of his plans for the future, Ivor would like to pursue studies in the science fields. He hopes that the head of his school will recommend work study so that students would be able to have first hand experience in the fields they choose.
"My teachers seem to be pleased with my performance and I plan to make an even greater effort so that I would be successful in my examination," Ivor said. "My advice to other young men is to put aside girls until after exams. It is difficult to divide time between girls and books."
As part of his duties as Head Prefect Ivor is heading a campaign to uplift standards at his school. "We are encouraging students to be punctual, disciplined, attend school regularly, and to keep their sur­roundings clean and their clothes neat and for them to wear the correct school uniform." He claims that the response by students has so far been good.
The students have also reportedly started a kitchen garden. It will assist them in raising funds to purchase tools and other equipment the school needs.
Ivor also expressed concern at the state of disrepair which his school is now in. "Both buildings are in a bad condition but the authorities have promised to look into the situation." Each classroom is also raising funds he says through individual food sales for their improvement.
Ivor plays lawn and table tennis for recrea­tion. He also has a very interesting hobby snakes. "I have a boa constrictor and a rainbow snake as pets. I had another one but it was very vicious, it bit me several times and I had to have it killed."
Around the Web