THE Mighty Sparrow demonstrated his tremendous talent, skill and professionalism in calypso when he gave a soundly entertaining performance at the National Cultural Centre last Tuesday night.
The Sparrow, who was born in Grenada, soared to prominence in Trini­dad with "Jean and Dinah' and the title of Calypso King in 1956 and has not looked back since. His work and his contribution to the calypso art form are already legendary, but even after over 33 years on stage, he showed no sign of slow­ing down in his energe­tic and very intense performance.
His selections included at least two of high significance: "Capitalism Gone Mad'" and "Play One for Melo" in addition to other entertaining popular favourites. "Lying Excuses" and the "Congo Man' which is as evergreen as the singer himself, and noted as a model of the suggestive double en­tendre.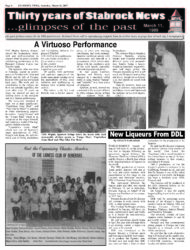 "Capitalism Gone Mad" which was one of Sparrow's angry masterpieces of 1982, brought into focus, the unbelievable cost of living escalations and multiplying inflation that plagued Trinidad.
YOU GOT to be a millionaire.
Or some kinda skulduddery
If you want to survive
In this country
It's sad here in Trinidad
Captalism gone mad.
Of course, both performer and audience appreciated the ironic amusement coming out of the applicability of this, since inflation and profiteering in Guyana have rocketed beyond control.
The tribute to the late Lord Melody was a distinct masterpiece, at once very moving, entertaining and even amusing. Sparrow combined eulogy with commentary and take-off in a presentation which mixed other forms with the combative style of the road march contender, call-and-response and picon.
In real picon tradition, Sparrow and Melody were engaged in a sustained verbal battle in song, trading "fatigue" and "tantalize" in a long series of calypsoes.
Sparrow, as well, showed his command of the soca in addition to other calypso strains, getting full  support from the Troubadours.
The calypso King's daughter, Princess Natasha, singing Sandra and Drupatee exhibited different styles and personalities; Sandra being a heavyweight in innuendo, suggestiveness and stage power, the Princess unassuming with a soft touch and Drupattee outreaching and lively, though not as dynamic as she sounds on record with "Bissessar."
They all, however, have one thing in common, very powerful melodious voices and impressed the audience as talented singers.
(ALC.)
New Liqueurs From DDL 
By SHAUN SAMAROO
WORLD-FAMOUS brands of liqueur will soon be on the production line in Guyana following an agreement signed between the Demerara Distillers Limited (DDL) and De Kuyper, a Dutch firm which is the largest producer of liqueurs in the world.
The DDL production of international quality liqueurs will aim at the local and export markets, with concentra­tion at this stage on the Caricom and Suriname markets, DDL's Chairman Yesu Persaud said.
The agreement between the liqueur giant and DDL was signed on February 14 last in Schiedam, Holland. Signing on behalf of De Kuyper was Presi­dent of the company M.F. Auer.
Persaud disclosed that De Kuyper will con­tinue to work closely with DDL in other re­lated areas.
The finished De Kuyper product, produced in Guyana, will have the same sophisticated label and bottle as it is known by internationally, Persaud explained.
He said operations should begin in April this year and, although there is an existing market, a larger one will have to be created.
DDL was introduced to De Kuyper through a Caricom agent and was approached by that company to produce the liqueurs here, Persaud said and noted that DDL was selected from a field of other contenders for the production of the liqueurs.
He said that De Kuyper's liqueurs are sold in "almost every country of the world.' One brand, the 'Peachtree' held a record recently in the United States as one of the bestselling liqueurs in that country, according to Persaud.
DDL's production of the De Kuyper's product is exclusive in the Caribbean, Persaud noted, and said that De Kuyper is one of the oldest companies in the world. De Kuy­per has been a distil­lery since 1695, Persaud said
The liqueurs will be produced at the DDL Diamond factory on the Fast Bank of Demerara.
De Kuyper is also the eighth largest selling brand in the world of spirits.
DDL will be produc­ing seven brands of De Kuyper's liqueurs, lamely Creme de Menthe, Blue and Orange Curacao, Creme de Bananes, Triplesec, Apricot Brandy and Peachtree Schnapps.
The alcoholic content of these liqueurs varies between 24 and 40 per cent by volume.
Persaud said that contemporary young people in Europe use these liqueurs as a mixture with soft drinks and juices.
He said that the scale of production will depend on the market possibilities available in the targeted CARICOM countries, Suriname, locally and further afield.
Around the Web