A UNITED Nations consultant is due here in the near future to advise the Guyana Sugar Corporation (Guysuco) on the best way of disposing of its thallium sulphate stocks.
The corporation said its thallium stocks are still being stored at the Ogle bonds but is has been in touch on storing techniques with the International Register of Potential Toxic Chemicals (IRPTC) of the United Nations Environmental Programme (UNEP) in Geneva.
"The UN people have been very helpful and have made certain sug­gestions,' a corporation spokesman said.
IRPTC Director, Mr. J. W. Huismans has been in touch with the corporation and was "very helpful on ad­vising us," Guysuco said.
An expert from the UNEP regional office for Latin America is due here "to see for himself and then come up with final recom­mendations on what will be the best thing to do with the thallium sulphate," the spokes­man said.
Over 3,000 pounds of the rodenticide, which Guysuco at one time used in its cane fields, are reportedly still stored at the Ogle bonds. It is not easy to dispose of the thallium safely.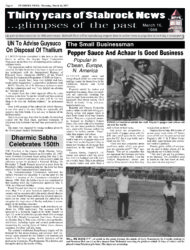 Just over a year ago, fears that the deadly chemical had seeped into the food chain, panicked thousands of Guyanese who believed they had been poisoned by thallium.
The panic was trig­gered by wrong read­ings given by the Government Analyst Department.
The Small Businessman
Pepper Sauce And Achaar Is Good Business
Popular in C'bean, Europe, N. America
GUYANA'S pepper sauce and mango based achaar are surprisingly making a name for themselves in the Caribbean, Europe and North America.
Exported mainly by traders and mi­grating Guyanese, these two products are reportedly rivalling Far Eastern-made food condiments. They especially find favour among Third World nationals living over­seas, manufacturers say.
Rudolph and Pamela Fredericks make a rather comfortable liv­ing producing achaar and pepper sauce at their Robb Street home hear Bourda market. They are a registered company licensed as Freddie's Pepper Sauce.The export side of the business has run into some problems, Pamela says, apparently because authorities suspect the bottles con­tain "things" other than pepper and achaar.
"The traders are the ones who used to buy a lot of pepper sauce and achaar from us, but they don't buy as much now because of the hassle they experience at the airport," Pamela notes.
Guyana Stores, Fogarty's, J.P. Santos and several other big stores buy from the husband and wife team on a weekly basis. This is in addition to special orders and sales from a stall in front of their home.
And prices are competitive. A large bottle of pepper sauce sells for $10. and a small goes for $8. Achaar goes for $15. for a large bottle and a small one for $10.
"Have you had com­plaints about condi­tions under which your products are manufac­tured?" "No," says Pamela. "You got to remember that we reg­istered the business and have to put labels on the bottles. Then the Analyst Department comes and checks. If we weren't clean then they would close us down."
Guyana Stores buys 100 bottles of achaar every week while J.P. Santos takes off 48 over the same period and Fogarty's 100. C & F Meat Centre and other supermar­kets also patronise Freddie's products.
Masala, garlic, edible oil and pepper are used to make achaar. All the ingredients are available locally.
'"We, don't get any big problems in the business. The constables used to hassle us but they know us well, they don't do that anymore."
Dharmic Sabha Celebrates 150th
THE President of the Guyana Hindu Dharmic Sabha, Pandit Reepu Daman Persaud on November 28, 1987, wrote President Desmond Hoyte asking that May 5, the day of the arrival of East Indians in this coun­try under the inden­ture system be declared a National Holiday. On December 7, Pandit Persaud received a letter from the President's Office informing him that the letter has been referred to the Commem­oration Commission.
The Commemoration Commission informed the Sabha's President on December 9, that the letter will be tabled at a meeting of the Commission scheduled for January 1988. Only the Sabha's letter was considered at that meeting when the Commission approved May 5, 1988, as a National Holiday.
Pandit Persaud feels that the holiday should be annual, since May 5 is of great historical significance to this country and an occasion which the nation should observe every year. Pandit Persaud said having initiated representation on the matter he will persuade the authorities to recognise the importance of the day and place it permanently in the holidays structure.
The Sabha has planned country-wide activities to celebrate the 150th anniversary. The occasion will be launch­ed at a Ramayan Yagna at the Kitty Mandir on April 25, to be followed by a parade which will converge at the L.B.I. Mandir Compound, East Coast, Demerara on Monday, May 2. This venue will have relevant booths, exhibitions, in­cluding logies and cul­tural performances recapturing the varying forms of Indian music, dances, costumes, jewellery and folk items.
The country's traditional Raag/Raagni singers will be featured for the entire evening and seminars with his­torical inputs planned for the Sabha's one hundred-odd mandirs in the three regions. Similar functions will be held on the Corentyne, West Demerara, West Berbice and Essequibo during the month of May,
Around the Web