IN A surprise raid late last week the Guyana Society for the Prevention of Cruelty to Animals (GSPCA) impounded a large number of unfor­tunate animals and arrested several owners. Most of the animals were cart horses.
GSPCA official Noel Marks disclos­ed that the campaign was carried out mainly in relation to beasts of burden in Georgetown to ensure these ani­mals were not ill-treated, overworked or over ridden by then owners.
"The over ridden part comes in with the considerable number of cases reported where horses with their carts attached are raced along Mandela Avenue and Sheriff Street. Owners and spectators bet large sums of money, sometimes as much as $40,000 on them. This needless to say, is very cruel and illegal.' Marks said.
The majority of the animals impounded at the Society's Robb Street office suffered injuries ranging, according to the owners' tales, from ulcers caused by faulty saddles, bruises in a mini bus accident to in­jury caused by one donkey's grazing on a wire fence.'
Doctor in attendance, Emanuelle Cummings, examined and treated the animals and advised owners. One defaulter has covered his animal's wound with newspaper in an effort to "keep it dry." Dr Cummings ad­vised him to desist from the practice since he said, the newspaper covering would encourage fungus
"You can't even judge by an animal's look these days," Marks pointed out. "There is an animal here which looks well groomed even its mane was neatly trimmed but when we took its saddle off, it  had a "nasty bleeding ulcer."
Offenders can face up to five months imprisonment if prosecuted.
Meanwhile Marks, in an alert to all pet owners, said that the clinic was also hit by a con man posing as a vet.
"There is a man going around to homes identifying himself as Narine and claiming that he is      a veterinary surgeon attached to the GSPCA There is no Narine here."
"He has been treating; these animals with some drug known only to himself. So far a pet goat has died. We are appealing to pet owners to be on the lookout for the imposter."
Bad "Life" Flour Causing Sour Bread
SOME Georgetown consumers are com­plaining about buy­ing bread that 'tastes funny and smells sour' from some Bourda market vendors.
One vendor told Stabroek News vendors are buying 'bad flour' from the market. It is 'Life' flour and has a tainted scent and also has some lumps and is in­fested with weevils.
Right now, he said, "we're getting a mixed flour. It even feels grainy, but only a person who has been handling flour continu­ously will recognise it."
He explained that when he bought this, kind of flour, he had to mix it with a 'clean' one, before he baked.
"I'm a young man and I can't afford to go about losing my money The people you buy from don't take it back because they say how would they know it's the same flour."
"Another time," he said "I bought flour from a man and when I baked, the bread came flat. They don't refund you. All he gave me was $300 and I gave the bread to the poor house "
The vendor also com­plained about not being able to buy flour from his usual bakery for about three weeks now. He says they have to buy from retailers in the market, who are now asking tor over $1,000 a bag. Bakeries sell for about $850 and the mill sells for about $600. A pound of flour costs $8 to $12 and a large loaf of bread is sold for $30.
ANALYST
"The Analyst" he disclosed, "hardly ever comes to the market."
The vendor also complained about city constables. "We have a fight with the con­stables, who sometimes seize all the bread. We sometimes have to pay $100 a day 'removal' fee to have our bread returned."
In a comment, Public Relations Officer Mr Walter Jordan said some vendors are not only "indiscreet, but inconsiderate," and they are not legitimate.
Vehicles, he said, sometimes can't pass and they're a nuisance to other vendors.
Patrick Ford Officially Calls It A Day
PATRICK GAVIN FORD, Guyana's most celebrated boxer and probably one of our greatest pugilists of all times has, after some twelve or more years in the ring, formally and officially retired from boxing.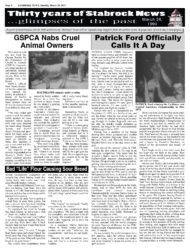 The England fast bowler, Freddie True­man, once said, "Never let people ask why doesn't he leave, but why is he leaving?" Unlike many great fighters who continued in the ring long past their best, Patrick Ford has deci­ded to call it a day, after a most distinguished and unique career of 22 fights, 18 wins 2 losses and 2 draws, losing only against two world champions. Asked about his decision to re­tire at so early an age and with an almost unblemished career. Ford stoically says, "the desire for fighting and training has slipped. If 1 can't give a hundred percent, it's not worth it, I would never just fight for money.''
Patrick was born in Georgetown on December 17, 1955, to a family of ten, and lost his father when he was seven years of age. He was introduced to box­ing at an early age through his brother Reginald, who was not only the middle weight champion of Guyana, but fought for the Commonwealth Middle­weight title in 1975.
Patrick was a member of the Salem Boxing Gym which produced such notable boxers as brother Reginald, Mark Harris, Michael Reid and Winfield Braithwaite. Humber Green was at the time coach to the gym.
Ford entered the ama­teur ranks in 1968, winning his first contest at Uitvlugt in an inter gym competition. Two years later he defeated a fighter named Belle to win the feather­weight amateur championship of Guyana. He spent eight years as an amateur, gaining experi­ence and sharpening his technique, before turning professional.
He won his first pro­fessional encounter, against Roy Smith in 1976: and in only his third professional bout, he defeated the highly-rated Tiger Green over fifteen gruelling rounds to be crowned feather­weight champion of Guyana in 1978.
He knocked out Diego Alcala in the ninth, round, and in May 1979 he won the Caribbean and Central American Championship by de­feating Enrico Soles. In that year, Ford had the rather unfortunate experience of defeating Cecil Fernandes who later died of meningitis. Patrick Ford is the eleventh Guyanese to fight for a Common­wealth title, and the third to be crowned champion, when he earned an eight round knockout over Eddie Endonuri of Nigeria in Lagos in 1980.
Ford's greatest test, and his most glorious moment, came in Sep­tember 13, 1980 when he was matched with the world champion Salvador Sanchez of Mexico, for the WBC Featherweight Championship of the world over 15 rounds.
He was actually the world champion for a few minutes, since the re­feree raised his hand as victor, only to reverse the verdict and allow Sanchez to retain his crown on a split deci­sion.
What could be considered the most grueling and unfortunate of his fights was when he was allowed to fight Eusebio Pedroza for the WBA Featherweight Championship of the world, in less than six months after the San­chez fight, and before he had fully recuperated. He was forced to lose thirteen pounds in eight days which also cost him the title. Ford however, became a national hero and on his return home, he was lauded by his countrymen and presented with a motor car and a house by President Burnham, on behalf of the government and people of Guyana.
Ford fought on for a few more years, but his heart was not fully in the game. How much those two world championship fights took out of him, mentally and physically, no one will ever know.
He has now, finally and irrevocably, hung up his gloves, but will not, and cannot stay away from boxing which has been extremely good to him. He has firmly resolved to give back to the sport as much as he got out of it.
Ford has already be­gun his career as a trainer. He holds a trainers' licence from the New York Boxing Commission, and worked along with Bobby Miles as a trainer at the world famous Gleason's Gym in Brooklyn. Back home, Ford is keen on assisting young boxers in developing the correct techniques of the game. The Guyana Boxing Board of Control has already acquired his services in amending and updating its Constitution, and will soon discuss with the Minister of Sport the possibility of Ford working with professional boxers in the various gyms, with the aim of improving training pro­cedures and upgrading their skills, in order to bring them in line with finer points of the fistic art.
Stabroek Sport warmly congratulates Ford in coming to this decision of finally retiring from boxing, and supports him with every good  wish in his new field of endeavour. We sincerely hope that Ford, by the example he has set, the trail he has blazed and the hard and constructive work he has vowed to put into boxing, will not take too long making in Guyana produce a worthy world champion.
Around the Web