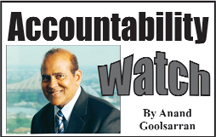 The Transparency Institute Guyana Inc. (TIGI), recently held its fifth annual fundraising dinner. The feature address was given by the Hon. Khemraj Ramjattan, Vice-President and Minister of Public Security. Previous speakers were Mr. Deryck Murray of Trinidad and Tobago, Prof. Trevor Monroe of Jamaica, Justice Desiree Bernard and Mr. Ralph Ramkarran.
Today's article is devoted to outlining of the main points of the Minister's presentation.
Paying attention to the views of citizens
The Minister referred to an article he had written in 1998 for the Guyana Bar Review, in which he warned ….