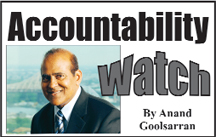 It is right to save the future for humanity. It is wrong to pollute this earth and destroy the climate life balance. It is right to give hope to the future generation.
Former U.S. Vice President Al Gore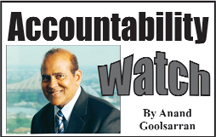 Last Friday, Pakistan's Supreme Court unanimously ruled that Prime Minister Nawaz Sharif has been disqualified from holding office because of his failure to make disclosures of his assets. The Court held that the Prime Minister's assets were "disproportionate to his known means of income." Within hours of the ruling, Mr. Sharif resigned from office. The ruling came after months of investigations and hearings into the finances of the Sharif family. This was triggered by the Panama Papers documents leak which showed that the Sharif family owned expensive apartments in London through offshore companies. The Court also ordered Pakistan's anti-corruption body to file corruption charges against Sharif, his two sons and daughter in the next six weeks for concealing their assets.
A few weeks ago, former President of Brazil, Lula da Silva, was found guilty on corruption and money-laundering charges, and was jailed for ten years. The Judge found that Lula took part in the corruption scheme in which billions of dollars were paid to middlemen, executives and politicians on contracts allegedly over-priced. Last year, Lula's hand-picked successor, Dilma Rousseff was impeached and removed from office for breaking budget rules. The specific allegation was that she not only authorised the use of funds from State-owned banks to meet public expenditure without congressional approval but also manipulated the federal budget to disguise a growing fiscal deficit.
And over in South Africa, President Jacob Zuma is fighting for his life to remain in office amid a series of scandals, the latest being the unfolding scandal involving alleged deals with the rich business family of the Guptas which was granted millions of dollars in government contracts. A vote of no confidence on Zuma's government is expected to take place next month.
Now for today's article. About two weeks ago, a massive iceberg, named A68 and measuring 5,800 square kilometers, about the size of the US state of Delaware or Lake Ontario, and weighing more than 1 trillion metric tons, broke off, or calved, from the Larsen C Ice Shelf on the Antarctic Peninsula. According to one of the scientists who has been monitoring the situation, "The iceberg is one of the largest recorded, and its future progress is difficult to predict… It may remain in one piece but is more likely to break into fragments. Some of the ice may remain in the area for decades, while parts of the iceberg may drift north into warmer waters." This development will inevitably contribute to rising sea levels.
The film "The Inconvenient Sequel: Truth to Power" was released last Friday. It documents progress made in combating climate change and the global efforts of former Vice-President of the United States, Al Gore, to persuade government leaders to invest in renewable energy, culminating in the landmark signing of the Paris Climate Agreement in 2016 with the United Nations Framework Convention of Climate Change (UNFCCC). In 2006, Al Gore produced the documentary on climate change entitled "The Inconvenient Truth" which won two Oscar awards. In a recent interview, he did not mince words when he stated that the U.S. oil and gas giant, ExxonMobil, has produced the "finest" climate change denial and is operating in a manner deeply unethical in terms of the promises made every year.
The role of the UNFCCC
The UNFCCC came into force on 21 March 1994 with the objective of stabilising greenhouse gas concentrations "at a level that would prevent dangerous anthropogenic (human induced) interference with the climate system. Such a level should be achieved within a time-frame sufficient to allow ecosystems to adapt naturally to climate change, to ensure that food production is not threatened, and to enable economic development to proceed in a sustainable manner." A total of 197 countries have since ratified the Convention.
The birth of the UNFCCC came about as a result of the "Rio Earth Summit" in Brazil in 1992. It follows closely the 1987 Montreal Protocol which "bound member states to act in the interests of human safety even in the face of scientific uncertainty". Industrialized countries are expected to do the most to cut emissions of greenhouse gases. They agree to support climate change activities in developing countries by providing financial support for action on climate change, above and beyond any financial assistance they already provide to these countries. In this regard, a system of grants and loans has been set up through the Convention and is managed by the Global Environment Facility (GEF). In addition, industrialized countries also agree to share technology with less-advanced nations and to report regularly on their climate change policies and measures. They must also submit an annual inventory of their greenhouse gas emissions, including data for their base year (1990) and all the years since.
Developing countries are required to report in more general terms on their actions both to address climate change and to adapt to its impacts, with funding provided by the GEF, particularly in the case of the Least Developed Countries. According to the UNFCCC, economic development is particularly vital to the world's poorer countries. Such progress is difficult to achieve even without the complications added by climate change. The Convention takes this into consideration by accepting that the share of greenhouse gas emissions produced by developing nations will grow in the coming years. Nonetheless, in the interests of fulfilling its ultimate goal, the Convention seeks to help such countries limit emissions in ways that will not hinder their economic progress.
The Paris Agreement
The Paris Agreement was entered into in 2016 by 195 countries to curb planet-harming fossil fuel. According to the UNFCCC, the Agreement brings together all nations for the first time into a common cause to undertake ambitious efforts to combat climate change and adapt to its effects, with enhanced support to assist developing countries to do so. The Agreement aims to strengthen the global response to the threat of climate change by keeping a global temperature rise this century well below two degrees Celsius above pre-industrial levels and to pursue efforts to limit the temperature increase even further to 1.5 degrees Celsius.
Additionally, the Paris Agreement aims to strengthen the ability of countries to deal with the impact of climate change by putting in place appropriate financial flows, a new technology framework and an enhanced capacity building framework, thus supporting action by developing countries and the most vulnerable countries, in line with their own national objectives. It also provides for enhanced transparency of action and support through a more robust transparency framework. All Parties to the Agreement are required to put forward their best efforts through "nationally determined contributions" and to strengthen these efforts in the years ahead. This includes reporting regularly on their emissions and on their implementation efforts. In 2018, the collective efforts will be assessed in relation to progress towards the goal set in the Agreement. Thereafter, such efforts will be assessed every five years.
This year's UNFCCC meeting aims to start the design of a "rulebook" for implementing the Paris Agreement in terms of limiting average global warming as set out in the Agreement. Scientists believe worst-case-scenario climate change impacts — rising seas, harsher droughts, more intense storms, disease-spread and conflict over dwindling natural resources – are likely to be kept in check if there is adherence to measures set.
Individual countries' actions to combat climate change
China is the largest polluter of the environment, followed by the United States. However, the United States has pulled out of the Paris Agreement, contending that climate change is a hoax perpetuated by China and that if it did not do so, the U.S. economy would be adversely affected. Notwithstanding this, the Mayors of several U.S. cities have committed themselves to honour the Agreement.
China, on the other hand, is making significant strides to cut back on the use of fossil fuels. It is investing hundreds of billions of dollars in renewable energy in the form of vast solar and wind farms, thereby creating millions of jobs. According to the most recent annual report from the International Renewable Energy Agency, more than 2.5 million people work in the solar power sector alone in China, compared with 260,000 people in the United States. Both countries are the producers of large amounts of coal. While in the United States coal miners now have an incentive to go back to work, China is cutting back on coal production and is restricting the construction of new coal power plants. It has also set as a target the production of 20% of clean energy by 2030.
The European Union countries have pledged to reduce emissions by 40% by 2030. France has announced plans to ban all petrol and diesel vehicles by the year 2040. It will also no longer use coal to produce electricity by 2022 and is committed to invest €4 billion to boost energy efficiency. Germany has published a 30-year climate change strategy, including: the cutting of greenhouse gases by 80-95% by 2050; and significantly lowering car emissions with e-cars contributing to this goal. As of 2015, Germany increased the power production of renewable energy by 30%. Sweden has decided that it would go carbon-neutral by 2045.
To be continued –
Around the Web