Another iceberg about four and a half times the size of Manhattan and measuring some 103 square miles in surface area, has broken off Antarctica. It occurred in the interior section of the glacier, and scientists are theorising that it could be the result of warm ocean water attacking the ice from below causing instability. Were the glacier to melt in its entirety, sea levels could rise by over one and a half feet. Earlier this year, a similar occurrence took place when an iceberg about the size of Delaware broke off Antarctica.
A recent Washington Post-ABC News poll revealed that 55% of Americans now believe that the severity of hurricanes is the result of climate change, compared with 39% in 2005 following Hurricane Katrina. The Paris Agreement on climate change aims to curb the use of planet-harming fossil fuel and to strengthen the global response by keeping global temperature rise this century to well below 2 degrees Celsius above pre-industrial levels and to pursue efforts to limit it even further to 1.5 degrees Celsius…..
To continue reading this article
Comments
Audit is not an end in itself, but an indispensable part of a regulatory system whose aim is to reveal deviations from accepted standards and violations of the principles of legality, efficiency, effectiveness and economy of financial management early enough to make it possible to take corrective action in individual cases, to make those accountable accept responsibility, to obtain compensation, or to take steps to prevent or at least render more difficult, such breaches.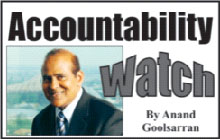 The Audit Office of Guyana was established in 1884 as a Colonial Audit Department.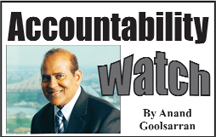 Last Wednesday, the cities of San Francisco and Oakland in California filed separate lawsuits against five oil companies – ExxonMobil, Chevron, ConocoPhillips, BP and Royal Dutch Shell –  seeking compensation to protect them against rising sea levels which they blame on climate change.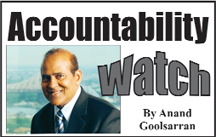 You can see the effects of climate change and scientists have clearly said what path we have to follow…All of us have a responsibility, all of us, small or large, a moral responsibility.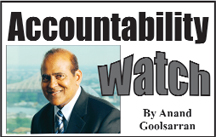 (Part III) Climate change is no longer an issue of the future. It is here and is staring at us as we witnessed the catastrophic effects of Hurricane Harvey that descended upon Houston, Texas, causing damage estimated at US$90 billion and a death toll of at least 70.