Last Monday, the United Nations Framework Convention on Climate Change began its meeting in Bonn, Germany, mainly to review progress made since the 2016 Paris Agreement on climate change to which 197 countries are signatories. Some 25,000 officials from various countries, including scientists and lobbyists, are in attendance. As part of its efforts to have a 'green' conference and to assist in offsetting emissions from air travel to the conference, Germany has made available hundreds of bicycles and electric buses to shuttle participants to and from the conference, among other measures. Since 1990, CO2 emissions from air travel have increased by 83%.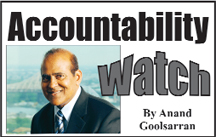 The U.S. Global Change Research Program has released Volume I of a special report on climate change. The report confirmed several of the findings contained in other studies, some of which have been highlighted in last week's article. A key finding is that global climate is projected to continue to change over this century and beyond. The magnitude of climate change will depend primarily on the amount of greenhouse (heat-trapping) gases emitted globally and on the remaining uncertainty in the sensitivity of Earth's climate to those emissions. With significant reductions in the emissions of greenhouse gases, the global annually averaged temperature rise could be limited to 3.6°F (2°C) or less. Without major reductions in these emissions, the increase in annual average global temperatures relative to the pre-industrial period could reach 9°F (5°C) or more by the end of the century…..
To continue reading this article
Comments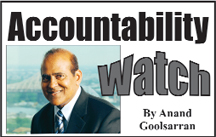 This article is based on a presentation that I made at Moray House last Thursday evening.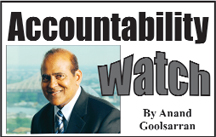 A few weeks ago, I made a presentation on behalf of the Transparency Institute Guyana Inc.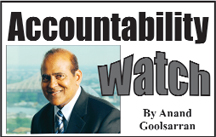 At a recent function to rename the Centre of Caribbean Studies at the University of Warwick in honour of our renowned business icon Yesu Persaud, I met Mr.
Audit is not an end in itself, but an indispensable part of a regulatory system whose aim is to reveal deviations from accepted standards and violations of the principles of legality, efficiency, effectiveness and economy of financial management early enough to make it possible to take corrective action in individual cases, to make those accountable accept responsibility, to obtain compensation, or to take steps to prevent or at least render more difficult, such breaches.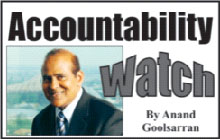 The Audit Office of Guyana was established in 1884 as a Colonial Audit Department.