Leading chutney artiste, the young Terry Gajraj shot to fame with a restless reworking of old lines in his "Guyana Baboo" hit composed during an astonishing creative outpouring with friends one noisy, nostalgic night in a tiny Bronx, New York apartment in 1992, far from the fertile Fyrish fields and modest mandir of his buoyant Berbice boyhood.
"Oh Bangali Baboo, Oh Bangali Baboo" he would cry while seeking to simultaneously assert his background and a national identity outside of the alienation and ambivalence of the new North-American base, "Me come from de country dey call Guyana, land of de bauxite, de rice and sugar." The fitful yearning for home and the unquenched desire for the reassuringly familiar that bind and haunt so many migrants from Massachusetts and Mississauga to Manchester, are poignantly captured in the wistful lyrics, unabashedly crafted in the comforting raw daily dialect of Gajraj's rural birthplace.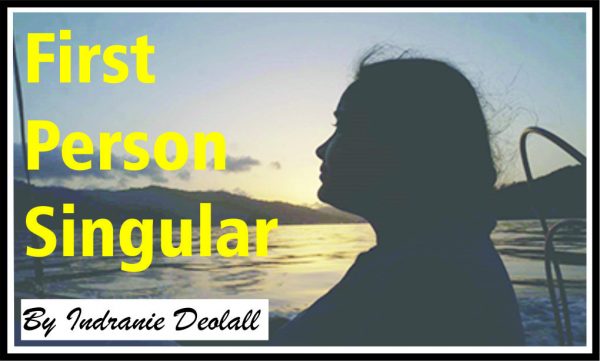 The piece's sentimental, deliberate vernacular belies his former profession as a Georgetown school tutor. "Me say pack up me grip (suitcase) and leh me go, Me gat fe go back ah Guyana some more" and his wry claim in the chorus "I am de very best ah de Guyanese Baboo" contrast with the repeated lament that is an acknowledgment of the diaspora's shared immigrant history twice over and Indian origins, "Oh Bangali Baboo, Oh Bangali Baboo."
Through a merger of the past and the present, Gajraj's music again became the powerful language that captured the pain and passion of a people pausing to reflect once more, while prepared to plod ahead in another strange, ever-beckoning landscape of shiny skyscrapers, hard winters and an often grim, fast-paced, anonymous life among the disconnect of mingling masses of millions. 
In Fyrish, as all along Guyana's fecund coast, sweating villagers toiled together side by side in the same close-knit canefield gang at the Canje Sugar Estate, their back-breaking labour at the soon-to-be-closed former Plantation Rose Hall made bearable through humour, constant conversation and the steady singing of traditional Indian tunes and comforting religious songs or bhajans. The canecutters' sharp cutlasses, metal files and worn saucepans were even improvised into "musical instruments" with Terry's bilingual father, schoolteacher Sunny instructing anyone interested in Hindi, musical and Ramayana classes conducted from under his humble "bottom-house," and at the small temple that was the pulsating centre of their Hindu rural life.
"Bhai" or "Brother" Sunny Gajraj also helped with the rousing "chowtal" folksongs brought by indentured immigrants like his father aboard fast sailing ships from 1838-1917. They hailed mostly from the Bhojpur belt including parts of Bihar and Uttar Pradesh in northern India, and the Bara and Parsa districts of Nepal where the original Bhojpuri language is spoken. In "chowtals", two rows of singers face each other, rendering chants antiphonally, that climb and climax in a crescendo.
Joyously performed during the Hindu spring festival of Phagwah or Holi, the catchy melodies are named for the "taal" or distinctive meter of Hindustani classical music and comprise various subgenres such as the "ulara", "jati" and "kabir" taught by the articulate Bhai Gajraj, who everyone addressed respectfully as "Mahashay" a formal term of address and a title reserved for a gentle leader, considered a man of good family, breeding or social position.
Terry's "Aajah" or paternal grandfather Algoo Gajraj, was a Hindu religious leader, a trained "Mahant" or Pandit from India, who lived in Khaire Bush and conducted "poojahs" or special religious invocations to the Gods. "His house had a thatched roof, earthen floor and cabbage board walls covered with white lime paint," the singer vividly recalled in an online post.
Like the savoury edible vegetarian "chokas" or mashed/pounded vegetables and spicy condiments easily made from tomatoes, eggplants, tubers, parched peanuts, browned sesame seeds, and creamy coconut wedges seared on an open flame, the folk music evolved into the perennially popular "chutney" that characterise Guyana, Suriname, Trinidad and Tobago, and can be heard further afield where descendants of the indentured workers have since migrated.
The basic chutney rhythm developed within the farming communities scattered in hamlets across the three countries, as an offshoot of the scathing social verses and oft-raunchy mocking lyrics, such as the bawdy "maati kore" belted out by women during the said "dig dutty" (dig dirt/dirty) Friday night pre-wedding rituals, brought by the immigrants to the West Indies,. Part of an ancient, oral agrarian culture that featured epics, cutting commentaries and witty ditties originally presented by travelling performers, the folk songs showed peculiar variations according to where they evolved as the Bhojpuri language faded from daily use in the English-speaking territories.
These up-tempo melodies rendered repartee for a millennia rang out on important occasions such as marriages, birth ceremonies and during seasonal festivals. These early compositions were profound reflections of daily life covering poverty, longing, ambition, despair, infidelity, death and birth, alcoholism, even sexual assault and murder.
Within this rich atmosphere, the grandson grew up absorbed with the soft strumming sounds of "aajah" Algoo's stringed sitar, the hum of the harmonium, the thumps of the talking tablas, the dull drumming of the dholak, the sharp clang of the dhantal a rhythmic rod ingeniously crafted from the bullock yoke, and the fast flapping of the fancy "jhandis" or embossed prayer flags in the Corentyne wind. He remembers as well, his "aajah's" treasured ceremonial metal objects, the triangular "kund" for the sacred, ancient fire ceremony, and brightly burnished brassware, the "lotas" and "thaalis."
Yet "aajah" Algoo was a practical and industrious man, carefully tending yard fowls, planting "a big kitchen garden" to sell fresh vegetables during the 1940s, and years later faithfully preparing "dosaai" (grain pancakes) and "fried eggs" when his beloved son and grandson arrived by bicycle with gifts of harvested raw rice for their frequent visits.
By age five, Terry was out with the Dil Bahar Orchestra, and as a versatile musician skilled with the instruments of chowtal and chutney, he went on to work with the Star Rhythm Combo, the Original Pioneers, and the Melody Makers before migrating to the United States to launch a successful solo singing career that soared with his "Soca Lambada" album.
Used literally, "Babu" affectionately means "father" but during British rule of India, the equivalent "Baboo" became common as a Hindi courtesy title for a man, being the same as "Mr." The term can refer too, historically, to a Hindu clerk who is literate in English, but it was also deployed as a deeply disparaging description of natives with only limited knowledge of that language.
The negative connotations of the word go back to the little-known Bengali feminist and writer, Mokshodayani Mukhopadhyay, born around 1848, who came from a well-known family. The sister of W.C. Bonnerjee the first President of the Indian National Congress, and daughter of the renowned lawyer, Girish Chandra Bannerjee, she would launch a women's journal in 1870 and publish her first collection of poems, "Bana Prasun" or "A Bunch of Wild Flowers" in 1882. According to the book, "Women Writing in India: 600 B.C to the early 20th century it was "critically acclaimed, but one of the poems in the collection roused exceptional protest."
Entitled "Bangalir Babu" or the "Bengali Babu" it "was a fitting and witty riposte to a well-known satirical poem done in 1870s, "Bangalir Meye" or the "Bengali Woman" by Hemchandra Bandhopadhyay the leading male poet of the time.
"Mokshodayani matches Hemchandra's attack on feminine vanity, malice and superstition with an equally damaging list of male attributes. The supposedly educated and emancipated 'babu' in her poem is vain, pompous, slavish and degenerate." The poet insisted that she replied as representative of all women who were insulted or angered by the piece.
"Bengali Babu" opens with the taunt, "Who's that rushing through his breakfast and bath?/ The Bengali babu! He's terribly pressed:/ The sahib will scold him, should he be late,/So he's got to get ready, and bustles about./ There he comes, decked in trousers and jacket!"
In her poem, Mokshodayani declares in derision, "Alas there goes our Bengali babu! He slaves away from ten till four,/Carrying his servitude like a pedlar's wares./A lawyer or magistrate, or perhaps a schoolmaster, A subjudge, clerk or overseer:/The bigger the job, the greater his pride; / The babu thinks he's walking on air./ Red in the face from the day's labour,/He douses pegs of whiskey to relax when he's home."
A male reviewer would even confess: "I am always afraid to praise poems written by women, since it might instigate other women to desert their household duties and take up the pen. And what would be the hapless condition of the men in this circumstance!"
ID remembers the Guyana Baboo's admission that he had intended many other verses for the song because he loved and missed the country so much. Ironically it first took off in chutney-crazy Trinidad and Tobago where he successfully introduced his big show in the region. 
Around the Web