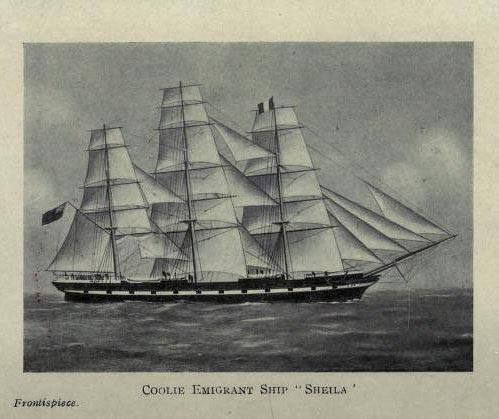 "Oh, naughty, naughty Clara, how could you serve me so?
I'll go to Demerara, if you tell me to go.
I'll sail across the ocean, I'll go far o'er the seas.
If you'll tell me to go, my dear, I'll do just as you please."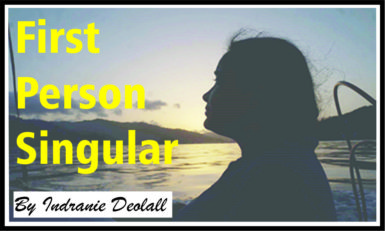 The fast full rigged British clipper, the magnificent "Sheila" smoothly sailed into dark Demerara early on the morning of November 29, 1877, running "bang for the bar" of soft mud when the ugly, frothy river tide rose. Anchoring close to the stelling of Messrs. Sandbach, Parker and Company, the ten-month-old ship, with its huge iron masts towering 186 feet above decks, had just delivered its first human cargo of 624 "poor souls" to the indentured immigrant depot at Five Islands, Trinidad…..
To continue reading this article
Comments

"Away, away, what nectar spray she flings about her bow. What diamonds flash in every splash that drips upon my brow.

"Sweet Evelina, dear Evelina, My love for thee shall never, never die. Dear Evelina, sweet Evelina, My love for thee shall never, never die.

Her expressive eyes are deep and dark, a certain painful poignancy to them as she stares, so serious, straight into the camera, leaning slightly, with full lips slightly open.

Leading chutney artiste, the young Terry Gajraj shot to fame with a restless reworking of old lines in his "Guyana Baboo" hit composed during an astonishing creative outpouring with friends one noisy, nostalgic night in a tiny Bronx, New York apartment in 1992, far from the fertile Fyrish fields and modest mandir of his buoyant Berbice boyhood.

The early afternoon of Monday January 14, 1991 started like any routine assignment for us covering Parliament but by the end of the dramatic day, we would witness historic scenes of acerbic anger, unprecedented disorder and ugly uproar.