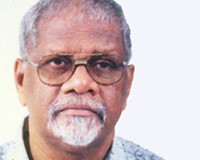 Decades ago I actually was allowed to experience two separate Cabinet meetings for very, very brief periods, representing the then Ministry of Information.
Now, every meeting of the Cabinet of ministers serving government and the people should be absolutely serious events. However, I remember trivia about the one under Forbes Burnham. He had every minister foot the lunch bill for one of the weekly sessions. At the Hoyte session a dead serious Prezzie Dessie advised me to rejoin "the party" and get "elected" if I wished to be at Cabinet sessions more frequently. (Incidentally, many then seemed to fear Prime Minister Reid and Prime Minister Hoyte. I never had a reason to.)
Now, I still marvel at David Granger's adroit manoeuvrings to get himself elected as leader of the People's National Congress (PNC); as leader of the amorphous APNU – that "partnership"  for some concept called "national unity". National what? Unity!? Then he became leader of the parliamentary opposition.  Finally APNU and the third/second party, AFC made him President of our Republic after the elections of May 2015. Not bad for a military mind and qualified historian.
And yes he might be considered by some to be still a political neophyte compared to the few veterans still active. But any aspirant who outvoted and outmanoeuvred his party rivals and who put together a dubious "partnership" for parliament then elections, may soon be many players' nemesis instead of mere neophyte.
Just look at his numerous military comrades up to 2020 and beyond?
Now after a busy, relatively torrid month at hand, in Caricom and at State House he is planning next week's Cabinet meeting behind the giant green walls of the Ministry and Cabinet Room of the Presidency.
But even as he summons his Chief of Staff cum Cabinet Secretary, Minister Harmon, next week's agenda has actually been planned for him.
*******************
Issues – bothersome, challenging
As stated before it is to be expected that any gathering of a Cabinet forum should be deadly serious in discussion, intent and outcomes (expected).
So, notwithstanding the Valentine Day APNU/AFC agreement, there is no longer any rigid "accord" about Prime Minister Nagamootoo chairing all Cabinet business.  No-no. These times are too serious for the President not to be completely, absolutely, immediately in the loop. Directly. At most such meetings.
"What's on your provisional list for the session Joe", the President asks Minister Harmon, over glasses of coconut water.
"Well Sir",  Chief of Staff Joseph responds, "some top-shelf issues are not going away thanks to the opposition, the press, the business sharks -and our own supporters – the  jail, the floods, home-invasion crime; to a lesser extent sugar and calls for constitution reform…" The President cut Mr Harmon short. "I wish we would address – in some manner – at all Cabinet events, the thrust to improve the people's quality of life. Now I am aware of what's involved. Minister Jordan never lets us forget that. But the national standard of living attracts affordable education, health services, transportation, customer-friendly services, care for the elderly and availability of cheap nutritional foods. It's a challenging list but we promised the people all that in 2014. Cabinet is accountable…" The President seemed consumed by his thoughts as he drifted, temporarily to a stop when Minister Joe made interesting suggestions.
"With respect Chief, you know my consistent suggestion regarding your Primary Minister, Brother Nagamootoo. He has to harness GINA, NCN and Chronicle to tell our story in simple but effective manner.
Let the Ministers pass their releases through him. Additionally and respectfully, you and/or Cabinet should always brief soundly certain ministers before they go public. Especially if you must endorse, after them." The President smiled. Almost wistfully. As his Chief of Staff continued: "I mean people like Trotman, Bulkan, Ramjattan, Patterson, Lawrence and Broomes. The critics are after them and they sometimes provide easy fodder for opposition types when they mouth off without sensitivity. Our own are frequently disappointed too." The President looked Joe in the eye. (Look who's talking, the Prezzie thought.)
It was agreed- albeit conditionally – that the imminent Cabinet Pow-Wow had to consider the next steps regarding sugar. A vital decision was whether the President himself should speak to   GAWU and its members once and for all. Minister Jordan was to be tasked with diverting funds to upgrade all prisons immediately, and the numerous advisors to Attorney General Williams would address Judicial reform to solidify such elements as a full judiciary and magistracy, sentencing parameters, parole and alternative dispute management.
It was agreed also that the meeting put on its agenda recognition of the good work being done by the two officers at the Civil Defence Commission but that Minister Patterson and the soft-spoken, often silent Holder must report on Drainage and Irrigation. New rice markets are to be happily announced; then Harmon reminded the President that Minister Nicolette needed ministerial assistance over the Culture, Youth and Sports departments. The President has someone in mind but Cabinet has to decide if that gentleman is too high profile.
The chat took a break. The President more coconut water and Joe, coconut water with a dash of Hennessey. (He dared not mentioned Georgetown's City Hall!)
******************
Latin American Republics- Corruption.
Just my frank Observation: The Americans had dubbed South American States and their Leaders as "Banana Republics". Guilty of vile corrupt leaders given to dictatorship and their own version of (Election-less) democracy. Often the generals ruled.
Today, however, read of powerful judges and independent prosecutors pursuing corrupt officials and those suspected of corrupt deals to defraud their people. Either through their treasuries or by way of suspicious sweetheart deals with multinationals.
How refreshing and exemplary! From Brazil to Peru, Argentina, Ecuador, Chile, some former leader is being prosecuted for their past sins.
Those South American Republics are no longer "Banana." What about our own South American Co-operative Republic- Guyana?
*******************
Ponder well…
.1) Brutality unabated! The bandits savage old grannies and pensioners with stroke. When caught their defence attorneys will plead….
.2) Is Anil Mahabir Nandlall accurate on two points? That (1) "the granting of bail is a purely judicial function over which the executive has no say…" and (ii) the millions being expended on Inquiries should be used for other urgent purposes.
.3) Could Commissioner/President  Patrick Yarde make time to negotiate Public  Servants Increases? Long overdue?
`Til next week!
Around the Web