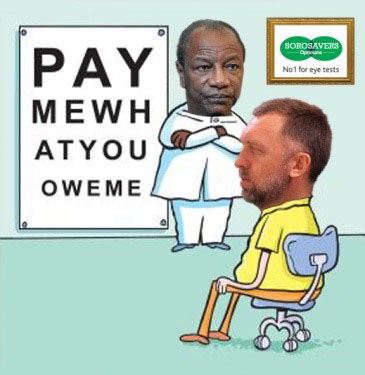 On reading last week that a decade after the dispute arose between Rusal, the Russian bauxite company, and the Guyana Bauxite and General Workers Union (GBGWU), union officials still had to be forcing their way into government offices to demand that their long-standing grievances be properly considered, I remembered the cartoon above, which portrays a confrontation between Mr. Oleg Deripaska, president of Rusal, and Alpha Conde the first democratically elected president of Guinea.
Without commenting upon the merits of the case on either side, in the normal course of such events, this dispute should not have lasted this long as there are legal and institutional mechanisms in Guyana for its resolution. Industrial disputes are inevitable, but there exist,  for example, the Labour Act, the Trade Union Recognition Act, the Termination of Employment and Severance Pay Act, and a Labour Department that, independently or when requested by the parties, must seize and take a dispute through the various stages of mediation, conciliation and, if necessary, arbitration. Comparatively rarely, matters go to court, but the expectation is that decision and necessary action arising therefrom will be timely. This has clearly not happened in this case and suggests the absence of political will to properly deal with the interest of the working people and since multinational companies tend to act similarly, vigilance is necessary in our relationship with the global giant Exxon Mobil. That said, the big questions are why this dearth of political will and what is to be done? ….
To continue reading this article
Comments

'The lawfulness of state actors' decisions frequently depends on the reasons they give to justify their conduct, and a wide range of statutory and constitutional law renders otherwise lawful actions unlawful if they are not justified by reasons or are justified by the wrong reasons'(Mathilde Cohen.

'Is it possible to vote and/or encourage others to vote racially and not be a racist?' The incident involving Ms.

Around midnight on Saturday the 5th of August Varnika Kundu, a 29-year-old female Indian DJ based in Chandigarh alleged that she was involved in a motor car chase with the son of a politician and his friend who tried to abduct her.

The decision by the Kenyan Supreme Court to annul the reelection of President Uhuru Kenyatta brought back memories of the October 1998 decision by the British House of Lords that stripped the late Chilean President August Pinochet of his immunities and allowed for his arrest to answer for the over 3,000 tortures and deaths that his regime allegedly orchestrated during the 17 years of his dictatorial rule.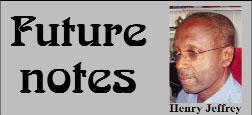 'I am now convinced that the simplest solution to poverty is to abolish it directly by a new widely discussed measure: the guaranteed income.' Martin Luther King, 1967.