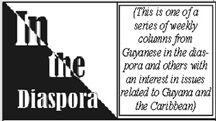 By Ron Fanfair
Prior to coming in Canada in 1985, Guyanese journalist Ron Fanfair freelanced for the Guyana Chronicle and the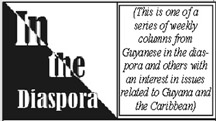 defunct Citizen Mid-week newspaper and served as senior sports producer and assistant editor with the stateowned Guyana Broadcasting Corporation. He was also the Caribbean News Agency's sports correspondent in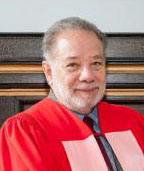 Guyana. A freelance writer/photographer and journalist at heart, his weekly contributions to Share, Canada's largest weekly ethnic newspaper, allow him to inform, educate and entertain a wide cross-section of readers. Fanfair's articles and photos have also appeared in many local and international media outlets. They include The Toronto Star, The Globe & Mail, Canadian Press, Associated Press, The Barbados Nation, The Trinidad Guardian, The Jamaica Observer, The Wisden Cricket Annual, AC Enterprise and the defunct Caribbean Cricket Yearly and Monthly. Ron has been recognized with several honours, including the Harry Jerome, African-Canadian Achievement, Canadian Association of Black Lawyers, the Jamaican Canadian Association Community Service, the Guyana Media and the Guyana Sportswriter of the Year Awards and the Queen's Golden Jubilee Medal for Community Service.
Receiving an honorary doctorate last week from the University of Toronto where he graduated 50 years ago was a bittersweet occasion for lifelong Black radical historian and Jamaican Robert (Bobby) Hill.
While delighted to have family and friends share the momentous moment, he was sad that his sister – who resides in England – couldn't come for the celebration.
It was only after issuing the invitation that Hill learnt his sibling was deported from Canada nearly five decades ago because of her skin colour.
Their mother's father was Japanese.
"My sister worked for a large Canadian corporation in Jamaica and England where she migrated to in the late 1950s," Hill said during his convocation address to U of T's New College graduates. "She came to Canada with the intention of applying for a job with the same Canadian corporation, but she was denied entry because she was declared to be Asian. My sister looks Japanese. I share this story with you, not out of any sense of resentment nor animus. I do so to remind you that this is a new Canada you are living in and living with. This is a Canada worth celebrating."
Hill said his graduation day in June 1967 is a blur.
He remembers being alone that day without family and friends at his side as his wife and two young children had returned to Jamaica where his parents were. "I don't recall receiving any cards or congratulatory phone calls," said Hill who obtained his Master's in political science from the University of the West Indies. "…My thinking that day was on how soon I could get back to Jamaica and to the West Indies. I was looking forward to that very much."
Fifty years later, his wife, three children and two grandchildren along with friends who had travelled long distances were there to watch Canada's largest university honour him a second time. "Little did I know in 1967 that one day I would return for a second degree," he said. "The difference this time around being that I had no course work to take and no exams to sit. If only the rest of life could be so easy."
Hill, a University of California at Los Angeles (UCLA) professor emeritus and editor-in-chief of the Marcus Garvey & the Universal Negro Improvement Association (UNIA) Papers project, was pursuing law studies at the London School of Economics when he learnt of U of T during a conversation with a Jamaican friend who was a doctoral candidate.
"When the talk came around to where he did his undergraduate studies, he said it was at U of T," said Hill whose interest in Garvey started at St. George's College when he wrote a prize-winning essay about him. "Up until then, I didn't know there was a U of T."
Hill also learnt from his friend about influential Canadian political scientist Crawford Brough Macpherson who taught political theory at the U of T.
Macpherson, who died in 1987, rose to international prominence for his book, 'The Political Theory of Possessive Individualism' released in 1962. It's a study of 17th century English political philosophers Thomas Hobbes and John Locke who, he argued, developed a concept of human nature that has prevailed and underpins the economic and political inequality that plagues capitalist societies.
"As I listened that day and learned more about Macpherson, I there and then decided that I would give up the study of law in order to come to study at the U of T with Professor Macpherson," said Hill who held appointments at Dartmouth College, the Institute of the Black World and Northwestern University. "In doing so, I became just one more West Indian in a long line of West Indian students stretching back over many decades who have come to Canada in search of a university education and for professional training."
Hill's affinity and respect for Macpherson prompted him to raise the question: 'Does the U of T understand what he means today and to the world?'  At this point, I feel obliged to ask that question. Also, is there a memorial of any kind on this campus to the extraordinary global significance of Professor Macpherson's achievement and, by extension, his significance to this university's international reputation and standing'?
A leading authority on the life of Garvey and the history of the Garvey Movement, Hill was a guest curator of the National Endowment for the Humanities-funded Marcus Garvey Centenary Exhibition at the Schomburg Centre for Research in Black Culture and an adviser to the Jamaican government on its Garvey centennial.
Jamaica's first national hero, Garvey founded the UNIA, the Black Star Shipping Line to provide transportation to Africa, the Negro Factories Corporation to encourage Black economic independence and Jamaica's first political party in 1929.
Described by Columbia University Professor David Scott as an "archaeologist of Black memory," Hill is the editor-in chief of 14 volumes of the Marcus Garvey and UNIA Papers based on the systematic compilation of nearly 30,000 primary documents over more than three decades across many countries and continents.
Dr. Alissa Trotz, who teaches at U of T in Women and Gender Studies and the Caribbean Studies programme at New College, introduced Hill to the graduating class. In her citation, she described him as "A sleuth in the service of justice, the highest truth…In working with international editorial teams, unearthing unanticipated connections, supplying detailed and remarkable introductions and annotations, Robert Hill has profoundly reshaped our understanding of one of the most significant movements of the 20th century," she said. "When we combine this with his exceptional scholarship that has transformed our understanding of the Jamaican Rastafari Movement and the innumerable sources on Black radicalism that he has tracked down and made available, it is easy to see why he is unquestionably seen as the world's leading authority on the transnational influence and intellectual currents of Pan Africanism…He has tirelessly built an archival infrastructure that will serve generations to come, enabling us to multiply the stories that were never meant to be told. This is what intellectual fellowship looks like. This is public intellectual work at its finest. But more than a keen observer and skilled interpreter of historical events, Robert Hill has also been a committed participant in the kinds of struggles for justice that he was such a disciplined student of."
As an undergraduate student at the U of T, Hill was instrumental in organizing the West Indian student movement in Canada and a speaking tour for Trinidad's CLR James, one of the most outstanding intellectuals of the twentieth century, who entrusted him with editing one of his manuscripts, 'Notes on Dialectics', that was transcribed on equipment Hill borrowed from the U of T political science department and printed in University College's basement. He is the literary executor of James' estate and has recently embarked on yet another ambitious project, as editor of the CLR James archives.
In 1968 it was Robert Hill – by then back in Jamaica and a graduate student at the University of     the West Indies Mona Campus, who travelled to Montreal with Guyanese historian Walter
Rodney to attend the Congress of Black Writers. As the diaspora column noted two weeks ago in
a tribute article to Walter Rodney, Hill presented a paper they had coauthored, "Statement on the Jamaican Situation, that condemned the new leaders of a recently independent Jamaica as defenders of a status quo that kept the majority African population on the island in a state of misery. Rodney was not allowed to re-enter Jamaica, a decision that led to riots in
Jamaica's capital Kingston, and ignited the Black Power movement across the region.
Robert Hill was also one of the co-founders of Abeng in Jamaica, a group dedicated to questions
of radical decolonization in the Caribbean, and which printed a weekly newspaper – of which he
was Managing Editor – that circulated in 1969.
There is an African proverb that says until the lions have their own storyteller, tales of the hunt will always glorify the hunter. Robert Hill is that storyteller. A captivating speaker and unfailingly generous mentor to countless students, he has built an archival infrastructure that will serve generations to come, enabling us to multiply the stories that were not meant to be told. This is committed public intellectual work of the best kind, and a recognition that is not only most deserved, but long overdue.
Around the Web