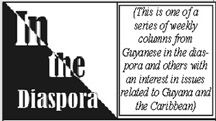 By The Caribbean Voice
The Caribbean Voice is a New York-based NGO that has been involved in social activism since its launch in 1998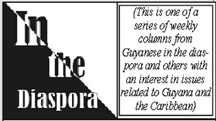 The recent launch of an integrated health service delivery network in Region One with no mental health care component was rather puzzling, given that the World Health Organization (WHO) has long stressed the need for mental health care to be decentralized and integrated into primary health care. This is especially critical in developing nations like Guyana where mental health specialists are in very short supply, but the need for the delivery of mental health care is acute. According to the WHO, "By making health care workers sensitive to the presence of mental health problems and by equipping them with skills to deal with those problems, much wastage of efforts in general health care can be avoided and health care can be made more effective".
In fact this approach has been highly successful in Sri Lanka and Zimbabwe, in particular among many other nations. In Zimbabwe lay health workers screen for common mental disorders, including depression and anxiety. For those who screen positive, a lay health worker delivers problem-solving therapy with education and support.
As well, local community members without formal mental health education can be trained to deliver basic psychotherapy services as is happening in Uganda. One of the first randomized controlled trials for mental health in low and middle income countries was a landmark study of group interpersonal therapy in war-affected Uganda. The intervention led to large and significant reductions in depression for participants.  Given its success, the World Health Organization has made the intervention manual available for widespread dissemination and use in countries around the world.
So while we are happy that batches of doctors have been/will be trained in WHO's Mental Health Gap (mhGAP) Intervention programme, we hope requisite training would gradually expand to cover all health care personnel in order to eventually have in place an integrated health care system as proposed by WHO. Additionally, we hope the government's plan to focus on community health care would see the relaunch of the Gatekeepers' Program so that every community can eventually be populated with first responders who would transform mental health care from a reactive to a proactive process.
As well, teachers, police officers, priests of all religions ought to be trained in basic mental health care, while social science majors at the University of Guyana and students at the Teachers' Training College should be mandated to take a course in basic mental health care. A survey carried out by Dr. Vishnu Bisram, on behalf of The Caribbean Voice in 2016, found that Guyanese in general are quite willing to be trained to help address mental health issues at the community level. In fact, among the attendees at our various mental health workshops, have been religious leaders, educators, police officers and general health care workers. So it is clear that the interest in and willingness to be trained exist.
This need for an inclusive, holistic approach to mental health care is imperative also, given that, according to a 2008 WHO (figures that need to be updated) report on Guyana, "75,000 to 112,500 Guyanese suffer from mental disorders and require some level of mental health care services. Of these, approximately 22,500 to 37,500 would be expected to suffer from severe mental illness.
In fact, it has been pointed out in the local media that, "Mental illness is the major contributor to displacement of the children…It explains the growing band of young criminals who seem to have no regard for life or limb." It was also reported that, "Mental health related illnesses account for more morbidity than HIV/AIDS, tuberculosis and malaria combined".
Also, it is generally accepted that a correlation exists between a nation's mental health and its economic growth. WHO indicates that the positive impact that health has on growth and poverty reduction occurs through a number of mechanisms, such as a reduction of production losses due to fewer worker illnesses, the increased productivity of adults as a result of better nutrition, lower absenteeism rates and improved learning among school children. This relationship also allows for the use of resources that had been totally or partially inaccessible due to illnesses. Finally, it allows for an alternative use of financial resources that might normally be destined for the treatment of ill health.
Meanwhile we urge that mental health in-patient services be offered at all public healthcare institutions and that the rehabilitation of National Psychiatric Hospital address all the issues identified: inhumane conditions, supplies of poor and sub-standard quality; an inoperable canteen; an acute shortage of basic items in the kitchen; leaky roofs; no fans in the wards; shortage of beds; dysfunctional washrooms; and a deplorable laundry facility, including shortage of clothes-lines, lengthy delays in processing purchase orders, the constant flooding of the compounds.
Alarmingly too, the myth that dealing with counseling and the psych ward or the psychiatric institution means someone is 'mad', prevails in Guyana and that may be why transparent and obvious warning signs are ignored by care givers and loved ones. Far too often, after a suicide death, we hear or read that so and so had talked about wanting to take his or her life but those around him/her thought he/she was joking and/or did not take that person seriously. In fact, in a few instances when The Caribbean Voice offered counseling the individuals made it clear that 'only crazy (mad) people need counseling' and they were neither crazy nor mad. Often times too mention is made of sudden, significantly changed behaviour but no action taken. Thus TCV strongly urges the Ministry of Health to embark on a sustained education campaign to combat this myth and to inform the population to be aware of signs and symptoms and take immediate action.
As well, we urge the Ministry of Health to make sure that mental health professionals are available 24/7 at public hospitals. Currently, the public health sector nationally has all of six psychiatrists, four psychologists and four social workers trained in psychiatry. Also, Bottom of FormAlso  wAlsowhere there are psych wards or clinics, signage, providing directions, should be conspicuous to foster quick and easy access for anyone seeking help, given that delays and consequential frustration/anger can lead to violence, including suicide.
Over the past three years, Caribbean Voice has undertaken more than 300 successful, free counseling interventions, most of them in Guyana. But many individuals either stubbornly reject counseling or clam up and cut off all communication when counseling is offered. Additionally, instead of seeking help, family members and communities display benign neglect of persons with mental illnesses including addicts – alcoholic and drugs. As well, that victims of domestic and sexual abuse do need counseling, is not a common understanding. Clearly a nation wide sensitization campaign is also needed to tackle this neglect and lack of understanding.
Meanwhile we applaud efforts to incorporate important mental health topics into the Health and Family Life Education syllabus in secondary schools but we wonder whether teachers would be trained to not only deliver the content but also identify mental health issues and provide/access help. Otherwise, merely providing the information to students becomes an exercise in futility. Feedback from our Youth & Student Workshop indicates that the amount of mental health issues in schools is becoming alarming. In fact, the refrain is always the same: 'Our students need so much help, please come back as often as possible'.  Clearly this workshop needs to be delivered to schools across Guyana, but this can only be possible if the Ministry of Education keeps its promise to facilitate the workshop (along with our Teachers' Workshop) especially given that the Child Care & Protection Agency has agreed to collaborate on its delivery. Our services are free but there are delivery costs involved.
Additionally, mental health clinics should be planned across Guyana for all schools at least twice per year.  And placement of counselors in schools must given priority. Since trained personnel are not available to facilitate this, UG (both campuses) should reintroduce the Diploma in Counseling offered either on weekends to current school staff or full time to retired teachers who can then be placed nationwide.
As well, stakeholders are disappointed that mental health has no priority for the UG. The only recent foray by UG into mental health has been a couple of conversations on suicide and related issues, which leaves one to question the use of scarce resources. As Guyanese born, Dr. Lear Matthews pointed out in an article in the Stabroek News, "The University of Guyana, through its Social Work Program, must play a prominent role in research, program design, prevention and treatment of mental illness." Besides, given the lack of up to date, comprehensive, data, UG should step up and fill the breach, as the data driven planning is critical for effective health care delivery.
May we also point out that TCV has an ongoing campaign organized and run by almost 70 volunteers in and out of Guyana, built on five pillars – training, information dissemination and awareness building, lobbying and advocacy, counseling interventions (over 300 cases in three years) and building stakeholders collaborations (such as with Annual National Anti-Violence Candlelight Vigil to mark World Suicide Prevention Day, Sept 10) – and includes five different workshops: youth & students, teachers, community outreach, train the trainer and  employee.  Seven dedicated sub groups in six regions (with plans to set up same in the other four regions) managed by a passionate leadership committee, ensures that our work is continual, ongoing, holistic, collaborative, and comprehensive. For example, two mental health outreaches and three workshops in three regions in August partly typify what we do on a monthly basis.
Also, for Voices Against Violence Second Annual National Candlelight Vigil to mark World Suicide Prevention Day, September 10 we urge communities to come together and organize vigils.
Around the Web