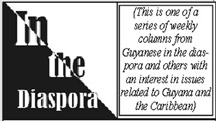 By Suzanne Narain
Suzanne Narain is a PhD candidate in the collaborative Social Justice Education and Women and Gender Studies program at OISE, University of Toronto. Her research explores race, gender and citizenship, focusing on the social activism of immigrant women in Toronto. In 2014, Suzanne ran for Councillor of Ward 8 in the municipal elections in Toronto. She is also a long-time activist in the Jane and Finch community, organizing with Jane and Finch Action Against Poverty, and Black Creek Food Justice Network. Suzanne is of Indo-Guyanese descent and lives in Toronto.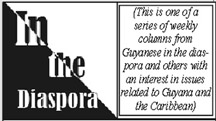 Indo-Caribbean women in the Jane and Finch area of Toronto are at the forefront of fighting for social, political and environmental justice. My research investigates how Indo-Caribbean immigrant women in the diaspora are being political in the public sphere using creative outlets, such as engaging in community organizing, street theatre, and protests. The Jane and Finch area falls within the Ward 8 district in the city of Toronto, with a 60% immigrant population. Immigrants from all over the world settle in the Jane and Finch area; the largest immigrant group is from Guyana, followed by Vietnam, Jamaica, Italy and Sri Lanka. The Jane and Finch area of Toronto has experienced a constant flow of immigrants since the 1960s, due to the high density of affordable housing units and changing immigration policies. The area also has the largest proportion of low income households, high levels of poverty and unemployment, and one of the highest proportions of people of colour and immigrants in Toronto. Residents in the Jane and Finch area are commonly constructed as lazy, degenerate and violent in the public imaginary. Moreover, mainstream media creates an image of the Jane and Finch area as an exclusively 'black' space, which negates the very diverse composition of this community. Indo-Caribbean women in Jane and Finch are shifting the common conception of the area and are creating alternatives of what being political looks like. There are several organizations in the area that are comprised of predominantly Indo-Caribbean women, such as: Black Creek Food Justice Network, Advocacy for Change, and Jane and Finch Action Against Poverty (JFAAP) to name a few. Very broadly these organizations advocate for food sovereignty and economic justice and raise awareness of mental health issues.
For this column, I will primarily focus on the organizing that takes place in JFAAP. JFAAP is a grassroots organization, comprised of community residents, workers and activists. JFAAP is a multi-ethnic, intergenerational group of individuals from various class backgrounds. Significant portions of JFAAP's regular members are women of Indo-Guyanese descent. JFAAP started in 2008 after the International Day for Eradication of Poverty rally in Jane and Finch. JFAAP works in solidarity with social movements and plays a prominent role in challenging systems of power as well as advocating for social and systemic change that help reduce poverty locally and globally. For the past nine years, every first and third Wednesday of the month, the Indo-Caribbean women of JFAAP show up in the rain, shine, or snow to discuss poverty-related issues and strategize ways to advocate for the most marginalized in our communities. The enduring and consistent presence of the Indo-Caribbean women of JFAAP has sustained this grassroots organization.
It is significant to note that within JFAAP the senior Indo-Caribbean women – of whom there are many—are the most vibrant and active members. On the International Day for the Eradication of Poverty in 2015 at the Driftwood Community Centre, Indo-Caribbean women used a theatre of the oppressed technique to perform a series of skits, demonstrating the struggles that many people in the community face when trying to gain employment or access to public housing and reflecting experiences with the police and various forms of abuse. After each skit, those present were able to participate in the scene to assist with changing the outcome of that situation. Indo-Caribbean women are engaging in creative outlets to conceptualize the kind of change that people in the community want and need.
Advocating for labour rights has been a cornerstone of JFAAP's activism. Among many other actions, JFAAP is consistently a part of the International Worker's Day, also known as May Day celebrations. On this day, there is either a rally organized in the community or the downtown core of Toronto where thousands march in the streets in celebration and recognition of workers, and trade unions. Indo-Caribbean women walk proudly on these streets, carrying placards that they designed, and shouting chants into the megaphone as the labour movement is celebrated. Often on the bus rides downtown, each member shares what May Day means to them and recollects memories of strikes, unions and May Day in Guyana or their country of origin.
JFAAP has also been a part of the $15 and Fairness campaign since its inception, which calls on the provincial government to raise the minimum wage to $15 for all workers. Many people in the community are working several jobs in order to make ends meet due to the high cost of living in Toronto. The Jane and Finch area has seen a growth in temporary agencies that find precarious jobs often for immigrants and the working poor. Working through a temporary agency also means that a portion of the labourer's hourly rate is taken by the agency. JFAAP has been working with residents to raise awareness of workers' rights and bring light to the dire conditions and experiences that immigrants face in these jobs. Indo-Caribbean women have been a critical part of organizing, and sharing their experiences around temporary agencies in Jane and Finch and working on a citizen action journalistic piece that is soon to be released.
Indo-Caribbean women in the diaspora of Toronto, specifically the Jane and Finch community are being political in multiple ways, contributing to knowledge production, advocating for worker's rights and using creative outlets for community engagement to list a few. Some women who are involved in JFAAP were part of the women's arm of various political parties' in Guyana while they lived there, others chose not to be involved with party politics, but were still, and have always been political. Living in the diaspora allows for a different type of political engagement due to the ways in which immigrant populations are racialized and often comprise the urban, working-class poor. Indo-Caribbean women in Jane and Finch are steadfast in their commitment to justice in all of its forms and continuously work across race, class, and gender divides. The lesson they teach us all is that narrow political allegiances do not stand in the way of the greater goal of social, economic and environmental justice. Indo-Caribbean women have emerged from a rich history of resistance, navigating through indentureship, colonialism, creolization, Indian patriarchy and transmigration and continue to rise against all and any adversity in the struggle for justice and freedom.
Around the Web