In the aftermath of Hurricane Irma, I have received emails from friends and relatives all over the world asking whether this city will drown under the sea or be blown away by hurricanes over the next few decades. I tell them to relax. Miami is not going to disappear.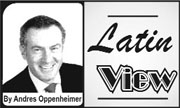 Granted, until Irma struck, we had never seen rivers of water running through downtown Miami's Brickell Avenue. And, to be sure, there is a global warming phenomenon that is turning weather events increasingly more extreme, despite President Donald Trump's irresponsible claim that climate change is a "hoax."
The growing intensity of recent hurricanes Harvey and Irma is only the latest reminder that climate change is real. Even before Irma, there were warning signs — including the sight of sea creatures in flooded Miami Beach streets.
Former vice president and climate change activist Al Gore, during a recent interview, gave me a book on global warming with an Oct. 14, 2016, picture of an octopus floating in a flooded Miami Beach parking garage — apparently washed there by a combination of high tides and rising seas.
Miami's average elevation is six feet above sea level, and the projected rise of the sea level — barring successful human efforts to reduce carbon emissions that accelerate global warming — will be two feet by 2060, and seven feet by 2100, according to the Southeast Florida Regional Climate Change Compact, an advisory council set up by South Florida county governments.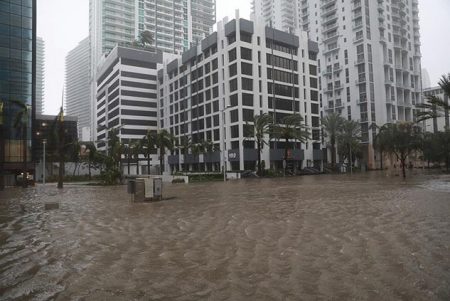 These and other projections have led to apocalyptic headlines about Miami. A recent column headline on BusinessInsider.com screamed, "Scientists say Miami could cease to exist in our children's lifetime."
Well, not so fast. To begin with, even in the worst case scenario — the unlikely possibility that we continue to have U.S. presidents who deny climate change and don't do anything to combat it — coastal cities like Miami and New York won't disappear.
They will have to spend more money to buy water pumps and elevate roads, and will become more expensive to live in, but they won't cease to exist.
Venice, Italy, the city of canals, has some of the highest real estate prices in Italy. And Venice's most coveted properties are the palazzos facing the water, which get flooded several times a year. Holland, too, is a country under water, and has somehow managed to thrive.
Secondly, there will be new technologies and new building regulations to fight rising sea levels. Just like building codes changed after Hurricane Andrew in 1992 and helped prevent greater damage from extreme weather events nowadays, technology will produce more
efficient water pumps, valves and sea walls.
Engineers are also talking about floating roads, and even floating homes in flood-prone areas. Others are discussing creation of parking lots under sand dunes to act as powerful sea walls.
Kenneth Broad, a University of Miami environmental expert, is among those who fear that higher taxes to pay for climate change adaptation plans could make Miami a city where only the rich will be able to live.
"I don't stay awake at night worrying about Miami disappearing, but I do worry about losing our economic diversity as it becomes more expensive to live here," Broad told me.
Ideally, Miami would become a testing ground for innovations aimed at fighting rising seas, Broad said. Unfortunately, Trump and Florida Gov. Rick Scott, also a climate change denier, are not supporting this kind of forward-looking thinking, he added.
But I'm confident that future leaders will be much less obtuse than our current ones, and will take climate change seriously. We are already seeing signs of that in California, New York and several other states whose governors have recently pledged to meet the goals of the Paris Accord on climate change despite Trump's withdrawal from the 2015 agreement.
There are reasons to worry about Miami's economy, including the current administration's anti-immigration rhetoric and visa restrictions, which are already hurting the tourism and convention industries.
But rising sea levels will not swallow up Miami in the foreseeable future. Rather, if nothing is done to fight climate change on a global scale, they will make it a much more costly city to live in.
Comments

Late Venezuelan populist demagogue Hugo Chavez must have cheered in his grave when President Donald Trump made a veiled threat to pull NBC off the air for spreading news he dislikes.

While many of us were trying to absorb the news of the Las Vegas massacre and President Trump's bungled response to Hurricane Maria in Puerto Rico, a growing political scandal in South America went almost unnoticed in the media: Bolivia's populist President Evo Morales is making an illegal bid to run for a fourth term in office.

Here's a fact that few people are taking into account when talking about the Venezuelan crisis or Latin America in general: the region's biggest countries will have elections over the next 12 months, which could change the hemisphere's political map.

Facing escalating international sanctions, Venezuela's autocrat Nicolas Maduro is offering a new "dialogue" with the opposition and national elections at the end of 2018.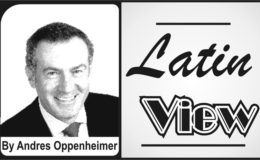 As a Miami Beach resident who is writing this surrounded by sand bags in preparation for Hurricane Irma, only a week after Hurricane Harvey ravaged Texas, I have an urgent question for President Donald Trump and his fellow climate change deniers: how many natural disasters will it take for you to listen to the world's most prestigious scientists?