In the aftermath of Hurricane Irma, I have received emails from friends and relatives all over the world asking whether this city will drown under the sea or be blown away by hurricanes over the next few decades. I tell them to relax. Miami is not going to disappear.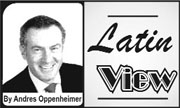 Granted, until Irma struck, we had never seen rivers of water running through downtown Miami's Brickell Avenue. And, to be sure, there is a global warming phenomenon that is turning weather events increasingly more extreme, despite President Donald Trump's irresponsible claim that climate change is a "hoax."
The growing intensity of recent hurricanes Harvey and Irma is only the latest reminder that climate change is real. Even before Irma, there were warning signs — including the sight of sea creatures in flooded Miami Beach streets…..