The romantic comedy "The Big Sick" did not open in cinemas in Guyana, which seemed particularly odd. It was released to streaming services (iTunes, Google and Amazon) this week and I was eager to see this based-on-a-true story tale just for the basic elements its plot proposed.
The film is the brainchild of couple Kumail Nanjiani and Emily V. Gordon and traces the early stages of their relationship, which gets curtailed by Emily's medically induced coma (among other things).  Nanjiani is a Pakistani-American actor that you've probably seen around. He's a main cast member on Silicon Valley and has appeared in minor roles in a slew of television shows, from Veep to Franklin & Bash. As we think of the American's entertainment world's continuous crisis with representation, it's no new information to note that even more than other minorities, Asians, particularly South Asians, are not a well-represented demographic on western screens. So, "The Big Sick," a romantic comedy with a Pakistani lead, immediately emerges as notable. That's unusual in itself. What's more, it's a romantic comedy that does not divorce said Pakistani lead from his family and culture. He is not a denizen in a strange land. This sets up the film not as a film about an Other in a White World but a film about the multiple subcultures that are a part of a single America. In some ways, that multiplicity is reflected in the looseness of the film. And this film is very loose and within its two-hour runtime, it has other parts working to break free.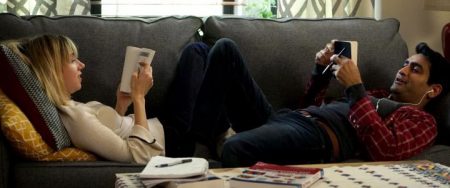 "The Big Sick" is produced by Judd Apatow, and although his name is there only as producer and not director, it reflects some trends that those familiar with his filmography would notice. Apatow comedies tend to be long, two hours at least. Their plots often give over to discursiveness. And there are scenes which affect the momentum, oftentimes built on improvisation rather than focussed detail. "The Big Sick", despite the general newness of its plot, or at least the unusualness of it, falls into the trap of Apatovian familiarity. Perhaps it's a sign of equality? No story is too alien to American culture to the get the Apatow treatment. This is not to say that the film's charm eludes, but it is instructive to observe how aspects of "The Big Sick" seem to oppose each other at times.
One paradox of its development is that film's biggest strength becomes its biggest liability. There's the sense that without the autobiographical spin of Nanjiani's life, this story would not happen but there's an overwhelming congeniality to the film which likely stems from the autobiographical nature. "The Big Sick," as sweet as it, or perhaps because of that sweetness, falls prey to an unwillingness to examine the hard edges of the world. We are already saved from worry for we know that Emily's coma is not fatal. Still, the best of romantic entanglements depend on confronting the characters' foibles, and then watching them work through. Nanjiani and Gordon seem too afraid to look at their defects. Emily (as played by Zoe Kazan) is the ideal winsome liberal girl. Beyond the lie about his family's arranged marriage preference that sets the main conflict in motion, there is little about Kumail that's objectionable. It makes the film a pleasant experience—and there is value in the "it goes down easy" kind of film—but the film promises so many other possibilities, such as a more risible work about culture clashing. My favourite sequence is that of an early dinner with Kumail's family, where his father disparagingly mentions a family member who has had the audacity to name their child "Da-vé" (rhymes with sashay). Kumail responds, "His name his Dave." His father shrugs. Just as bad. The crisis between tradition and assimilation is set up, but peters out.
For an American audience, I could see how "The Big Sick" offers much but one niggling issue that rises for me is the slight side-lining of Kumail's Pakistani family. The film is at its surest in the moments when Kumail is able to interact with Emily's family. Holly Hunter and Ray Romano deploy their familiar personality types (strong-headed woman and diffident man) well, and their entrance injects the films with something missing. It's not that their performances are essentially superior to those of Zenobia Shroff and Anupam Kher as Kumail's parents, but the film offers the former pair a chance to act out the tension of cultures clashing. Kumail's parents noticeably never meet Emily in the film. A stream of pictures as the credits roll show the real Emily meeting Kumail's real parents and it reveals the film's striking inclination to ignore conflict. There are key moments that promise awkward possibilities, but the film never forces us to confront the cringeworthy. We are taken up to the moment just where the conflict will create sparks and then the film cuts away from it. It's never clear if it's the writing or if it's the editing. Perhaps there are potent moments on the cutting room floor.
If this sounds like a sceptical piece, it's not. See "The Big Sick." Its looseness and its unformed nature is occasionally frustrating. But the film is compelling even with its limitations. The main aspects of the script Nanjiani and Gordon create are often deft and generally warm. Its characters are its strongest boons and there are moments when its inclination for expansiveness seems more suited to television. A television version might be able to be kinder to its characters, giving us more time with the parents, who offer more incisive and complex thoughts than their children. Somewhere there's a sequel where Hunter, Romano, Kher and Shroff meet and trash out the occasional guilelessness of their children. The film's end leaves us with the promise of that culture clash, which seems more exciting than its altogether too sanguine resolution. "The Big Sick" is not that film. But the congenial one we do get will do.
Have a comment?
Write to Andrew at almasydk@gmail.com
Around the Web