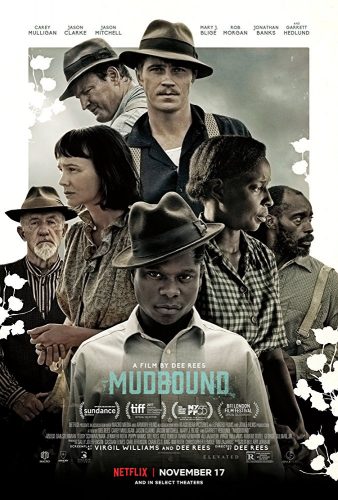 "Mudbound" is a film that will be sold on its relevance. Its socio-political significance. Its timeliness. This will not be an unfair estimation. "Mudbound," an adaptation of Hillary Jordan's novel of the same name, premiered last week on Netflix. Centrally, or at least thematically, the story is about the levels of racism in 1940s Mississippi. Tales of race turmoil are always relevant. But the film is not only about race. Before race enters the picture, it's about the way we get dirty.
"When I think of the farm, I think of mud. Encrusting knees and hair. Marching in boot shaped patches across the floor. I dreamed in brown."


These are not the first words spoken in the film but they are the first ones which register enough to provide context. Carey Mulligan, playing matriarch Laura who says the lines, knows it as she puts the requisite emotion into speaking the lines. Dee Rees, directing her second feature film after her electrifying debut, "Pariah," also knows it as she directs the brief moment with enough import for us to get it. Cinematographer Rachel Morrison shoots them in a way that we know she gets it. The line ends on a wide shot of the same farm. The brownness overwhelms the screen and the dun colours are almost sickening to watch. This is no picturesque pastoral dreamscape, but a gloomy, muddy broken-down hell…..
To continue reading this article
Comments

Who invented the bedsheet ghost? The image of a ghost marked by donning a white sheet with holes for eyes is a classic and familiar concept.

"Beach Rats," the winner of the best director award at this year's Sundance film festival, is a filmic bildungsroman.

I made the potentially problematic decision, to screen Sidney Lumet's 1974 adaptation of "Murder on the Orient Express" a few days after watching the recent 2017 Kenneth Branagh directed version.

Terence Davies has never met an opportunity for a tableau vivant he did not like.

"The Past" opens at an airport. We watch a reunion between two people.