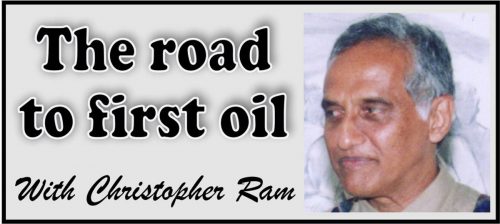 In Part 23 this column noted that Indonesia which had taken a lead role in the Production Sharing Contract (PSC) had moved to the Gross Sharing Production Sharing Contract. In fact, in 2015 Mexico and India are the two other countries which have migrated to similar systems, India after considerable debate. That does not mean that there will be a migration wave: just that in the industry nothing stands still. Today's column looks at a much more basic or preliminary issue involving the petroleum sector – how contracts are in fact awarded.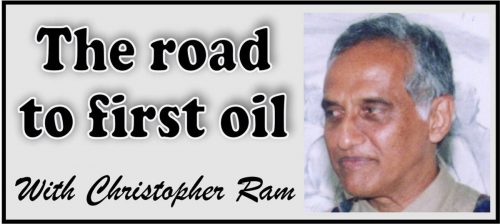 The real issue is whether there is a policy for the sector to start with. The APNU+AFC was confronted practically from day one with the news of a major oil find. If they were unprepared it would be most natural, even if Robert Persaud, the Minister of Natural Resources and the Environment had briefed the new Minister. Two years on however, there is no policy, no new primary or secondary legislation and one wonders whether and when Minister Trotman will introduce new legislation. In fact, the Minister continues to behave as if he is still to learn the very basics of the sector although this does not suggest that his job is at risk. His two major achievements to date are the signing of a new Petroleum Agreement with the ExxonMobil subsidiary and causing Guyana to become a member of Extractive Industries Transparency Initiative (EITI).
The Administration seems determined that Guyana will have access only to such information as it decides Guyanese deserve, whether any contract signed by the Administration in the name of the people, or basic information. Contrast this with Ghana where the Government three years ago was both praised by the Africa Centre for Energy Policy (ACEP) for inserting an anti-corruption clause in four of six new Petroleum Contracts but criticised for rushing these petroleum contracts to Parliament, suspected as an attempt "to avoid the public scrutiny required in the new Petroleum (Exploration and Production) Bill through open and competitive bidding particularly when the oil blocks in question are in known areas with considerably lower risks than unknown areas."
Here is that anti-corruption clause.
"Each contractor party warrants that neither it nor any of its Affiliates or any of its or their officers, directors or employers has made, offered, or authorized and will not make, offer, or authorize with respect to the matters which are the subject of this Agreement, any payment, gift, promise or other advantage, whether directly or through any other person or entity, to or for the use or benefit of any public official (i.e. any person holding a legislative, administrative or judicial office, including any person employed by or acting on behalf of a public agency, a public enterprise or a public international organization) or any political party or political party official or candidate for office, where such payment, gift, promise or advantage would violate to the extent applicable to such Party (i) the applicable laws of Ghana; (ii) the laws of the country of incorporation of such Party or such Party's ultimate parent company; (iii) the principles described in the Convention on Combating Bribery of Foreign Public Officials in International Business Transactions, signed in Paris on December 17, 1977, …..(iv) the United States of America Foreign Corrupt Practices Act 1977; and (v) the United Kingdom Bribery Act 2010."
Minister Trotman has signed at least two Petroleum Agreements as Minister and it would be interesting to know a) whether he removed the confidentiality clause which he had argued, wrongly, had tied his hands in terms of disclosure; b) has inserted any anti-corruption clause in the contract; c) had strengthened the Agreement with respect to protection of the environment, oil spills and insurance; d) addressed in any way the stability clause present in earlier agreements; and e) taken any steps to remove the deemed taxation provision in such earlier agreements.
The petroleum sector has changed dramatically from the first day of this Administration to the present day, suggesting that the country's policy and laws should also have changed. Sadly, nothing has. In fact, the Government seems so afraid to offend that certain names are mentioned only in hushed voice. This is a troubling development for any relationship, let alone one involving a sovereign state. Manpower and skills shortages can hardly be the only constraints to the development of the sector. The skills are available – the question is whether the Administration is ready to deal with professionals.
Would it not be great if instead of wondering whether or not the country received any particular payment, the criticisms against the Government was its reluctance to adopt an open and competitive process in licensing oil blocks, make contract disclosure mandatory and establish a register for the disclosure of beneficial ownership information in all PAs?
Around the Web