Selfless, Heroic and Eternal is SHE. Creator, Mother, Queen, Motivator, Homemaker, Career Woman – SHE is everything under the sun. SHE is resilient – proving time after time that even in adversity, she will continue to rise. SHE will continue to be the backbone of society, supporting the men who know that they must stand side by side with her, who respect her, who love her, who know that without her there would be no them, and who know that her worth is infinite.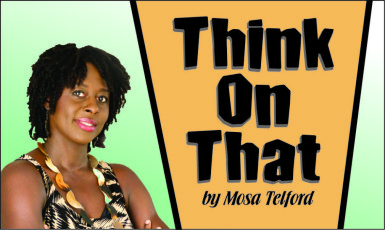 A few days ago, I attended a forum which was a part of Selwyn Collins' 5th anniversary celebration of his webTV Talk Show, 'Conversations with Selwyn.' It was held at the Umana Yana and featured some of the most brilliant Guyanese women on the planet today.
They were women who fought through battles of doubt, fear, opposition and oppression to prove that anything is possible. I could not help thinking as I listened to the conversation about the need for young women to have such role models. Young women who may be shy or imprudent and whose aspirations may hang on what unprogressive society tells them they must be:
Subservient to the man, putting their dreams on hold or not dreaming at all. The women on that panel were lights that illuminated not only the room, but the consciousness.
There was Lourdeth Ferguson, who is an International Civil Servant at the United Nations Population Fund in New York and who is currently working as an Editorial and Research Associate with the Division for Governance and Multilateral Affairs. She is also a New York State Chaplain and Intercultural Ministries Representative of the Brooklyn/Staten Island Section of Assemblies of God in the United States. She is also the Membership Coordinator for The Bishops' High School Alumni Association Tri State Chapter.
There was Dr. Michelle Mickle, former President and CEO of the Greater Kanawha Valley Foundation, in West Virginia, USA. The organisation invests in initiatives that build various forms of wealth in a six-county region of the Appalachian State.
There was also Dr. Deborah Rosanwo, Consultant Physician for Nuclear Medicine in private practice, specialising in nuclear cardiology and nuclear oncology. A certified consultant for medical imaging with Positron Emission Tomography as well as Radiation Protection, she is the first and only Black woman and Guyanese to specialise in that particular field of medicine in Germany. She is also a social activist and a passionate acapella singer in Bonner Jazzchor and the ensemble Lady Talk.
Also on the panel was Minister of Telecommunications Catherine Hughes, who is a media specialist, and a graduate from the University of the West Indies with a Bachelor of Arts (Hon) Degree in Mass Communication.
Other panelists were acting Chief Justice Roxane George SC, Dr. Sandie Anderson, a Chemical Engineer (Consultant), Dr. Sandile Hlatshwayo, who holds a PhD in Economics from the University of California at Berkeley, Mrs. Joy Agnes, a very successful wedding planner, Anije Lambert, a young business owner and Lady Anande Trotman-Joseph, attorney and the 2016-2017 President of the Bar Association in Grenada, where she previously served as Solicitor General.
It was inspiring listening to those brilliant women share.
A question that was asked was, "Who is an empowered woman?" The empowered woman knows that she must love herself first and that she finds divinity by looking within. A woman free from violence is an empowered woman. Unfortunately, many women do not have that freedom.
Those who stagger between hateful words, fists and weapons, sometimes never making it out alive, have their freedom violated. Does their empowerment lie in the fact that they are strong enough to endure the worst conditions sometimes as a sacrifice for their children and sometimes as a sacrifice for love? Are their struggles necessary for the next generation to behold so they can stand and say that they will not tolerate any form of violence?
A woman who is confident and aware of the power she holds is empowered. She is spiritually awake and, therefore, knows that there is no task too great. She can, she will and she does.
She recognizes her worth and the power of her choice even though she often exists in a society where archaic laws still try to repress her.
The empowered woman does not care about society's judgment because she will be judged regardless of what she does. When instead of being congratulated for her brilliance, she is instead told about her attractiveness or sexiness, it often leaves the woman searching for words and even humiliated at times because of the reminder that no matter what she does, she will always be just an object for sexual gratification to some men.
The empowered woman knows that education is wealth; that she can fight and win any battle as long as she is informed.
But those women who made up that panel are not the only examples of the empowered woman. She is also the woman who would not have had the opportunity to excel at academia but made her mark in the world by using the gifts bestowed upon her.
Despite the reinforcement at the Umana Yana, the reality of what women still go through at the hands of misguided men, who still do not or refuse to accept that respect should be mutual and women are to be cherished, was evident.
I thought about a story I read in the news last week. After the sexual harassment at work, on the streets and even in some homes, rape is one of the greatest human rights violation. A young shop keeper in Berbice was dragged into a clump of bushes, the report stated. I imagine she tried to escape the reality by convincing herself that she was just experiencing some horrible nightmare, a thousand midnights in an hour of agony as she slipped in and out of consciousness with a gun pointed to her head.
There were no heroes to save her. A pedal cyclist summoned a taxi driver to help, but his response was that his wife and children were at home as he left the scene. Perhaps he was afraid of being harmed or perhaps he just did not care, but I could not help wondering if it was women who stumbled upon the rape, if the results would be different.
She was left bleeding and battered when the perpetrator had had enough.
The shop assistant is SHE – Strong, Heroic and Eternal. She has survived to tell the tale and hopefully her voice will bring about some change. The women on that panel and all the other brilliant sisters who made up the audience are the epitome of SHE.
Like Maya Angelou wrote in her timeless poem 'Still I Rise,' "You may trod me in the dirt, but still like dust I'll rise," and "Just like moons and like suns, with the certainty of tides, just like hopes springing high, still like dust I'll rise." SHE will always rise and often it is not a choice, but an obligation to show up, be great, to be better than and to be the best in a world that often tells women they cannot or should not.
Around the Web