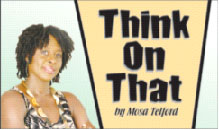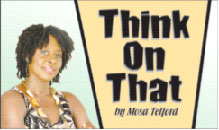 It seems like even the atheists were praying on Sunday night. Another tragedy had happened and, as is often the case, many sought divine intervention. Perhaps they believed that by some miracle, the past would be erased, there would be peace in the present and the future would escape the spectre of the dreadfulness that has brought us here. But I wonder if we are sending those litanies into a space, where they disappear and make no impact. Is the universe saying to us by the perpetuation of violence and other social ills in our society that it is up to us to fix our problems?
Faith must be respected. For many, it is all they have. And in a time where one can either detach from reality—giving more life to illnesses of the mind and try to ignore the chaos—or become an advocate, or a victim, people will continue to pray.
The prisoners who set the Camp Street jail on fire on Sunday most likely did not pray. I might be wrong. The seventeen inmates who died in the prison fire last year were examples of what could happen, but desperate men in times of crisis will ignore even the sternest warnings. The drastic changes needed to reform the failing prison system have not come to fruition and like with so many other matters, years will probably pass before any real change is seen.
It seems like the masterminds had a well-crafted plan. With guns, fire and smoke threatening to kill or seriously harm over a thousand people—even with prison wardens stepping up to the task to protect and secure—they disappeared. How many are really missing is the question on many lips? Speculation and fear have gripped many, some of whom have even altered their activities by making sure that they are indoors by dark.
Odinga Wickham, who was shot five times, was dead while the fire still blazed. He left a mother traumatised, a fiancée whose heart is no doubt broken, and a child who will probably not remember sitting on her daddy's lap. He had experienced the army and was skilled in computer technology. He chose not to fall into criminality, like many others. He did not take up guns to rob a minibus, killing the driver, like what also occurred this week. Nor did he run into Republic Bank one hot Tuesday morning, eying millions, only to meet his death. Death met him in the line of duty and he will be considered a hero. But if he were to speak from his grave, would he call himself a hero? Would he want to be honoured in death or would he choose to be there for his mother, his fiancée and his young daughter? To hold his mother's hand when she would have grown older; to walk with his fiancée down the aisle after they would have said their vows; and to proudly celebrate his daughter's life. What would Wickham have chosen if he had a choice?
And what about Elton Wray? Would he choose to take the risk of trying to rob the bank again or would he choose to live another day? What answers would he give us if he could speak from the grave? Would he highlight that he was intelligent, educated, had a job that earned him around $186,000 a month, which is considered a good salary in Guyana, but that it was all not enough? That $186,000 may not be enough when one has to finance a car loan, rent or mortgage, bills, a social life and savings. Would he remind us that what most people get paid in Guyana is insulting, leaving many to wonder, how people are really surviving. Did he say a prayer before he entered the bank? And when he lay in that van bleeding to death, did he pray that his life would be spared?
The bloodsheds not only stains the ground but stains our minds. Those images have desensitised many of us. There are brief periods of calm in this tempest. We have 83,000 square miles of great possibilities. It is a paradise in many ways and even more are to be unearthed. There are times when the wind blows just right and the sun shines just brightly enough for us to smile and think to ourselves that life here is worth living. But it seems like every few days or sometimes every few hours we realise that we are caught up in ongoing unrest and we could never just fall into the deception that all is well. As long as the collective effort to govern the people in a way they believe is just is lacking, as long as parent to child communication is largely dysfunctional, as long as we continue to label people as dunce and useless when they learn differently, our restless population will continue to face a plethora of social issues. It will continue to be divided by prejudice, loyalty to corrupt politicians and ignorance.
'Youth, Crime and Violence' was the topic at the University of Guyana's Turkeyen and Tain Talks 8, which was hosted this week at the Pegasus Hotel. It was a timely subject. The roots of the problems were once again highlighted by a panel that included Second Vice President and Minister of Public Security Khemraj Ramjattan: deficient parenting, child abuse, drugs and alcohol abuse, mental health, and lack of education and skills. I learned that four out of every five prisoners cannot read. That may be true and the case of Elton Wray may be an exception, but White-collar crimes are also prevalent and many of the perpetrators of such crimes never see a day in prison because life continues to tell us that all human beings are not equal in the true sense.
The conversation at the Pegasus was necessary. Many other conversations are necessary. Also necessary is that we, as a population, must begin to take responsibility first for ourselves, then our families, our communities and the country. We cannot falter in holding our leaders accountable. The time for talk and no action has long passed. The time for debates alone within closed doors that end with snacks and conversations has expired. The crisis is not coming, the crisis has been here for many years and the many who perished because of it, if they could speak from the grave, would probably ask if nothing has been learnt from their deaths.
Around the Web