Unknown to most of us before the tragic events of last week, Leonard Archibald's face is now etched in the memories of many, indeterminately.
A face of love, of innocence and a future now erased, who knows what he could have been? We could paint any picture of the man he could have become. We could imagine him arriving home safely on Sunday, September 17th, on his bicycle and relatives being happy to see him. We could imagine him and his sisters reminiscing on the birthday party they had just attended. We could imagine him getting dressed on Monday morning for school and making his way to the institution of learning to move one step closer to his dreams. We could imagine these things to replace the anger and the pain that many of us have been feeling for days and the tears we would have shed…..
To continue reading this article
Comments

Stabroek, particularly around Demico, the bus parks and the market, is a hub displaying snippets of Guyanese life.

I saw an interesting film called 'Flatliners' last weekend. In it, four medical students, curious about what happens after we die, choose to stop their hearts, then to be revived to tell of their experiences.

The Convention on the Rights of the Child was adopted by the United Nations in 1989 and approved by the Government of Guyana in 1991.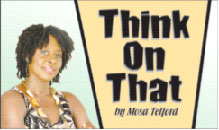 A woman of African descent wrote on social media this week, "Amerindians are animals and should go back to the bush." The post resulted in people of all ethnicities condemning her and the condemnation in part saw her being subjected to racial slurs.

As a product of a single-parent household, I know firsthand some of the challenges such parents face.