Last week, I discussed the plight of Sicklers in Guyana and highlighted some of their experiences and challenges in accessing care. Candace Ifill, who recently died, suffered immensely because of the disease and I hope that by bringing to light the circumstances surrounding her death, those responsible for ensuring that all Guyanese can access quality healthcare with no fear of being victimised or stigmatised will work assiduously to put better systems in place.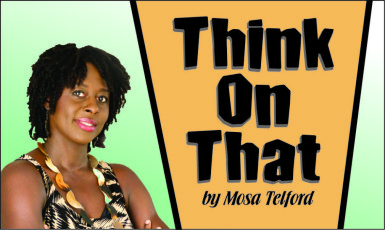 The story of the Sickler who was forced to seek help at a private hospital after being made to wait at the Georgetown Public Hospital for several hours was also highlighted. It is inhumane to treat anyone, especially someone who is sick and in pain, in that manner. What would have happened had the Sickler remained at the hospital and died? How often have we had questions when serious harm or death would have occurred at medical institutions because of negligence? What I believe is worse, however, is that there was a report made to the Ministry of Health and there was no action taken.  It is another example of how the institutions that are in place to protect and help the people often fail them.
People with Sickle Cell disease are a minority and maybe they are not considered a priority where care and treatment are concerned. Often, we don't start paying attention until something happens to us or someone close to us.
There are many questions to ask. Is Guyana Sickle Cell-friendly? What measures can be taken to improve the systems that are in place? What measures can the Sicklers themselves take to improve their chances of remaining healthy for longer periods of time?
As with many other diseases, Sickle Cell is not just a physiological one. As Sickler Ms. Sabrina Kazim highlighted, it is also a psychological disease. Many of us can attest to how sickness affects us mentally. There is the stress of worrying about the discomfort of the illness itself. There is also the fear of never recovering and also the fear of death. Most of us are not dealing with chronic illnesses. We do not have the experiences of being in and out of hospital for most, if not all, of our lives. We do not have to live with the reality that we may not enjoy a good old age in Guyana. We all are at different stages in our evolution and we all would find different coping methods if Sickle Cell was our plight. But with many suffering for years, some would reach a point of exhaustion; a point where they want to give up the fight and often it is those close to them, like children, who give them the strength to carry on.
Abraham Maslow, who was a psychologist, came up with the Hierarchy of Needs theory, which focuses on our needs as human beings for holistic wellness. We have physiological needs, which include food, water, warmth and rest. We also have the need for security and safety. There is also the need for belongingness and love, which include intimate relationships and friends, and last but not least, esteem needs, which are prestige and feelings of accomplishment. It is when all those needs are met that we reach self-actualisation, which is achieving one's full potential.
How many of us can say that all those needs are met? And when one thinks about Sicklers, their condition makes it even more difficult to fulfill all those needs. Not only do they have to worry about their health, but Guyana is also a country where many of the people are poor. Whether seeking care at private or public institutions, money has to be spent.
We cannot, however, only highlight the problems Sicklers face. The question remains: What can be done to make their lives more comfortable when it comes to accessing care?
One of the things Ms. Kazim pointed out is that there is a Rehydration Clinic at Davis Memorial Hospital, where Sicklers, when feeling stressed or weak, can seek help before they have a flown blown crisis. The clinic does not deal with pain medication but rehydration by administering saline at an early stage and it can help Sicklers remain healthy for longer periods. I believe that there should be an effort to have many such clinics around the country. It is always better to focus on prevention, rather than cure.
There is no doubt that Guyana needs to become Sickle Cell-friendlier. Ms. Kazim talked about being hospitalised in three countries and never having unpleasant experiences like she would have often encountered in Guyana. In Trinidad, where she made several trips to the hospital, she was always given attention immediately. She was never accused of being a drug addict.
Nevertheless, in cases where Sicklers do become addicted to the opioids, systems should be put in place to provide rehabilitation for them. Myths such as Sicklers being drug seekers and pretenders also need to be addressed. Maybe also instead of Sicklers needing to go the Emergency Rooms, where they are made to tolerate pain sometimes for hours before being treated, there can be special clinics set up to treat them. Their human rights need to be respected and protected. A doctor should never say to any patient who is in pain and screaming that they will not look at them if they are not quiet. Doctors also need to be open to listening to Sicklers when they try to discuss their treatment as to what works and does not work for them. Doctors should care more about the health of the patients rather than their frequency to the hospital. Every opportunity should be used to heal rather than criticise and the doctors who work with to bring comfort and relief to Sicklers should be commended. The Ministry of Health needs to pay more attention and do what is necessary to continue improving the conditions, not only for Sicklers, but for other chronic diseases.
Michelle King, who is the Public Relations Officer for FACES (Fight Against siCkle cEll Stigma) noted that Sicklers also have the responsibility to take care of themselves by not smoking and drinking and by healthy eating. Working to make Guyana Sickle Cell-friendlier is not only the work of those with the power to effect change, but relatives, friends and the Sicklers themselves.
For anyone interested in helping, FACES, is always open to new membership. The organisation needs not only monetary donations and sponsorship, but human resources. There is also the Guyana Sickle Cell Organisation.
In the case of Candace Ifill, if there were systems in place to holistically support not only her physiological needs but her psychological needs as well, she might have still been alive. Her family loved her and they miss her and hopefully another family would not have to mourn a Sickler due to similar circumstances.
Around the Web