I never really got to know Eon Caesar very well. I suppose that in the fullness of time that would have changed. My responsibilities as editor of the once-weekly Stabroek Business had been largely the cause of our encounters. Most of them were by telephone.  On the lone occasion that we had sat together it had been over lunch with some of the other officials of the Private Sector Commission. I remember that Eddie Boyer, Ramesh Dookhoo and Ramesh Persaud, all prominent private sector officials were there too.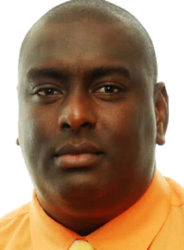 We had met to discuss ways in which the Stabroek Business could work with the Private Sector Commission to ensure that the relationship between the business community and the newspaper improved.
Eon had been elected President of the Guyana Manufacturing and Services Association (GMSA) in April of this year. I remember hearing of his appointment and chastising myself for not knowing who he was at the time.
At the time when Eon was elected President of the GMSA the organization appeared to be losing the support of many of its members. I recall that we had spoken with two or three prominent business owners who has told us of their dissatisfaction with the extent of the representation being provided by the Association, their primary concern being that the proliferation of manufactured goods originating outside of Guyana was stifling the viability of local manufacturers. Simultaneously, the GMSA itself had demonstrated a proclivity for evasiveness when questions were put to it about the issues that were being raised with the newspaper by some of its members.
I recall that the change in leadership at the GMSA brought about a greater openness in the organization's disposition to the dissemination of information. In that regard, I found Eon to be a careful listener who never failed to process the inquiry that was being put before him prior to providing an answer.
I found too that unlike other public officials whom I have had to engage      Eon conveyed his willingness to be available to address important issues at what one might describe as 'odd hours,' times when any reasonable person can be expected to be 'taking a break' from work.
Much of the reason why Eon got my attention had to do with his thoughtfulness that went beyond his concern about the welfare of his own business establishment.
Our conversations usually revolved around the bigger picture. He articulated his concern with the need for more official support for the manufacturing sector with a concern and an intensity that made me sit up and listen. I thoroughly admired his clarity of thought.
I had never really thought about how young he was. Forty-three is a relatively young age at which to have a successful business as well as be the leader of one of the country's more prominent business support organizations; and while I have no wish to appear to be 'playing God' I believe that Eon has left us at a far too tender age.
We had promised ourselves that one day we would sit together so that I could interview him about his ambitions as an entrepreneur. His undertaking that we would 'make it happen' had been given with a genuineness and with what I believe was the very best of intentions. I never got that interview and, frankly, I am not inclined to question why.
Comments

By Wintress White and Joy Marcus Protecting the rights of women and children is always an important obligation of any government.

Address by Ralph Ramkarran New York Diaspora, 8th October, 2017) October 5 will forever be remembered in the history of Guyana as the date when a short-lived democracy was restored.

Vice Chancellor's Fourth Renaissance Lecture September 7th, 2017 By George A. O. Alleyne, Director Emeritus Pan American Health Organization September 7, 2017 First, I wish to thank Dr.

Presented at the Interfaith Service to mark the 50th Anniversary of the passing of the University of Guyana Ordinance #63, April 19, 1963 In the George Walcott Lecture Theatre (GWLT), Turkeyen Campus on April 19, 2013 By Sr Mary Noel Menezes, RSM, AA edited and adapted for this Publication.

By Walter Alexander The headline "For the first time in 300 years, there is not a single living person on the island of Barbuda" brings to the fore the stark reality of the plight of some small Caribbean states after the recent hurricanes and in the face of over-whelming economic challenges.