By Philbert Gajadhar
No greater contrast could be imagined than that which existed between the imaginative power, the passionate drive and humour of Doris Rogers' art on the one hand and her appearance and habits on the other. She was a tall stocky woman who moved and spoke with the slow deliberateness of a 'country girl', never pushing herself forward. Hers was a personality so powerful, so unusual, so rich in inner resources that it cannot be pinned down in words.
In life this 'God's Blessing' displayed the same precision, the same careful and thorough attention to detail that must have characterized her father, Eric Vantull, an engineer and Aunt Kit, her mother, who was involved in craftwork and would sometimes make dolls for the young Doris who later made her own dolls, their clothing and eventually clothes for herself.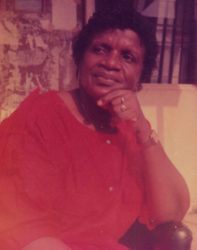 It was in November 21, 1929 in Georgetown, Guyana that Doris Elrina Rogers nee Vantull was born.
Most of her childhood and youth was spent in Rose Hall, Berbice where she attended nursery, primary and secondary schools. She also attended school in Georgetown for a period of time and received her senior Cambridge Certificate at Central High School. She immediately began teaching at the Port Mourant R C School.
It was not until her second marriage in 1959 to Fitzherbert Rogers that she began to explore and produce art.
In 1967, Doris Rogers was selected for a special education programme sponsored by UNESCO. She travelled to Australia and one year later was awarded a First Class Trained Teacher's Certificate specializing in art.
In 1969, she returned to Australia and completed a diploma at the South Australia School of Art. During that time Rogers met people from all parts of the world, whose personalities and teachings left their mark on her. "I absorbed various ideas from different people – people from India, Africa, Ceylon [Sri Lanka] and Europe," she said.
Rogers returned to Guyana and was appointed Art Specialist at the Ministry of Education during which time she also taught art at the Bishop's High School.
In 1970, Guyana was planning to host the first ever Carifesta. At that time, Rogers was feeling increasingly the need to get away from Guyana, from the atmosphere of artists and writers being stirred up by successive waves of new ideas coming from the rest of the Caribbean. She, too, was greatly stimulated by these ideas and enthusiastically took them up herself, but she felt the need to study more. Two years after the first ever Carifesta in 1972 and at the age of 45, she was awarded a Bachelors Degree in Fine Arts, specializing in painting from Howard University. A year later she successfully read for her Master of Arts Degree in Art Education and Painting from the same university.
She was 51, when she received her PhD in Art Education from Penn State University in the USA.
Behind Rogers' education and works, dwelled a woman, one who freely admitted, "If I had to do art at the University of Guyana using a GCE O' or A' Level pass, I would not have had the requirements needed. Systems have got to understand that no examination as such is the best way to measure one's ability. The examination, I feel, is the observation of one's performance, progress and interest. One should be actually aware of that and be knowledgeable enough to see and to know the direction and the ability of that particular individual."
Upon completion of her PhD Rogers decided to undergo a period of retraining and so she took up a post as Assistant Professor at the University of Benin in Nigeria. She decided to go there, she said, "To become more authentic about what is in my mind about my ancestry."
The seven years she spent there, "…broadened my horizon and gave my paintings authenticity." Many of her ideas regarding her paintings came from a lived experience. They were products of her deliberate effort to retain the mystical elements of her heritage which fuelled her life and her art, and, in many ways, made her what she was – a talented, dynamic and dedicated artist and art   educator and above all a humanist.
Rogers returned to Guyana in 1988, and took up a position at the University of Guyana (UG). Many of the features of her character belong to the psychology of the Nigerian people and cannot be accounted for otherwise. She signed her paintings, Eseoghene, a traditional African name given to her officially during a naming ceremony while in Nigeria. Eseoghene is a Yoruba word which means God's Blessing.
Rogers' fascination with traditional African culture led to two successful exhibitions, here in Guyana during the late 80s – 'Visions of a Time' and 'Our Roots Our Rituals.' The subject matter of her paintings were usually of Mother Africa – folk activity, in both rural and urban communities.
The paintings revealed her perceptions and desires of her true self, character studies, figure compositions and landscapes. She employed basic design and colour in each format for a clear and precise statement. Her work achieved a tactile reality by means of the solidity of paint piled in ropes and mounds on the canvas with a palette knife.
Rogers, on her return to Guyana, began trying to work with Afro-Guyanese communities, who for the most part, she felt, "lost their culture." She has been involved in many events and organizations and was very much instrumental in the formation of a group known as the Revival and Perpetuation of African Culture (RAPAC) in Berbice.
While one may argue about the validity of Rogers' work and direction, the most crucial issue will always be the quality of the work and its relevance to the society in which it was created.
Like all forms of expression, art is seldom so ordered. Rogers was no different from any other in her struggle to express her own individual sensitivity to order and form and at the same time relate to the cultural patterns of the time and place in which she lived. In this sense art is a universal language of form, a visual dialogue about man's cultural history that can be read and understood without regard to the ethnicity of the artist.
Rogers believed that the traditions and culture of each ethnic group were important to the moral education and way of life of each culture; she felt that, "Man must know about self before man can relate to another self, other than his own."
'Realities of a People I,' at Castellani House and the Organization of American States (OAS)
Headquarters in Washington DC in 1993 and 'Realities of a People II' at the OAS in 1999, by Rogers and her protégé Philbert Gajadhar, were mounted to show how much the Afro-Guyanese and Indo-Guyanese have in common regarding rituals and ceremonies and make a positive impact on present and future generations.
At UG, Rogers designed and implemented many programmes, one of which is the Bachelors Degree in Fine Arts. She also coordinated the Division of Creative Arts until her retirement. While at UG, she always stood by her principles and philosophy towards life. She encouraged her students to do art that related to their ethno-cultural background. "It would be a beautiful experience to see these different approaches to art. They will respect us in Guyana as Amerindians, Afro Guyanese and Indo Guyanese.
We would borrow European colours and styles to bring out our traditional concepts. This will give more meaning and a greater power of communication."
Rogers served as head of many organizations, one such was the Rosicrucian Order Worldwide Jurisdiction of the Americas, Australasia, Europe, Africa and Asia (AMORC) where she served with distinction in the Honourable Station of Master. She was recognized by the National Council for Black Studies Inc and has memberships in International Society for Education in Art, Nigeria Woman's Association Phi Delta Kappa and Phi Kappa Phi to name a few. She was a Professor Emeritus, an honour bestowed on her by UG. In 2014 she was made a lifetime fellow by the Institute of Creative Arts and before her death this year, she was awarded the Arrow of Achievement (AA) by the Government of Guyana for her work in education, art and culture.
Around the Web