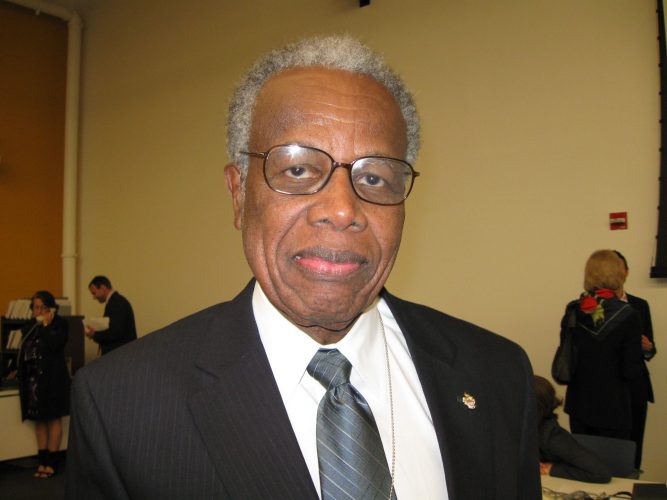 Vice Chancellor's Fourth Renaissance Lecture
September 7th, 2017
By George A. O. Alleyne, Director Emeritus Pan American Health Organization September 7, 2017
First, I wish to thank Dr. Griffith and Dr. Reynolds for the invitation to give the Vice Chancellor's Fourth Renaissance lecture.  I was very pleased to accept.  Even although my first of many visits to Guyana was in 1968, and over the years have had close ties with many of your faculty and students, this is actually my first lecture in the University of Guyana. My academic contacts with Guyana and Guyanese stretch back through many decades. As an undergraduate, I was always impressed by the brilliance of the students who came to the University College of the West Indies from then British Guiana. Not only were they exceptional academically, but they expressed themselves with a clarity and a precision that were to be envied and emulated.  The late Robert Moore was one of the finest orators I have ever heard……….. and I have heard many. The term Renaissance has always conjured up for me an image of Europe in the 15th and16th centuries.  This was a period that marked the end of the middle ages with its feudal system and opened an era of rebirth of interest in classical forms and literature. But most importantly, it marked the growth of humanism…..
To continue reading this article
Comments

By Wintress White and Joy Marcus Protecting the rights of women and children is always an important obligation of any government.

Address by Ralph Ramkarran New York Diaspora, 8th October, 2017) October 5 will forever be remembered in the history of Guyana as the date when a short-lived democracy was restored.

Presented at the Interfaith Service to mark the 50th Anniversary of the passing of the University of Guyana Ordinance #63, April 19, 1963 In the George Walcott Lecture Theatre (GWLT), Turkeyen Campus on April 19, 2013 By Sr Mary Noel Menezes, RSM, AA edited and adapted for this Publication.

By Walter Alexander The headline "For the first time in 300 years, there is not a single living person on the island of Barbuda" brings to the fore the stark reality of the plight of some small Caribbean states after the recent hurricanes and in the face of over-whelming economic challenges. 

By Ashford Daniel The 2017 hurricane season is far from over, but already several Caribbean islands have had their future jeopardized by intense hurricanes in the space of a few days.